10 Ways to Get Involved With Rare Disease Day This Year
---
World Rare Disease Day is Monday, February 29. 2016 marks the ninth year that the international rare disease community celebrates Rare Disease Day says Eurordis, Rare Diseases Europe.   
This year's theme is "Patient Voice." 
This year's slogan is "Join us in making the voice of rare diseases heard."
As a rare disease patient advocate for Klippel-Feil syndrome for many years, I have come up with a list of ways that you can get involved, including events that take place for the rare disease community across the globe. I will try to refrain from saying "Get involved" and "Use your voice" and "Defy rare disease" too many times, but I am passionate about this and it spills over. This is a day of unity where rare disease organizations come together to defy rare disease. This is the one day each year that rare disease is recognized. By taking part, our most important messages will be heard by Congress, researchers, physicians, our peers and the public at large.  You are encouraged and invited to attend these outstanding events, or start your own!
Be sure to click on the highlighted words (embedded links) provided within this article that take you to websites, additional information and registration sites.
1. Visit the official Rare Disease Day website to learn more and find out how you can make a difference. You will be empowered when you see what global involvement really means, and the impact that is made for Rare Diseases on February 29! National Organization of Rare Disorders (NORD) is the official U.S. sponsor of Rare Disease Day. Rare Disease Day U.S. is looking for those interested in attending a State House Event in each state. Click here for more information.
2. Use your voice on Capitol Hill. Rare Disease Legislative Advocates offers a fantastic, powerful week of events that take place in Washington, DC. To register, click here. This is where you can share your rare issues, needs and concerns about rare disease directly to members of Congress.
3. Join Sanford CoRDS Research at their annual Rare Disease Symposium in Sioux Falls, South Dakota. To learn more, click here.
4. Check out Global Genes, allies in rare disease. Global Genes is an active participant in all things Rare Disease Day. In addition, Global Genes is taking registration now for their annual Denim Dash for rare diseases. You can build your team now as an activity for Rare Disease Day.
5. Maximize the power of social media! By using Twitter, Facebook, Instagram, Snapchat, Google+, YouTube, Vimeo and beyond, your voice will cross oceans. Twitter is a remarkable powerhouse — you can tweet to members of Congress, doctors, hospitals, clinicians, genetics, researchers, med students, etc. Use hashtags to reach a wide audience. #WRDD2016 #RareDiseaseDay #DefyRare2016
6. You can pass out flyers, ribbons or whatever symbol of hope your rare disease uses. Our symbol of hope for Klippel-Feil syndrome is the skeleton key — to open doors for a rare skeletal disease. We wear them on necklaces, bracelets, key chains, we hand them out — you name it!  Hand out information about your rare disease. Many organizations, such as Klippel-Feil Syndrome Freedom, are involved in Rare Disease Day events and offer specific fact sheets about your rare condition. You can print out and share this information at your doctor, hospital, school, work, community, neighborhoods, church, library, recreation centers, grocery stores, etc. 
7. Contact your local media. Spread the word about World Rare Disease Day and your rare condition. Share your message! Write a story for your local newspapers, contact your local TV news stations and radio stations about a story, and write for The Mighty.
8. You can Wear That You Care. (The Wear That You Care is a trademarked slogan from Global Genes.) Wear a t-shirt, jersey, hat or item that tells others you care about rare disease. This is a great conversation starter. The Gwendolyn Strong Foundation has created Rare Disease Day apparel, coordinating with Global Genes. Other Remarkably Rare sites have t-shirts from current or past events that you can wear. You, your family and friends can wear your rare disease activist apparel on Monday, February 29!
9. Using the ideas above, you can create your own event in your area. Invite your family and friends to participate with you. No event is too big or too small. Do a presentation at school or work to explain rare disease and how it affects you or your child. Global Genes offers additional materials to help. One year we had a guy in Canada who did a Bowling for Rare event! Hold an indoor or outdoor walk for rare. Be sure to coordinate your event with your specific rare disease organization to elevate your efforts on a much larger platform. These larger platforms will expand your efforts to a much larger audience.
10. Do one thing on Rare Disease Day or during Rare Disease week. Nothing is too small. If an event is not near you, or your chronic rare illness makes travel difficult, your impact still matters. Your computer, tablet, cell and photos are powerful vehicles. If you can't make it to an event, Rare Disease Legislative Advocates welcomes you to share your story, specific needs and policy priorities. They will hand deliver them to your elective officials for you. Click here for more information.
Sanford CoRDS will provide livestreams of several of their Rare Disease Day Symposium Presentations so you can gain live, valuable information from the comfort of your own home. Click here to register.
Take action and have fun connecting with others. Let's make the unknown known. Be empowered to defy rare disease in 2016!
Thank you,
Sharon Rose Nissley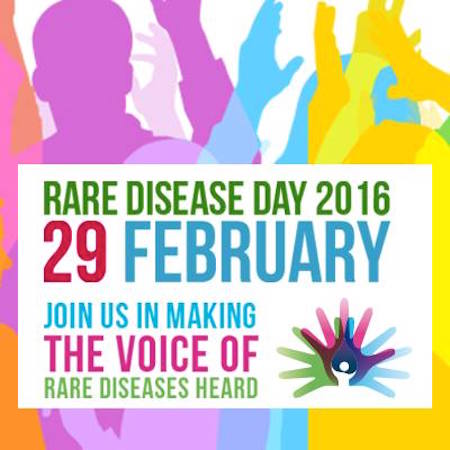 Connect with us! We will be Rare Disease Day all the way at Klippel-Feil Syndrome Freedom. You can find us on Facebook, Twitter (@KFS_Freedom) and Instagram (@kfs_freedom).
Originally published: February 2, 2016