The Part of Childhood Cancer We Think About but Don't Talk About
---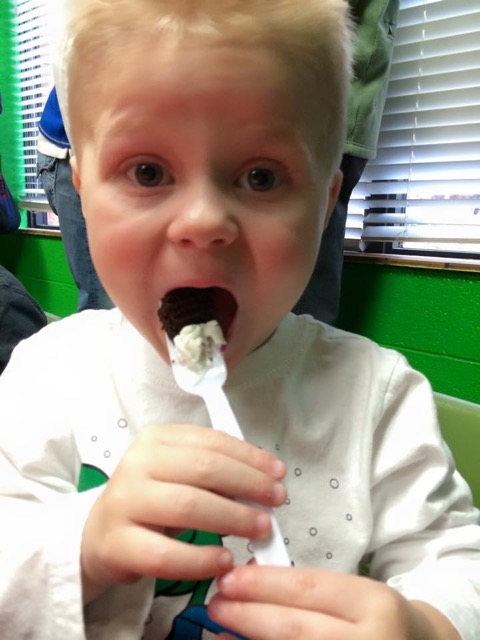 My son John, who is now almost 4 years old, was diagnosed with high-risk infantile acute lymphoblastic leukemia when he was only 3 and a half months old. This comes with a less than 50 percent chance of survival. He's off-treatment now and doing wonderfully, but there's one thing no one really talks about when your child is diagnosed with a life-threatening disease: death. At least not in a direct way. We dance around the topic by saying things like, "If the worst were to happen," rather than saying, "If he dies…"
It's this background noise everyone is trying to ignore — like when one of your coworkers is tapping a pencil on their desk and it's driving you crazy, but you don't want to be the ass who tells them to knock it off. That's what death in the childhood cancer community is like: a constant tapping no one is acknowledging because who the hell pictures their child's death or thinks about what their funeral might be like?
Me. I've done it. Dozens of times. I've imagined my son's death. I've planned his funeral in my head more times than I care to count. We would play "Still I Fly" by Spencer Lee. It's on the soundtrack for "Planes: Fire and Rescue," one of John's favorite movies, and while it played, we would watch a slideshow of his beautiful face. I wouldn't hold back, though. We'd show pictures of him laughing but also the pictures of him going through the worst parts of treatment because that was his reality for so long, and he fought like a warrior. He deserves to be applauded for going through the hell that is cancer treatment.
I've even written his eulogy. I would talk about how my son defied odds when he started walking at 14 months old. That may be late for most kids, but for a child who lives most of his life in a hospital, it was a damn miracle. I'd tell everyone how loud his laugh was, as was everything else he did, but that laugh was the definition of defiant because who ever thought a kid in the middle of getting poison pumped into his veins could laugh?
I know a lot of cancer parents. We all know each other's "odds," but we don't talk about the macabre fact that we've all thought through the worst possibility — that our sweet, innocent, sometimes obnoxious babies might die. Even though most of us have faced one form or another of a "close call," we still don't give voice to that constant tapping in the back of our heads.
Only my husband knows how thoroughly I've thought this through, and he's done the same. He says it's a kind of mental preparation. We can't pretend death isn't a possibility because it is. What happens if we live in denial of the statistics and then the worst does happen? How will our brains accept this most horrible of realities? To my husband, imagining our son's death was a way of telling his brain this is a real possibility.
How shameful is that? It feels that way, which I guess is why we don't talk about it. We don't want our kids to die. The only thing we want is for our kids to live! It's the light we're constantly seeking. We want guarantees and promises from doctors that will never come. We keep looking for new and better treatment options because the current ones are as life-threatening as the disease itself. We search out people who have experienced "miracles" and have "beaten the odds" because we just need some freaking hope in a world that often feels hopeless.
This Friday, I'll be registering John for pre-k, and that was something I never imagined I'd be doing when we were sitting in that hospital room. And yet, that incessant tapping continues.
The Mighty is asking its readers the following: What's one secret about your or your loved one's disability and/or disease that no one talks about? If you'd like to participate, please send a blog post to community@themighty.com. Please include a photo for the piece, a photo of yourself and 1-2 sentence bio.
Want to celebrate the human spirit? Like us on Facebook.
And sign up for what we hope will be your favorite thing to read at night.
Originally published: May 5, 2015