Learning to Let Go as the Mama Bear of a Grown Son With a Disability
---
February 2022
"OK, Mom, here is the surprise, but close your eyes first."
"OK."
"Open them," he said.
I did and what I saw made me cry.
My 19-year-old son, just back from Germany, got himself a tattoo of a Mama Bear carrying her prosthetic-wearing Baby Bear.
It's been a tough year for both of us with respect to our mother-son relationship but rarely, in my nearly quarter of a century of parenting, did I feel such emotion as in that moment.
September 2021
"I'm not going back to college," he said.
My throat tightened, my eyes involuntarily filled with tears, and I was overwhelmed by a deep sense of sadness that simultaneously controlled and embarrassed me.
I looked away so he wouldn't see but, of course, he did, and it enraged him.
"I'm finished living other people's dreams… your dreams," he hurled at me.
A year ago, Amit was considered by many to be a superstar; a freshman on a D1 wheelchair basketball scholarship at the University of Texas at Arlington. He'd been awarded the NWBA's 2020-2021 MVP and managed to finish the year with decent grades.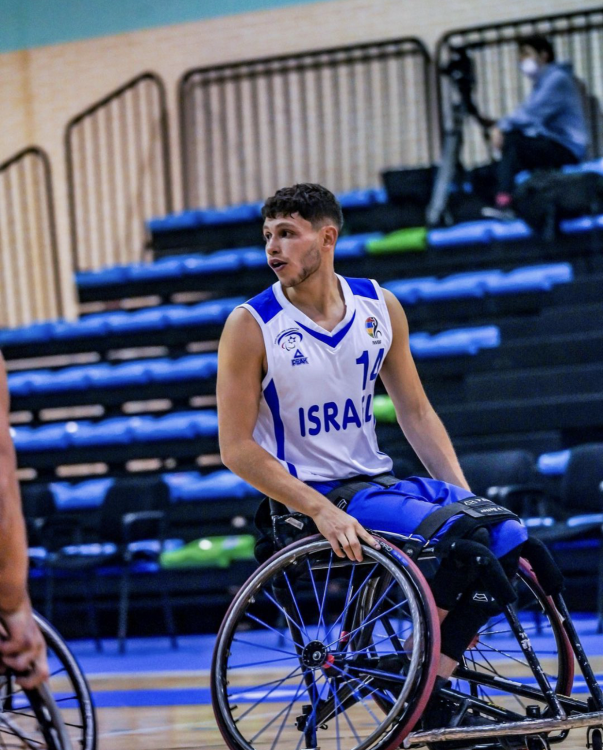 My mind and Texas, however, were two different playing fields. I had invested 18 years of my life doing what I swore I would do the day he was born, when the first orthopedic surgeon that glanced at his bizarre x-rays proclaimed, "I hope he has a good brain because an athlete he will never be." That day, my life pivoted and my only authentic mission was to ensure that this child of mine, who never asked to be conceived or born, would have every opportunity to live a good life. Amit made his earthly debut in August 2002, with a rare orthopedic condition in which his lower right leg was made up of cysts and chock full of fractures.
Similar to many parents (and mothers in particular) of children with disabilities with the available emotional and financial means, I became "Mama Bear," placing my career, my marriage, and even my other children and their needs on the sidelines. I worked mommy jobs and assumed that my other children, who were three and four years older than him, would "understand" that most of my attention went almost exclusively to their baby brother with the bum leg.
My main focus became advocating for Amit in every possible setting and situation. I became an expert at navigating medical, governmental, and educational institutions – first in Israel and then in California where we spent three years between 2012-2015 and where Amit decided to amputate his leg after numerous failed limb salvaging surgeries in Israel.
In California, he discovered wheelchair basketball and began his metamorphosis from "disability" to "expert." Simultaneously, I discovered blogging as a form of self-therapy. My first blog, about our family's decision to amputate, went viral and Amit transformed from a little kid with a big disability to a celebrity, giving interviews for national and international media outlets
After the amputation and liberated from the fear of injuring and "losing his leg," Amit went full speed ahead in the wheelchair basketball arena and found his power and his voice. In 2015, we returned to Israel and Amit continued to develop and excel at the sport, playing in the top league and on the Israeli U23 national team.
It was clear for us, even from the age of 14, that he was on track to study in the States on a wheelchair basketball scholarship. I was convinced that this route was his dream and at the time, maybe it was. It was certainly mine. He went to a summer camp at the University of Missouri when he was 15 and at 17 accepted a spot on the Movin' Mavs at UTA.
While his friends in Israel were enlisting in the IDF or beginning their year of pre-army service, Amit headed out on the road less taken, and three weeks before his 18th birthday, boarded a plane to launch his unique college adventure.
I was thrilled, blogging about how "victorious" I felt defying the odds. I thought our story would be a guiding point for other parents of children with diverse disabilities.
That was then, this is now, as they say.
Today, I understand that I was naïve and short-sighted. Amit's journey to UTA was not the end of the story but rather, another chapter in a complicated reality.
As a mother of two other young adults, I understand how challenging the transition from adolescence to adulthood is for both parent and child. Yet, despite loads of introspection and blogging, I was unprepared for the added complexity of this transition involving raising a child who, for lack of a better term, became my "calling" and life's work.
This story is still evolving, but I do hope that parents of young children with disabilities learn from my experience. Amit has left UTA and is in Germany playing professionally this season. His next steps remain a mystery and are his alone. The lessons I've learned so far are true for any child and any parent, but hold even truer for parents of children with disabilities where the natural instinct is to protect, or rather, to overprotect. Letting go is hard, but I trust Amit and recognize that my perceived "investment" is my issue and not his.
Looking back, I don't see what I would've done differently.
Mama Bears are born together with their Baby Bears. Instinctually, I could not have made different choices. The minute I held that sweet little baby with the gigantic cast, I knew that I would do whatever was in my power to help him be whoever HE wants to be.
This story originally appeared in The Times of Israel.
Originally published: March 22, 2022