Making a Shift to Accept Joy in My Life With Lyme Disease
---
The other day I was at the beach with my daughter. It was hard to tolerate the sun, my migraine was pounding and I wondered if a 15-minute stop at the beach would prompt me to call for help for the drive home, or worse, land me in the hospital. Then my little girl asked me to walk along the shore. I forced myself up, ignored the pain in my leg and started to chase her, playfully; I will never forget the surprise in her eyes. The excitement in her face brought tears to my own. "Mommy is running!" she shrieked, pure joy in her expression.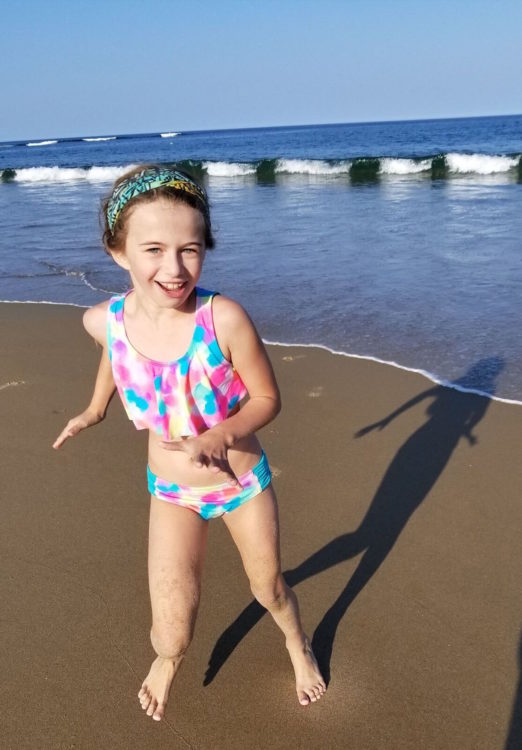 When I lay down that night, I realized this 8-year-old child of mine had never seen me run. In fact, when she was a baby, I was so disabled that walking from my front door to the mailbox was an impossible task. This afternoon at the beach had been a glimpse into my old life, a glimpse into the life that should be and should have always been, one I suddenly realized my children – never before today – had the joy to experience.
As a young adult, I was bright and ambitious, energetic and active, and I lived life fully. I ran daily along the busy main street in town, sometimes late at night, sometimes with a hockey stick and a puck, following my brother at warp speeds along the double yellow line, savoring the sounds of silence along a usually busy road. I played tennis at 5 a.m., went through hikes in the woods, climbed sand dunes at the beach. I was known to keep my kayak on my roof, my cross country skis or my rollerblades in my car, for I made many spontaneous stops along my commute back and forth to work to jump on the bike path, stop at the river or hit a trail through the woods. My doctor thinks it was during this time, in my 20s, that I could have been infected by a tick. I never had any bullseye rash.
My passion for teaching led me from special education to my first school principal position when I was in my mid-30s. I had earned my doctorate, and taught weekends and nights in the graduate program at Simmons College. I wanted everyone to be as inspired as I was, to get as much joy and opportunity from this life as I did. I celebrated a new marriage and family, reveling in the time I got to spend playing piano and golf with my husband and two boys.
Doctors say that tick-borne diseases can lay dormant in your body until times of great stress. This stress can be loss, life changes or physical stress on the body. The first child of my own was born when I was 38. My thyroid crashed, my blood pressure rose. I accepted these things as growing pains. Pretty soon, I didn't have the endurance to return to work. I watched in the shadows as my own retired former principal took over my role, and wondered what had become of me. I had lost stamina, ambition, even the abundant joy and love for life I'd once had.
Everyone who has a tick-borne infection can present differently. This can be related to the type of infections passed into the bloodstream, related to the degree of illness, even the person's own immune response. For me, although my body seemed to be slowly deteriorating, my brain was the first organ to be completely compromised. Unbeknownst to me, I lost my memory. There was no more piano playing, no more reading, no more attempts at any kind of intelligent conversation, no more driving for a while. When I lost my career, it left me struggling for months, wondering what had happened, what I had said, what I had done, why I had become this way.
Then, while dealing with the emotional struggle of what was happening to my brain, I simply and completely lost my body. I drove myself to a health clinic, not knowing why I felt so intensely ill when the day before I had been the picture of great health. On this pivotal day, I was told variably that I was having a heart attack, stroke, heart block, sarcoidosis, lung cancer. I tested negative for Lyme disease. I now know that testing for Lyme disease is highly unreliable. I know now that a negative test does not mean you do not have Lyme.
The true battle began when I started medication. My body had begun to fight. This is called the Herxheimer reaction. Those Lyme bugs intended to live, and the war had begun. In the early days, it was a long fight to get my legs back, to gain any stamina to walk. I experienced the dementia, numbness in my hands, stabbing, unbearable pain in my head, loss of ability to walk, migrating joint pain, screeching or sudden complete deafness in my ears, uncontrollable twitches and tics, to name a few.
When you have Lyme disease, you fight an aggressive battle to become well. If you haven't caught the disease in short time, and the disease has progressed, your battle is tricky. You go through phases of relief and renewed health, and phases of regression. If you don't know you have Lyme, you may struggle for years as you see many different doctors. You may be misdiagnosed with several different illnesses: fibromyalgia, ALS, MS, CFS, Parkinson's, to name some. While Lyme disease can mimic so many others, at the same time it also can exacerbate or even cause other diseases, as it destroys your immune system. A lot of us have lost our marriages, our homes, to the financial and emotional devastation caused by this disease, and it is a devastation known by no one other than us. You wouldn't get it 'til you get it, as the saying goes.
In time, I began to accept my fate. The intensity of this loss of my life was sometimes really hard to bear. I felt like I had left my life without saying goodbye, I had hidden under a veil of looking at myself like a project to study, and was finally being shown that the tremendous loss I had to truly face was my own life. It was not coming back. The damage had been done, this was my new life, and I had to make the best of it. You learn to love yourself for what you have endured. You learn to celebrate every growth. You learn to take nothing for granted.
By the time I had had my own two children, my first two boys had grown up. They had grown up with two driven, ambitious, joyful moms, and their dad. I've had a lot of days crying about my young children deserving that Mommy. My children deserve a Mommy who isn't sick. My children deserve a Mommy who will run with them on the beach, laugh at their jokes, cuddle with them, play ball with them, share moments of intense joy. Taking control of this is not a choice we all have. The fatigue, the emotional exhaustion and depression, are very real. But there comes a time when you start to realize there is a balance in this life. You make a shift.
The shift started happening for me when I realized my two small children, who were born with Lyme disease and chronic by the time the story all unfolded, were not living their own lives with joy. It suddenly hit me that I didn't want Lyme disease or any other to define who they were. I wanted them to persevere, to focus on their blessings, to live their life to their fullest potential, with happiness, abundance, with joy. The shift is learning to enjoy your life for what it is, no matter what fate you've been given. Every one of us must make a shift, create a passion, move forward with purpose. When we dwell on the sickness, we will not get better. The afternoon that I ran on the beach, was the day I realized my shift was making an impact. Maybe you can't run, but you can get to the beach. You can enjoy the ocean, for what moments you are able. Go at night, when the sun isn't glaring, when the crowds have dispersed, when it is you with your feet in the sand and the sound of the waves.
Start by telling Lyme disease it will no longer define you. Put all of your energies into healing. Heal your body, heal your mind, heal your soul and show your children that you will accept joy. Accept joy. You may get angry at me reading this, you may shout to the ceiling that even a person with Lyme doesn't seem to understand your pain. But I promise that if you make a shift, a shift will happen. If you celebrate every tiny step in your shift, your life will change. Embrace your blessings. Embrace every small moment. Force yourself to smile. Take that one step in making your shift. Throw that ball to your son, even if you only make five tosses before the pain sends you back inside. Draw that painting with your daughter, even if your tremors have a mind of their own. Let your new you create joy. I choose to live, and I hope you do, too.
Look for me at the beach, running.
A version of this post originally appeared on LymeDisease.org.
We want to hear your story. Become a Mighty contributor here.
Originally published: October 18, 2017