How Chronic Illness Is Like Living With a Permanently Broken Leg
---
I can never quite find the words to describe the reality of living with a chronic illness to a healthy person – the struggle of being in constant limbo between recovery and relapse. But let's compare it to a broken leg. When you break your leg, overnight you potentially experience a significant loss of independence, mobility, dignity and motivation. You become dependent on someone else, some days you'll be stuck in bed, some days you probably needed help washing and you could be extremely sad, hurt and angry when you can't participate in the activities you love or carry out trips you had planned.
Think of the things you miss – you may miss your sport games, your nights out with friends, trips you had planned, the freedom to jump into the car to pop to the shops, traveling plans or working. You begin to feel like a burden as you're dependent on others. Now think about how your injury has a finish date. You know you'll only have this cast on for roughly two months, then you can get back to your normal life. Or think about the time you had the worst flu of your life – at least you know you should be OK and recover in a week or two and the symptoms will eventually subside. Imagine if you suddenly woke up one morning and the doctor said this a long-term thing.
This is the reality of a chronic illness.
It is so unbelievably hard to put into words a way for people to understand the daily struggles of living with a chronic illness. It's when you're aware you can do a full 180 from being fine for a few hours to drastically deteriorating in the space of half an hour and knowing you're about to collapse if you don't get home and lie down. You operate on a pain level most people wouldn't get out of bed with. You become an expert in noticing your body signs. When the flare-up of symptoms hit you, they show no mercy; you can barely muster the energy to hold your own head up, you're nauseous to the point of wanting to vomit, you have a pounding headache from trying to focus and think through your brain fog, you're dizzy from standing for so long, you're subtly trying to find a wall to lean against as you can't support your own body weight anymore and your system has gone into shutdown mode from becoming overwhelmed due to your severe light and noise sensitivity. Most of these symptoms are invisible to the average person.
So, I just ask you, please don't be quick to judge.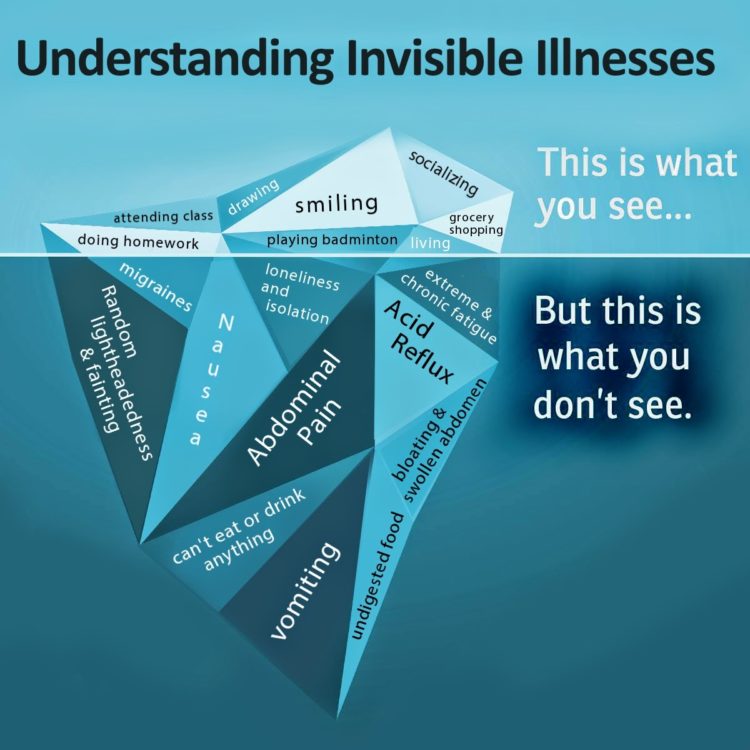 Because if you look closer there will be pain in their glazed-over eyes, bags under their eyes concealed with makeup that show the exhaustion and endless nights of insomnia, the shifting from foot to foot and side to side to try to relieve some of the pain in their joints and muscles, their inability to follow conversation as their chronic fatigue takes over, essentially smiling through the pain.
People ask why we put ourselves through this, knowing the day out or event we attend will most likely result in a worsening of symptoms and we will experience payback. The reason is quite simple: it is because we are still human, we are not our disease, we still want to make memories, we still want to participate in things we love that make us happy, we still want to live our life – living, not just surviving. Every event involves weighing up the pros and cons and the knowledge that you will pay for pushing your body. You constantly do calculations in your head wondering if you take this pain med or this nausea med or another strong cup of coffee, will it mean you can stay and enjoy yourself for another hour?
This illness has enlightened me and taught me very important lessons. Everyone needs a gentle reminder that we never know what battle someone is fighting and we never know what it took for them to be here today or even make it out of bed today. This illness has taught me to be less judgmental, to be more compassionate, empathetic and kind and more aware that all illnesses are not visible.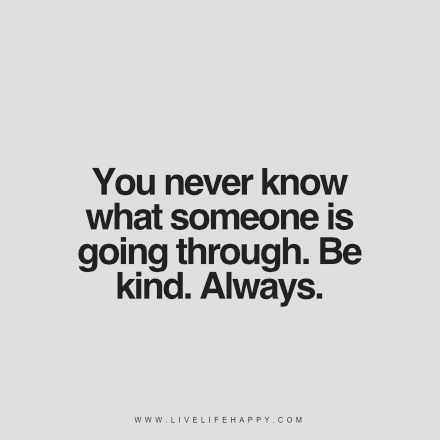 Most importantly: never take your own health for granted. 
We want to hear your story. Become a Mighty contributor here.
Originally published: August 21, 2017