Genetics, Tanning Beds and Sunburns: My Melanoma Story
---
Genetics. Tanning beds throughout my 20s. Severe sunburns from when I lived in Uganda. It all likely played a part in why I had a chunk of my face removed two months ago. But whatever the official reason was doesn't matter. All that mattered was I had melanoma, the deadliest form of skin cancer, on my face.
It was September of 2015 when I visited the dermatologist about a spot on my right cheek. It was a small, dry, red patch. It was growing, and no amount of lotion or coconut oil was making it go away. The dermatologist recognized it as precancerous immediately, and ended up blasting the spot with liquid nitrogen. It turned white on the edges, but within a few weeks, the spot disappeared.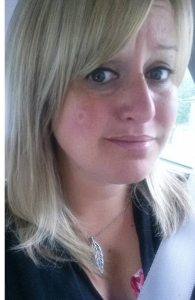 A little more than a year later, a mole started to grow in that same spot. At first, small and brown. Then it began to grow. One area was black. The edges were jagged. It was a strange-looking spot. I decided to have it checked out.
I was hoping the dermatologist would say, "No, that's nothing." But instead what I got was a concerned, "Yes, we need to biopsy that today."
First they numbed the area with a series of shots. (Shots to the face are real fun.) Then she razored out a small chunk of the spot on my face. At this point my face was bleeding and wouldn't stop, so she had to cauterize the area. Nothing like seeing smoke rise from your face while smelling burning flesh.
I was told they would call me in a week with results.
A week went by and I hadn't heard anything.
"I'm sure it's fine!" so many people said.
"It's nothing, that's why they haven't called!" others said.
But my curiosity got the best of me and I called the dermatologist on a Friday morning. My results had just come in.
"Your biopsy shows melanoma. It's very small, but bigger than what we call 'superficial.' So it's not a best-case scenario, but certainly not the worst. You'll need to have surgery to remove the melanoma, and since it's on your face, we'll refer you to a plastic surgeon."
For some reason, I wasn't surprised. I didn't really feel any emotion.
"Melanoma cancer is serious, so we'll want to get you in as soon as possible," she said. "Are you OK? Do you have any questions?"
"Um, no questions," I replied.
We set up a consultation with a plastic surgeon and hung up.
And then I cried.
Unfortunately, I'd already prepared for bad news and read up on melanoma. I knew it was the worst type of skin cancer to have. I knew it could kill you. Although small, the deadliest type of skin cancer was on my face — not far from my brain or my lymph nodes — where melanoma spreads to before it kills you.
It was small. The surgeon would remove it. I wouldn't have to do chemotherapy or any other sort of radiation, as long as he removed it all. But still. I was told I had cancer.
Words no one wants to hear.
It was about a week later when I met with the plastic surgeon. He explained the stages of melanoma and where mine fell.  The stages run from stage 0 (superficial) to stage IV. Mine was a stage 1 melanoma.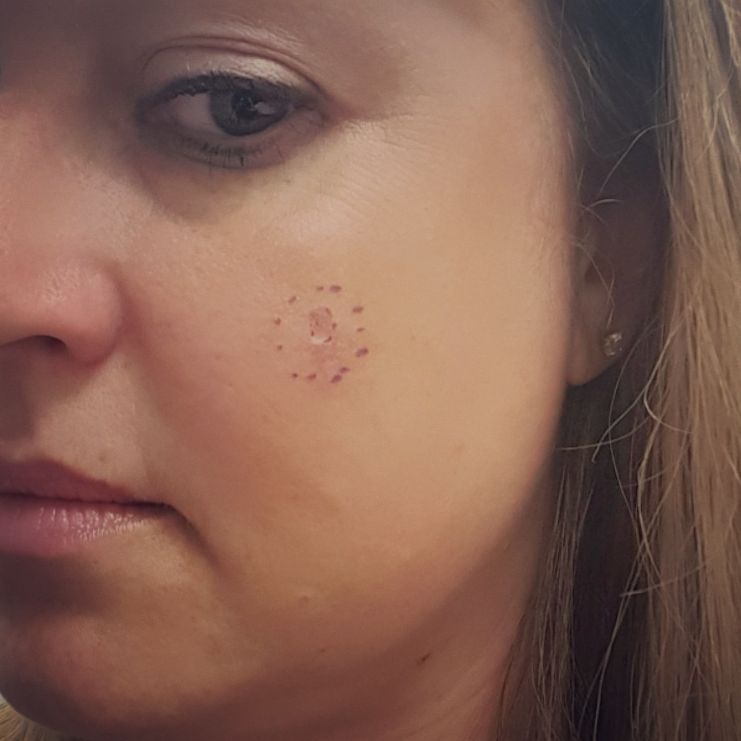 He drew on my face to show how big of an area he would remove. Typically, he said, there would be another appointment before surgery, but since this was melanoma, there was no time to waste. It had to be done sooner than later.
It's funny how people react to skin cancer. I heard a lot of, "Oh I had a spot removed once," and, "I had basal cell carcinoma skin cancer before." Which, yes, sucks, because all cancer sucks. But this was melanoma, and people don't understand how deadly it can be once it spreads.
Not to mention the fact that this was on my face.
But I kept a positive attitude. How could I not? It was somewhat of a simple "fix," assuming the surgeon removed all the melanoma during surgery. And yes, I'd have a hideous wound on my face for a while, but that's nothing compared to burn victims, people who have had acid thrown on their faces, etc.
I tried to keep things in perspective, and certainly leaned on my faith in the Lord as I awaited surgery.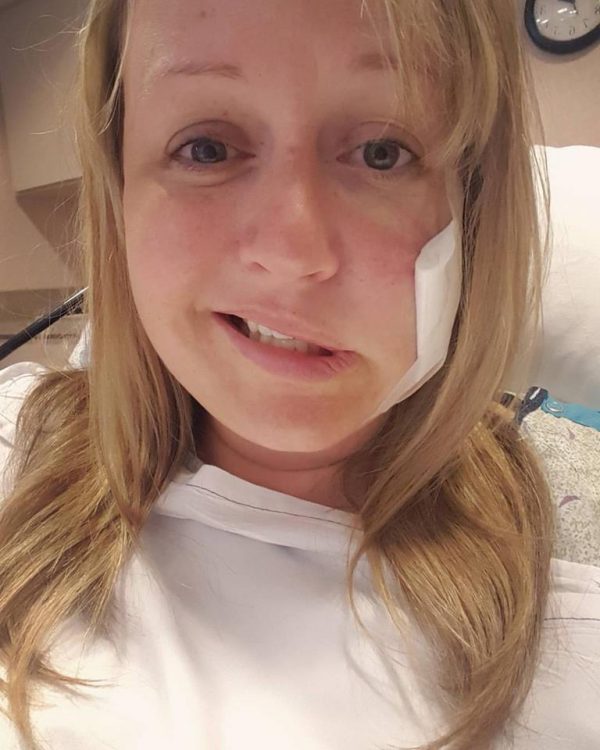 My surgery — wide excision — was on August 9. I was sedated, but was "awake" for the surgery. I was tied down to the table, so as not to jolt and mess up the surgeon cutting my face open. It was quite an interesting experience.
Recovery wasn't bad at all, which surprised me. Once the numbness wore off that night, it was pretty painful, but the next morning and on was fine. It looked, however, pretty disgusting when I was allowed to take off the bandage.
Within four days, they removed the stitches and it began to heal. And within a week, we received the results of the biopsy of what they removed — my margins were clear, and all of the melanoma was successfully removed.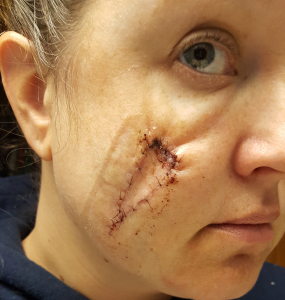 Praise. God.
But my journey isn't over yet.
Just last week I met with an oncologist. My surgeon said it would be a good idea, in case I get melanoma again, in case it has spread, I would already be established with one.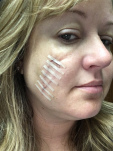 Because that's the issue with melanoma — if it appears on your body once, it's very possible that it will appear again. Whether due to genetics, tanning beds, or natural sun, I have the cells in my body to produce melanoma. The oncologist will check my lymph nodes again in three months, I have to get full body checks for suspicious spots every six months for the next three-to-five years, and then, if no other melanomas appear, I still have to be checked every year for the rest of my life.
I've been told it will take a good year to tell how well the scar has healed. There are a lot of nerves in the face, so it will also take a while to know whether or not I'll regain feeling in that area. Right now, if I touch the top part of the scar, it feels like I'm touching the bottom of it. Nerves are a funny thing!
I hope my melanoma story ends here. I plan to be smarter in the sun — wearing SPF 30 every day, whether I'm at the beach or not. And I've been encouraging all my friends and family to get checked, and many of them have! All have been fine, with the exception of a friend's husband who has a superficial melanoma spot on his arm that has to be removed.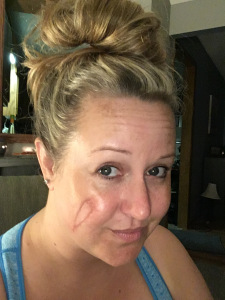 But thank the Lord that people are getting checked. If I went through this just to make others more aware of taking care of their skin and going to the dermatologist, it was worth it.
I'm very lucky. Melanoma kills, and it's one of the fastest growing cancers for people in their 20s and 30s.
I get it. Everyone looks better with a tan.
I get it. It won't happen to you, right? That's certainly what I thought. Nothing could stop me from tanning. Not even the threat of deadly skin cancer.
But my lesson has been learned. I pray no one else I know has to learn this lesson.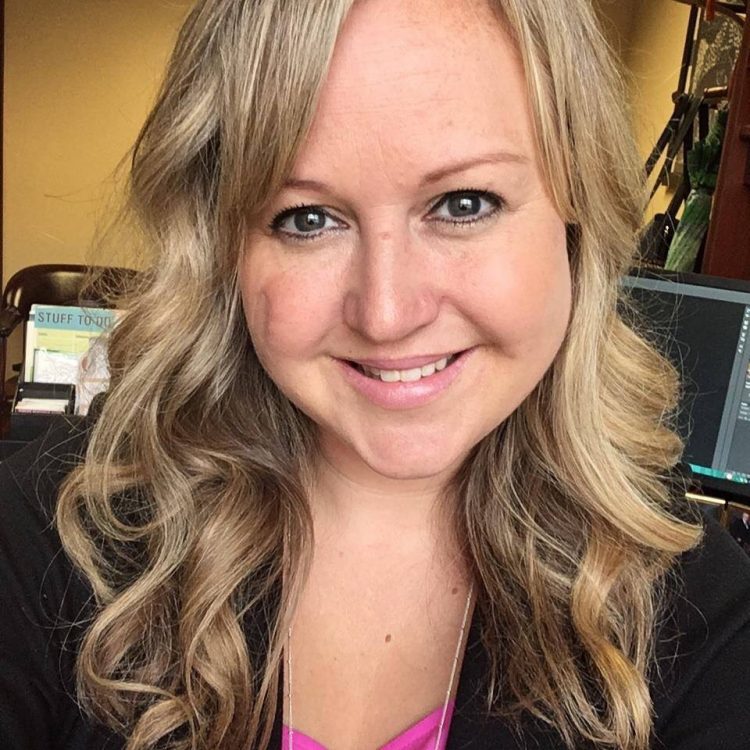 Some people commented on my bravery as I went through the entire thing. I can only attribute my positive attitude and outlook to my faith in God. I knew, and I still know, that He has a plan for my life. And even if that plan includes melanoma, I'm happy to live it, because there's nowhere I'd rather be than in God's will for my life.
Note: The melanoma was found in my right cheek. In photos, it appears to change because some of the photos are selfies and were taken with a phone that reverses the photo.
This post was originally published on My Melanoma Story.
We want to hear your story. Become a Mighty contributor here.
Originally published: December 27, 2017