An Open Letter to Carrie Underwood, From a Skin Cancer Survivor
---
Dear Carrie,
I've never felt like I was beautiful. So when I had melanoma removed from my face last last year, it was kind of difficult to take in. Here I was, who I consider to be an average-looking woman, and who would now have a big scar on her face.
Through the support of my family and friends, I knew I couldn't let it bother me. I didn't have a choice. The surgeon even told me right before I went back for surgery there are so many nerves in the face there was a chance the right side of my face would be paralyzed.
He also said my smile might not ever be the same."But, we don't have a choice," he said. "You have melanoma, and it could kill you if we don't get it removed."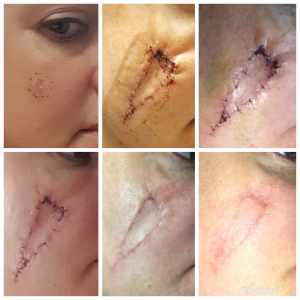 I refused to be ashamed of the scar on my right cheek. I knew I was more than what people see on the outside.
When I read about your fall and all the stitches on your face, my heart broke for you. While I had around 20 stitches, you had more than 40. I can't imagine what it's like having your beautiful, flawless face cut up like that.
But a part of me was encouraged. I had something in common with you — a scarred face. And I had no doubt you would still be beautiful.
After the first of the year, I read that you posted your first picture of yourself since the accident. I was eager to see you, confident as ever, displaying your wounds for the world to see. But instead I only saw your eyes peering out behind a scarf and a hat.
It's difficult to put into words, but it made me feel… ashamed. I was never afraid to post pictures of my wound or my scar. If you are hiding your scars, should I be doing the same?
If you are too ashamed to share your face with the world after it's been cut up, should I also be ashamed?
Should I not be sharing my journey of healing with people who follow me on Instagram and Facebook, or those who read my blog?
However, I also realize you're facing something I can't even begin to imagine. While hundreds of people see my photos, millions of people see yours. But Carrie, I'm here to tell you that there's more to you than how you look.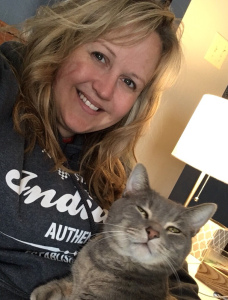 I read another blog post recently about how it's not your job to be inspirational. I have to disagree. Carrie, you are a positive role model for millions of girls and women. You are a celebrity and a public figure. Whether or not you want to be an inspiration to the public and your fans, you are.
I pray you find the courage to show the world that gorgeous face of yours. You have an opportunity to empower many women who have been through similar experiences and need to hear you say, "Here are my scars. I am not ashamed."
Show people like me, who do not hide their scars, that we have nothing to be ashamed of.
"When the sharpest words wanna cut me down
I'm gonna send a flood, gonna drown them out
I am brave, I am bruised
I am who I'm meant to be — this is me.
Look out 'cause here I come
And I'm marching on to the beat I drum
I'm not scared to be seen
I make no apologies — this is me."

– "This is Me," from "The Greatest Showman" Soundtrack
This post was originally published on Summit City Single.
We want to hear your story. Become a Mighty contributor here.
Header image via Carrie Underwood on Facebook
Originally published: January 17, 2018