'13 Reasons Why' Season 2 Episode 10 Review: 'Smile, Bitches'
---
"13 Reasons Why" was one of the most talked-about shows of 2017. This season, we're analyzing what each episode means for the mental health community.
Editor's Note
This post is a review of season two, episode ten of "13 Reasons Why" and contains spoilers. 
Content warnings: This episode of "13 Reasons Why" references rape, suicide and shows physical assault.
Hannah was a bully. At least, she bullied a girl at her old school before she transferred to Liberty High. Sarah's testimony during the trial was painful, though I'm not sure what her speaking about Hannah proves. That because Hannah was a bully, she should have been able to handle being bullied? Sarah's testimony surely didn't win Hannah any likability points. So much so that after Sarah and Tony testify, Jackie leaves Mrs. Baker's home. I guess Jackie doesn't think the Baker's have a shot at winning anymore? Jackie leaves a letter for Mrs. Baker when she leaves, and though we see Mrs. Baker read it, we don't find out what it says.
We learn a lot about Hannah in this episode, and unlike previous episodes where what we learn about Hannah seems to deviate largely from the plot of season one, some of what we learn here is believable. Not all bullies are like Bryce. Based on Hannah's chronic sense of loneliness, I believe she would have been mean to Sarah to fit in with the other girls in her friend group. Being mean to conform or be popular is something we see a lot on this show, just look at Marcus.
According to Tony, who also testifies during this episode, Hannah did feel sorry for bullying Sarah. Tony goes to the hotel where Sarah is staying to tell her this. I'm not sure if he tells Sarah this in an attempt to redeem Hannah or make Sarah feel better, but the whole conversation felt unfair to Sarah, who isn't required to forgive Hannah.
We learn a lot about Tony in this episode. In our recap of season one, I said Tony was one of the show's most and least developed characters. I think this episode was meant to fill in some of the blanks, but I'm not sure it did that. We know that Tony has anger management issues, but we still don't know why. Usually, when someone has outbursts like that, there's something in their past that explains their poor coping mechanism. But we don't see that here. We know Tony has assaulted two people — one for selling drugs to his sister and another for "trying to break into his car." We also learn why Tony gets the tapes. He owed Hannah one. Tony assaults a third guy for calling him gay slurs while on a date with Ryan. Tony hides in the movie theater because he can't get caught assaulting someone a third time or he'll go to jail. Hannah covers for him, lying to the police, while he hides. I'm not sure what was in the second letter, the one Ryan gave him, that Tony burned at the beginning of the season. I have a feeling it has something to do with this plotline, but it isn't clear. It seems like Tony and Hannah were friends, so Tony being so calm last season — especially given his anger issues — and not pushing to get justice for Hannah, still feels off.
Tony isn't the only one who is angry. Clay admits he has a problem with anger too. Just one tiny problem, the person he tells this to is hallucination Hannah (she's back), who as we all know isn't real and can't help him. Clay even tries to kiss hallucination Hannah. At this point, episode 10, I'm shocked nothing has come up about Clay's mental health or trying to get him some help. Has no one witnessed him talking to hallucination Hannah? He seems to do so in public fairly often. He seems to be in a downward spiral and trying to solve the Clubhouse mystery and get evidence to arrest Bryce is only making things worse.
At the end of the episode, we finally figure out who has been leaking the clubhouse photos to Clay. It's Zach. Rather than being thankful for the clues, Clay asks why he couldn't just be upfront. This all comes back to everything Zach has kept hidden, to which Zach admits he is a "coward." Sheri, Clay and Justin go through the photos and learn that both Nina and Hannah went to the clubhouse and that Chloe was raped by Bryce.
Clay asks why all the women went to the clubhouse if it wasn't safe and starts to victim blame the girls at Liberty High who have interacted with Bryce's group. Sheri sets him straight and reminds him we don't know what happened before or after the photos were taken. The essential point she makes is: Why do women have to police themselves? Men should just know not to take advantage or force them into compromising situations — rape, sexual assault and harassment are all crimes after all. We should be pointing fingers at the perpetrators, not the victims.
It's also worth saying a few things about Tyler at this point. Tyler is not having an easy time this season. It seems like "13 Reasons Why" is trying to recreate the build-up behind there are "reasons why" a person does something that's difficult for others to comprehend. We know Tyler has guns, so it feels like we're creeping towards a gun violence plotline. Given the amount of gun violence in U.S. schools today, I wish the show didn't pick up this storyline. It shouldn't try to justify why people turn to gun violence like it tried to explain why Hannah died by suicide. Hannah felt like she lost all of her friends, Tyler feels like he lost all of his friends. Hannah has control taken away, Tyler's parents punish him by taking away the thing he loves (photography). Hannah has a significant relationship that doesn't turn out the way she wants it to, and so does Tyler. Creating something like "here are the reasons why Tyler turned to guns" is dangerous. Like suicide, gun violence isn't the answer — but the similarities between the two end there.
Stray Observations and Future Questions
Mr. Porter is under review by the school following his testimony. Despite being told he can't talk to students, he wants to help Justin. When he yells at Justin to "sit," you can tell he's learned from letting Hannah leave.
Sheri gets into the clubhouse, smokes weed and gets her picture taken. Clay asks Sheri to go back to the clubhouse, but she says she can't. It makes sense too — obviously, it's not a safe place for women.
Someone leaves a bullet in Alex's locker.
Someone vandalized the Baker's drug store. Is this Bryce and his friends doing?
Nina doesn't want to talk about what happened to her and Jessica realizes that Nina might not have healed as much from her trauma as either of them thought.
Jessica's dad sees Justin and wants to yell at him for his role in his daughter's rape. Jessica yells, "He didn't do it," and implores him to consider who he is actually hurting when he lashes out in front of all her classmates — Jessica.
Our rating: 
Though a few good conversations happen in this episode, the episode loses points for the parallels it's highlighting between Hannah and Tyler's motives as well as some hard to believe plot points. The relationship between hallucination Hannah and Clay is growing more and more troublesome.
What would you rate this episode? You can vote in our Twitter poll below or in the comments section at the end of this article.
Because "13 Reasons Why" covers topics relevant to the mental health community, we are reviewing every episode so people can determine if episodes are too triggering to watch or can read afterward to work through the subject matter. If you watched Ep 10, how would you rate it?

— The Mighty (@TheMightySite) May 20, 2018
You can follow along with the rest of our "13 Reasons Why" reviews here.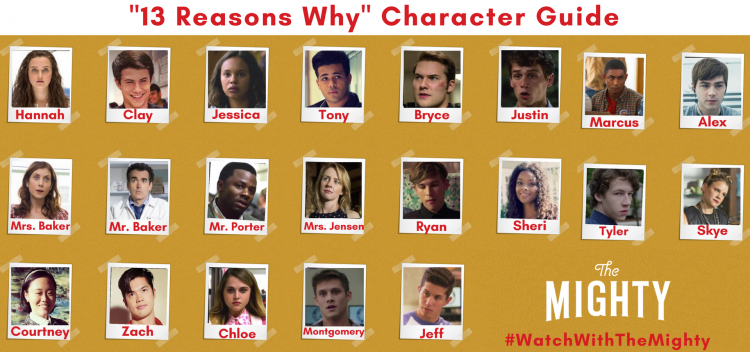 Want to watch "13 Reasons Why" with us? Use the hashtag #WatchWithTheMighty when you post your thoughts on social media or let us know what you think in the comments below.
Discussion Questions:
What do you think about the parallels the show is creating between Tyler and Hannah?
Were you surprised that Zack was the one sharing the photos? Were his acts "cowardly?"
Header image via Netflix.