'13 Reasons Why' Season 2 Episode 2 Recap: 'Two Girls Kissing'
---
"13 Reasons Why" was one of the most talked-about shows of 2017. This season, we're analyzing what each episode means for the mental health community.
Editor's Note
This post is a review of season two, episode two of "13 Reasons Why" and contains spoilers. 
Content warnings: This episode of "13 Reasons Why" references rape, suicide and self-harm.
Oh boy, Clay is hallucinating.
Hannah's back as something Clay's mind has conjured up. Or, she's a ghost, as Clay asks — but my money is on her being a hallucination. Hallucination Hannah causes a lot of trouble for Clay. She makes it difficult for him to "perform" when he wants to be intimate with Skye and she challenges how much he's really moved on (if he's moved on at all). We don't see what Clay was like over the past five months, just the day before the trial and forward, so it's hard to know if he's healed at all or if the trial is just reopening some partially-healed trauma.
We'll come back to Clay and Skye later in this review, but first, Alex.
In addition to recovering from the mental health issues that led to his suicide attempt, Alex has to recover physically. Alex is clearly struggling to cope with the fact that he is now disabled. It's interesting to see how the show handles disability. Since Alex's disability stems from his suicide attempt, it's not surprising he feels responsible for his impaired mobility. We see this a bit when Alex asks Tyler to see the photos Tyler took of Alex when he was in a coma, and Alex asks, "Why did I do this to myself?"
When Alex asks to see his suicide note in episode one, his mom mentions a doctor, which we can assume is likely his therapist. Addressing his mental health issues and suicide attempt is, of course, important, I just hope he's also getting emotional and mental support to help him cope with his disability. Otherwise, just letting Alex say things like, "I'm a worthless piece of shit," is a damaging message to send viewers who may feel to blame for their own disabilities or illnesses.
It's also interesting to see other characters relate to Alex's disability. It's nice that no one seems to be babying him. If people are treading lightly around him, it's clear it has more to do with his suicide attempt and trying not to "upset" him than it does treating him differently because he uses a cane. If anything, people are forgetting a little too much that he might need some modifications to make school a bit more accessible. When Zach wants to avoid Bryce and suggests they take the side entrance, Alex makes it clear he can't walk that far. Zach's defense that he'll carry Alex is ridiculous, and I'm glad Alex stands up for himself and doesn't let that happen. Same thing for when Zach seems to forget he needs to help Alex out of the pool, and Alex reminds him. I like that Alex doesn't seem afraid to remind people he needs assistance from time to time — that's a very real thing when you have a disability or illness that impairs your mobility.
It seems like Zach has something going on too. Alex apologizes to Zach for "forgetting" about something in Zach's personal life that has to do with Zach's house being empty and Zach needed physical therapy. No clue what that's about.
Speaking of standing up for one's self. It's nice to see both Courtney and Jessica do a little self-advocating. Courtney finally comes out, though it's a shame, for her sake, that she's forced to do so while testifying. Though a bit awkward for Courtney, I did enjoy the scene with Courtney's gay dads talking about their poor movie choices right in front of Courtney.
Jessica goes through a lot in this episode too. She receives a threatening note telling her to keep quiet and has to watch Bryce and his new girlfriend, Chloe, obnoxiously making out every second they get. The conversation between Chloe and Jessica is incredibly upsetting. With Jessica absent for five months, a rumor spreads that Justin left because she cheated on him with Bryce, and then called it rape to "cover up" her infidelity. Nice try, Bryce, but us viewers know that's not the truth. Chloe sticking up for "her man" feels gross, and it should. Denying survivors because we don't like to believe those we love could do something reprehensible is something we've seen in real life with the #MeToo movement. We need to listen to survivors and prioritize their stories. Cough, cough, Chloe.
Though Jessica doesn't stand up to Chloe and reiterate that she was, in fact, raped, she does sass Mr. Porter. "Really, you think you can be helpful all of the sudden," she asks him when he offers to help. Mr. Porter gets sassed a lot in this episode and I am here for it. Later on, Sheri tells him, "I'll be sure to stop by though if I'm ever raped." Mr. Porter needs to be held accountable beyond teen girl zingers, but this is a start. Mr. Porter clearly has a track record of being awful, a new character, Nina Jones, warns Jessica not to trust him. Doesn't seem like Jessica would anyway, thanks to Hannah's 13th tape.
Beyond these moments with Jessica, the episode gives us a glimpse of Jessica's recovery. She tells Alex that looking at Bryce is like reliving her rape. And if Bryce is giving her flashbacks to that horrible night, she could very well be suffering from post-traumatic stress disorder (PTSD), which is common among rape victims. It's also revealed that Jessica has been sleeping on the floor of her parents' bedroom.
In the parenting world, Mrs. Baker is not doing well. At this point, I think it is fair to say Mr. and Mrs. Baker are no longer together. While going through some of Mrs. Baker's clothes, Jackie, her new friend and a fellow suicide loss survivor, finds the blood-stained dress Mrs. Baker was wearing when she found Hannah's body. If you've ever lost someone who meant a lot to you, whether by suicide or natural causes, you probably know what it's like to hang on to something that reminds you of them or their final days. When Jackie washed Mrs. Baker's dress, I gasped. HOW COULD YOU THINK THAT WAS OK, JACKIE?! We should never push people to move on before they are ready, I'm glad Mrs. Baker said she has to do it "in [her] time, in [her] way." While it's great that Mrs. Baker stood up for her right to grieve on her own schedule, I do have to say I'm a bit concerned about her friendship with Tony. Why is she drinking beers with a minor? It's clear she needs someone to talk to, but she shouldn't be using a teen as her therapist. Even Mr. Baker previously told her it was inappropriate.
Which bring us to the end of episode two, and Skye inviting herself over for dinner. It's not surprising Clay didn't tell his parents about Skye. He didn't tell them about Hannah and it doesn't seem like they have a great relationship. It's unfortunate, however, that Skye takes it personally. I really hope the show gives us a better glimpse into Skye's mental health, otherwise, it is just promoting some dangerous stigmas about people who self-harm. It can be difficult to love someone who self-harms, for fear that arguments could trigger that person to engage in self-harm behaviors, but self-harm isn't simple. There are a lot of factors that can lead a person to self-harm, painting Skye as a troubled, attention-seeking, "bad girl" oversimplifies real emotional or physical pain she may be experiencing.
It's understandable, then, that Clay chases after her. If he views Skye's self-harm as a cry for help or a precursor to suicidal intent, then Skye is a way to right the way he "wronged" Hannah. Of course, hallucination Hannah fights him on this one, but it makes sense that Clay fears his fight with Skye will put her over the edge. It's hard not to feel for Clay when he gets to Skye's house and sees her taken away in an ambulance. I'm afraid of where this narrative is going, but I'm going to give the show the benefit of the doubt here.
Maybe Skye isn't suicidal. Skye's mother cryptically tells Clay, "Nothing happened that hasn't happened before" and "She's not hurt, she's ill." Skye and Mr. Jensen were making gluten-free pasta, so who knows… Maybe she has a severe celiac disease or a wheat allergy. Or, maybe Skye's mom is just reminding us all that mental illness is just that, an illness.
Stray Observations and Future Questions
A big LOL to Mr. Porter's new class: Alternating Strategies (and) Solutions, or as it is abbreviated A.S.S. Really, Mr. Porter? You couldn't think of a better name?
Sheri is back, though it's not clear where she went. She'll need to go to summer school to make up the time she missed, which likely has something to do with her role in Jeff's car accident.
Tony has a probation officer and is boxing as a form of "anger management." For a character who was so saint-like in season one, it's interesting to see this switch. Also, Tony and Brad are no longer dating.
Tyler's not allowed to photograph female sports anymore. I'm surprised this is the only punishment he's faced for stalking.
Alex also receives a threating note this episode related to his suicide attempt. Bullying always feels gross and vile but this is an especially low blow.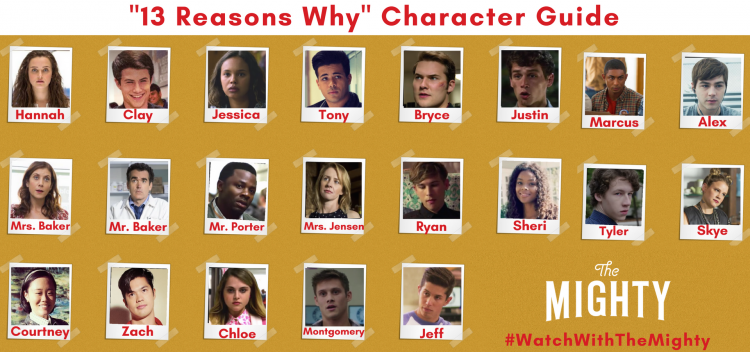 Discussion Questions
What are some ways you can best support someone after sexual assault?
What did you think of the way "13 Reasons Why" represented disability?
Our rating: 
I'm giving this episode three stars for the way it handles Alex's disability and Jessica's struggle returning to school following her rape. The episode loses a star for hallucination Hannah (it's a bit too much, in my opinion) and the way the Skye/Clay storyline is being handled.
"13 Reasons Why" season two premiered today. On a scale of one to four stars, what would you rate episode two? #WatchWithTheMighty

— The Mighty (@TheMightySite) May 18, 2018
You can follow along with the rest of our "13 Reasons Why" reviews here.
Header image via Netflix.
Originally published: May 18, 2018