'13 Reasons Why' Season 2 Episode 8 Recap: 'The Little Girl'
---
"13 Reasons Why" was one of the most talked-about shows of 2017. This season, we're analyzing what each episode means for the mental health community.
Editor's Note
This post is a review of season two, episode eight of "13 Reasons Why" and contains spoilers. 
Content warnings: This episode of "13 Reasons Why" contains references to rape, suicide, self-harm, illicit drug use and drug overdose.
Thanks to Clay, the tapes are out and everyone has listened to them.
There's a lot that follows in the wake of the tapes, and Liberty High is abuzz. Someone graffitis "rapist" on Bryce's locker. Tyler is thrown in a closet for stalking Hannah. Then he's smashed into his locker by Zach, who thinks Tyler is threatening him. Bryce is visibly panicked, but believes his dad and the family's legal team will fix everything. Chloe is catching on that Bryce is not so nice and scribbles out all the mean graffiti written about Jessica in the bathroom. Meanwhile, Jessica's dad puts two and two together and realizes that Jessica is the girl on tape nine.
Justin is back at school and threatens Bryce. Bryce lashes back and tells Justin no ones cares about him because his home life is a mess and his family isn't as affluent as the Walkers. Likely not feeling great about himself after his talk with Bryce, Justin gets heroin from a fellow student and goes to Clay's house where he overdoses. Lucky for Justin, Alex invites himself into the Jensen's house and finds Justin choking on his vomit. After a bit of a struggle, Alex finds the strength to roll Justin over, thus saving the day.
Both Mr. and Mrs. Baker testify in this episode. We learn that Mr. Baker had an affair before Hannah died and that Hannah knew about it. Again, this seems like another event that, based on what we know about Hannah from season one, should have been on the tapes. Marcus gets a whole tape for groping Hannah's thigh, but her dad doesn't get a tape for an affair? Zach gets a tape for stealing compliments but doesn't get a tape for picking his friends over her? Clay gets called out for leaving her the night of the party but there's no mention of how depressed she was after they did drugs? I'm just not buying it.
It's in this episode that Mrs. Baker, who comes under scrutiny for her family's history of anxiety and not taking Hannah to a therapist, realizes that there are a lot of factors that can lead a person to end their life. Perhaps it wasn't just the school that was negligent.
Blame gets thrown around a lot on this show, so it's nice to see a character not blame others for something happening to them. I'm talking about Skye, who finally has her phone privileges back. Clay goes to visit Skye at the mental health facility she's at. Skye tells Clay she's been diagnosed with bipolar disorder and is on medication now. Clay, with all of his mental health wisdom, asks if she's sure that's what it is. She says it is, and reminds him that she tried to grope him at the dinner table in front of his parents. (Hypersexuality can be a symptom of mania in people with bipolar disorder.) Clay asks if she's afraid the medication she's on will change her. Skye replies that she hopes it does and that "The person that [she] was wasn't really working for [her]." Clay doesn't seem to understand the difference between good moods and mania so Skye explains it as "dancing on the edge of a really high cliff, but the fall was just really hard and far." It's nice to see Skye advocating for herself and what she needs, though it's important to note that taking medication for a mental illness may reduce symptoms of your mental illness it won't change who you fundamentally are as a person. Skye tells Clay her diagnosis is not his fault and assures him that's she getting the help she needs. Part of the help she needs, though, is moving on from Liberty High, so she's leaving to live with an aunt and uncle out of state.
Also moving on, perhaps, is hallucination Hannah. In our review for episode seven, Juliette talked about how dangerous the hallucination version of Hannah is. Clay takes out his anger on hallucination Hannah and the mess he's created by leaking the tape. Hallucination Hannah apologizes, adding "I was hurting and I didn't think about who I might hurt." Like mentioned in the last review, people who die by suicide don't get to come back. Hannah can't comment on the trauma she's caused, she's dead. Also not helping, is what Clay says next, "you did an evil thing." It's unclear if he's talking about the tapes or her ending her life, but the murkiness in his message is dangerous. Suicide isn't an evil thing, it's the result of a number of factors including mental illness. Recovery is possible, and that's the message we should be sending — not stigmatizing suicide further.
Stray Observations and Future Questions
Marcus, trying to keep Harvard from finding out he got a lap dance from a stripper, outs Bryce as a rapist at a dedication ceremony for the Walker family.
Who is the guy with one eye and is Tony somehow responsible for his injury?
Does anyone ever go to class? It's hard to tell when people should be in school versus when characters are just playing hooky.
I'm sure it will become relevant soon so I'm not spending too much time on it here, but, as I've said before, the gun storyline this season is troublesome.
Justin returns home and his mom seems happy (?) to see him.
Alex's dad seems to really be trying to help his son. The conversation they have about Alex's recovery feels mildly productive, even if his dad is being a bit overprotective.
Filling in some of the missing pieces from Hannah's tapes, we see the phone call between Jessica and Justin the day after Jessica was raped where Justin lies to Jessica about the assault.
Our rating: 
While there are several things this episode does well, it loses points for the continued dangerous messages sent around Hannah's death and what happens in the aftermath of a suicide. The episode also loses a star for yet another storyline that deviates from Hannah's tapes.
What would you rate this episode? You can vote in our Twitter poll below or in the comments section at the end of this article.
Because "13 Reasons Why" covers topics relevant to the mental health community, we are reviewing every episode so people can determine if episodes are too triggering to watch or can read afterward to work through the subject matter. If you watched Ep 8, how would you rate it?

— The Mighty (@TheMightySite) May 20, 2018
You can follow along with the rest of our "13 Reasons Why" reviews here.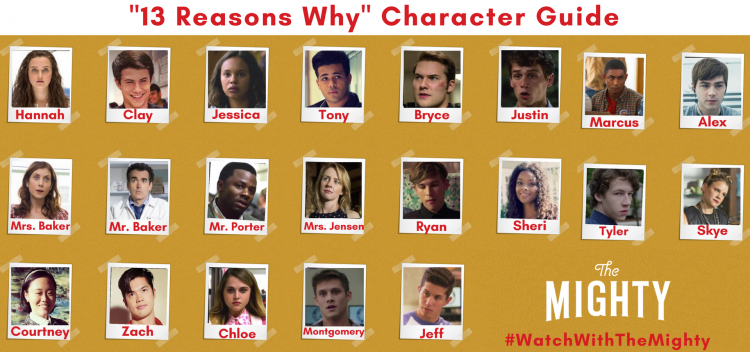 Want to watch "13 Reasons Why" with us? Use the hashtag #WatchWithTheMighty when you post your thoughts on social media or let us know what you think in the comments below.
Discussion Questions
What do you think of the show's decision to give Skye a diagnosis?
Should Clay have shared the tapes with everyone?
Header image via Netflix.
Originally published: May 20, 2018