Therapy Is the No. 1 New Year's Resolution, According to This Analysis
---
A new analysis shows that going to therapy was the most common New Year's resolution for 2021, according to career search website Zippia.
Using Google trends and search data, Zippia calculated the most popular resolution for each state in the U.S. While some of the old standby resolutions like lose weight, weight training or dating were represented, therapy was the most common resolution, ranking as No. 1 in 12 states.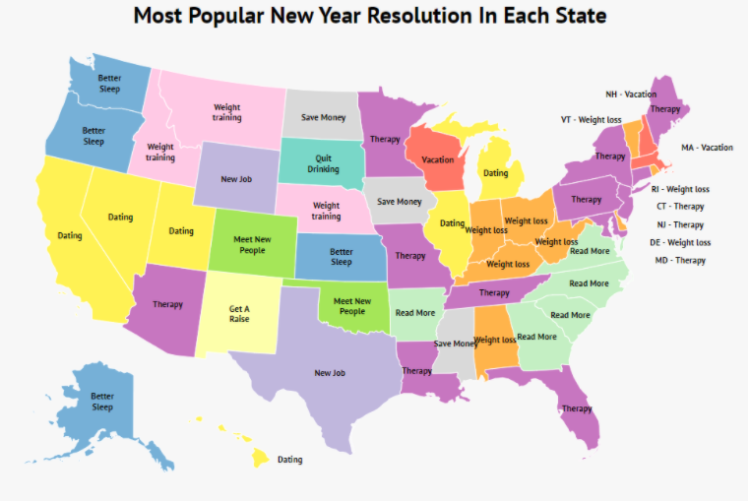 The COVID-19 pandemic has had a major impact on people's mental health around the globe. Study after study suggests increasing rates of anxiety, depression, substance use and other mental health struggles. One study found that the levels of stress in the first few months of the pandemic were equal to an entire year's worth of distress in normal times.
Validating what Zippia found, the National Council for Behavioral Health also noted more people are seeking mental health care during the pandemic. An estimated 52% of mental health organizations reported they were receiving more requests for treatment. However, therapy and mental health care still isn't affordable for many people, even when they have insurance.
From inadequate insurance coverage to a shortage of available therapists and treatment options, surveys suggests cost is a major reason people don't go to therapy. If you have coverage, insurance companies often don't make it easy to understand how to use your benefits for therapy. Many private therapists don't accept insurance either, because they have trouble getting their costs covered too.
As people across the U.S. resolve to start therapy in 2021, it's also a great reminder that we need to advocate for more affordable and accessible mental health care across the board.
Need support understanding and using your health insurance for mental health care? Check out this guide to do just that.
Originally published: January 7, 2021