When a Facebook Post Publicly Blasted a Messy Car That Looked Like Mine
---
Shame can come at us from all directions. Often it's our own thoughts telling us we should feel distress over our foolish behavior. But what are we supposed to think or feel when the shameful thoughts are coming from the public?
Recently I saw a post on Facebook from someone who works at an auto body shop. A car had been brought in with the interior filled with trash. The post had pictures of the interior that was captioned with judgment. The long post rant included phrases like, "If you can't take care of it then you don't deserve a car," and, "I am disgusted by this." My heart sunk. I cried. I felt for the poor person who unknowingly now had their car interior blasted on the internet.
I didn't know whose car was it was. All I knew was that my car was worse.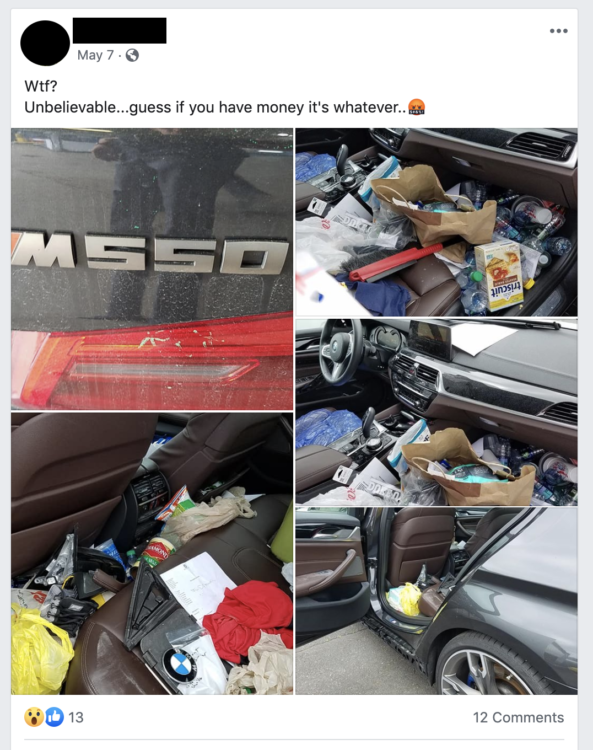 What if I was in a car accident today? Would the interior of my car become a post on Facebook shaming people? You see I don't want to be messy. I'm actually disgusted by my own car, but it is a side effect of my depression and anxiety. I don't want to be this way and I'm going to share this embarrassing side of me.
I have bipolar II. When I'm in hypomania I am going at the speed of light. I feel like I can't take two seconds to deter from what I'm doing. So that includes pulling trash out of my car. I have to maximize every second. I know what you're thinking: "Just grab the trash every time you get out." Nope, doesn't work for me. At least it's something I need to continue practicing.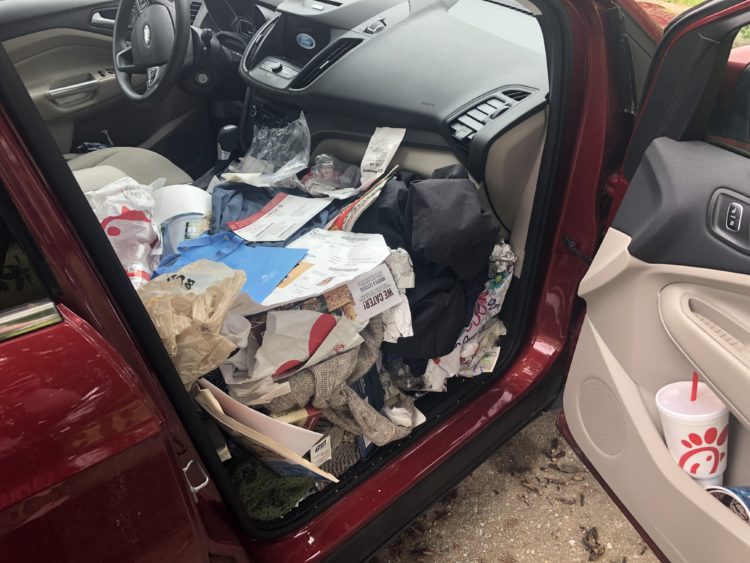 So in my rush of life, a couple things will pile up, no big deal. Then after the hypomania always comes the crash. Anxiety and depression set in. Suddenly I'm driving through fast food and binge eating in my car.
Now I'm not bringing the trash in the house because I'm ashamed of the binging, and don't want the evidence in the trash. (Yes, I know my husband can still see it in my car… I never said it made sense.) This is when the shame sets in.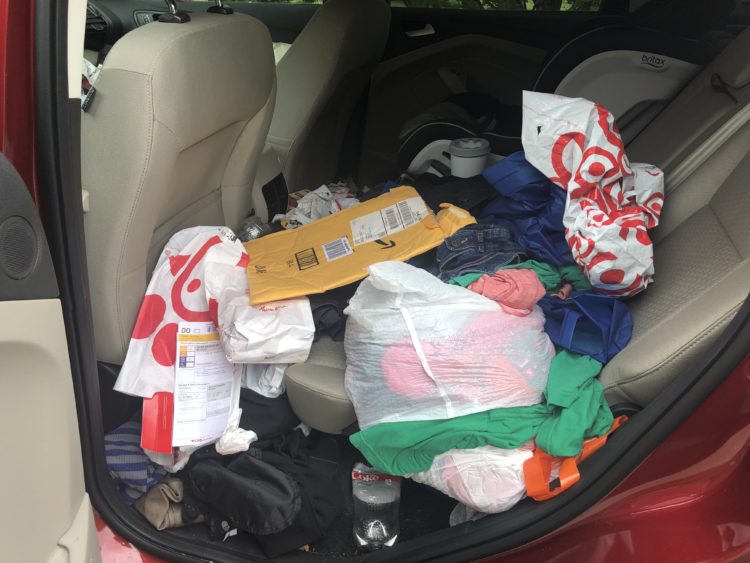 Now not only am I stuffing my face and binging, but my car is becoming a place where I can't take passengers. It becomes a huge project to clean it. So I avoid it. Why? Because my anxiety says that if something is overwhelming you should avoid that feeling.
Think of it this way. Humans originally had the emotion of fear and anxiety to protect them from dangerous things. It would engage the flight, fight or freeze reaction. For my brain, my anxiety sets off this primal instinct even if it's not warranted. In some cases I do fight or flight. When it comes to things that cause me shame, I freeze. I avoid.
My car is disgusting. I'm not talking a normal amount of trash. People who saw my car would think I was hoarder (FYI – I'm not). I park as far away from a store as I can so I'm not next to other cars and people can't see in. When I pull up to a drive-thru to binge, I don't pull all the way up to the window so the employee can't see. The only place for people to sit is the driver's seat and my daughter's car seat, which she is only in for the 20 second drive to daycare. We take my husband's car for everything else.
I've felt disgusting. I've felt ashamed. I've felt overwhelmed. I've felt anxiety. I've felt anger at myself. None of this was enough to clean the car for six months.
Yes, the trash was piled up so high on the floor of my passenger side I couldn't open the door. It was piled so high on the floor that it spilled onto the seat. Yes, I had so much trash stuffed under my seat that it was often falling under my feet while I drove. Yes, my car smelled.
So of course when I saw the social media post shaming the anonymous car, something changed for me. The shame was so bad and the post triggered me to admit my truly dirty secret. I reached out to the poster and admitted I also had a messy car. I admitted why. Just saying it to someone who was not my husband or my therapist suddenly made it something I couldn't avoid. I'm incredibly grateful I could open up. I'm glad I had someone I could confide in.
Now I will be honest, I was not met with understanding from the poster. They ignored my feelings and made me feel invalidated. The thing is, I didn't need them to validate me. My self respect increased just by admitting this big thing to someone who I knew would judge me.
That night, my husband and I made a plan that we were going to take the car for an oil change by the end of the week. It was long overdue because I didn't want to bring the car in like that. So the next evening I finally did it. I used so many of my DBT skills to overcome my anxiety and to declutter my car and mind.
When all was said and done I had four lawn size garbage bags of trash. Please know this is incredibly embarrassing to admit. There are some ugly sides to this disorder and I hope that someone struggling will realize they are not their mental illness. They aren't even the mistakes they make because of their mental illness.
It may take six months to tackle something that is overwhelming. Just keep trying. The day I cleaned my car I was victorious and felt on top of the world for doing something most people do every day.
It was hard for me and I was mentally and physically exhausted. You never know what someone else's situation is. I'm not a dirty person. I'm disorganized, yes. I'm not someone who lives in filth. Even still, I can do something out of character because of an unjustified feeling. Some people may not be able to leave their house. Some people may get angry or depressed. I avoid. I avoid things I shouldn't and things I don't want to.
That's a part of living with my disorder and it's different for everyone. My hope is that you realize that society might not be able to put themselves in your shoes and that's alright. Do things in your own time and remember you are not your disorder. Hopefully the more we speak out, the less we will see judgment from those who have not taken the time to understand.