Reddit User Calls Out a Major (but Common) Problem in the Mental Health System
---
Editor's Note
If you experience suicidal thoughts, the following post could be potentially triggering. You can contact the Crisis Text Line by texting "START" to 741741.
When going through a depressive episode or any other mental health crisis, it's often basic instinct to reach out for help. 
But what happens when no matter how hard you try, you simply can't find help? Recently, Reddit user GrouchyBunny posted about how this played out in his own life, posting: 
I made over 16 calls today trying to find mental health services in my area. More specifically a psychologist that could help. In the end I just gave up. No wonder America has a mental health crisis. Nobody answers the damn phone when people try to seek help.
If you can relate to this struggle, you're not alone. Unfortunately, GrouchyBunny's experience is all too common in the U.S. According to Mental Health America, 56.4 percent of people with a mental illness in the U.S. are going untreated — that's over 24 million people.
Reddit users rallied around GrouchyBunny in the comments, sending messages of support and urging them not to give up.
"Being a therapist in training and having sought my own therapy, I know how much the system sucks," one Reddit user wrote. "Referral after referral, all these hoops you have to jump through, and then to only get an appointment in what feels like half a lifetime away. I don't know what the solution is yet, but I feel your pain."
It's well-known that speaking to a mental health professional in a therapy-setting can be transformational when it comes to navigating mental illness. But what if therapy is not an option?
According to a 2017 study, more than 40 million adults don't have health care because they can't afford it or don't have access to it. Without health care that includes mental health coverage, therapy is often out of reach as the average cost is between 75 and 150 dollars per session.
GrouchyBunny isn't the first to feel hopeless when reaching out for help. We know the mental health system often fails the people it aims to support, so we wanted to put together a list of resources you can turn to for support right when you need it. You can read our suggestions below.
If you or someone you know is struggling with getting mental health help, we encourage you to post a Thought or Question on The Mighty. As a community, we're filled with people who feel your pain, connect with your pain and can help you feel less alone while walking through it.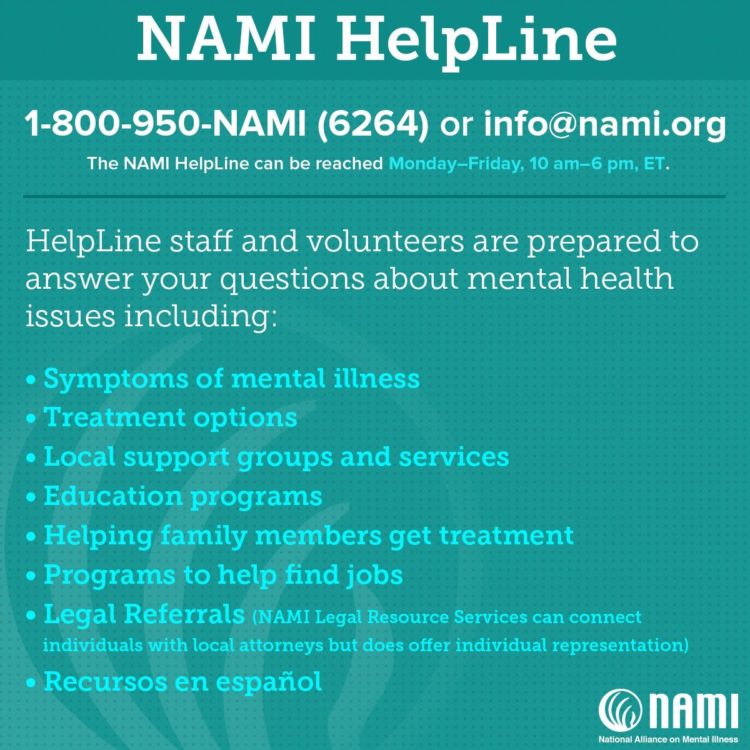 The National Alliance on Mental Illness is the largest national grassroots organization advocating for mental illness. They have chapters as physical locations in a number of cities but they also have a helpline called the NAMI Helpline that is open Monday through Friday, from 10 a.m. to 6 p.m. EST. Through the NAMI Helpline, you can talk about symptoms of your conditions as well as get connected to local support groups and services and treatment options. If you want to talk to a trained professional through NAMI, you can text the Crisis Text Line by sending "NAMI" to 741-741. You'll receive crisis support with a trained counselor for free and the text line is open 24/7.
Call the NAMI Helpline at 1-800-950-NAMI. Or message the helpline on their 24/7 text line by texting "NAMI" to 741-741.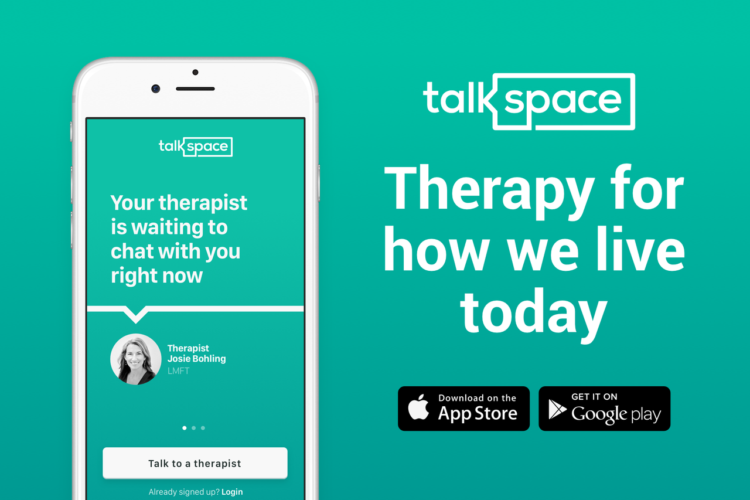 Talkspace is an online therapy app that allows you to choose a licensed therapist that best aligns with your needs and what you're hoping to work through. For people who want a therapist but can't really afford one, Talkspace is a cost-effective way to access sessions with a licensed professional through text, audio and video messaging. Depending on the subscription plan you sign up for, you can also add one or more live sessions on a monthly basis to your five days/week counseling sessions. Cost starts at $45 a week, but is billed monthly so, it costs $196. For its highest package, the LiveTalk Therapy Ultimate package, the cost is $79 a week, billed at $316 monthly.
Download Talkspace on iOS or Android today.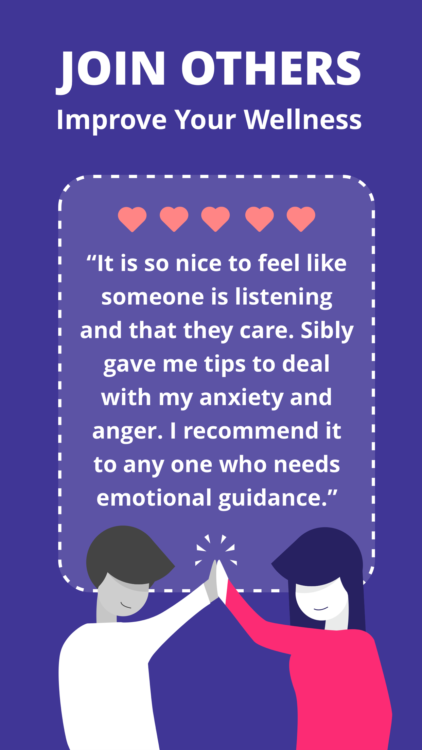 Like Talkspace, Sibly is a mental health app option for counseling. Where Sibly differs is instead of just one licensed therapist, you get matched with a team of coaches. The messaging platform allows you to talk about your issues while being met with active listening and responses from your coaches that allows you to feel safe, seen and heard. What's great about Sibly is that it is also a 24/7 app, meaning that there will always be someone ready to listen whenever a crisis arrives. At $12.50 a week, it's one of the more cost-effective options on the market as well.
Download Sibly on iOS or Android today.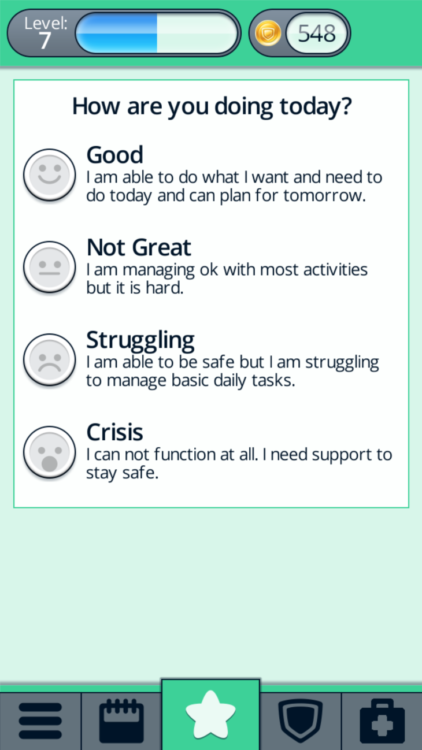 Booster Buddy is a mental health app that boots the user's mood through a guide, or a "buddy," that helps you navigate your emotions and mental space. This is done through preliminary questions, check-ins and "quests" that you have to go through with your buddy. What's even better is that they have an emotional crisis plan, medication reminders and a coping skills library to help you when things get tough.
Download Booster Buddy for iOS and Android today.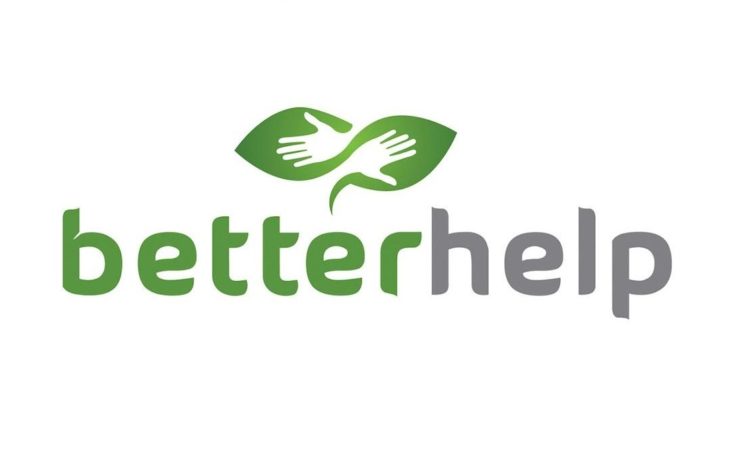 BetterHelp is similar to Talkspace because it is a mental health app that connects its users with licensed professionals. Boasting a directory of over 3,000 therapists, you're bound to connect with someone who can meet your needs through either a phone-based or text-based capacity. It can be great for days you could really use a therapy session, but can't get an appointment with your regular mental health professional. You also cut costs drastically from a hypothetical $150-$250 per therapy session to $35-$85 per week through BetterHelp.
Download BetterHelp for iOS and Android today. 
It's important to note that no solution is without flaws. Although it can feel frustrating at times when systems created to help aren't readily available, know that there are other methods in the mental health space to choose from.
For more mental health app recommendations, check out the following posts: