4 Toys That Can Nurture and Support Mental Wellness in Children
---
Editor's Note
We hope the products below help you or a loved one in your health journeys. Just so you know, The Mighty may collect a share of sales from the affiliate links on this page. As an Amazon associate, we earn from qualifying purchases.
I hate to admit it, but I let my kids spend entirely too much time on their iPads. As a single mom who works full-time and freelances on the side to bring in some extra money, there are days when I'm too busy (or too tired) to keep my kids entertained all day. Unfortunately, this leads to screen time, which I often regret the moment I notice the way it impacts my kids' moods.
Given all of the other things going on in our world today that impact children's mental health, I've made it my personal mission to look for toys and tools out there that can help me entertain my kids but also foster mental wellness. Below are four of the items I've found.
Young children often feel emotions in big ways, but they rarely have the vocabulary to express them in an effective way. However, I know from firsthand experience that kids will quickly learn how to label their emotions if you give them the tools to do so. One such tool could be the Big Feelings Pineapple from Learning Resources.
Much like a Mr. Potato Head, the Big Feelings Pineapple comes with many interchangeable parts so you can make the pineapple express any emotion you want. This is a great tool for teaching kids what emotions "look" like, not to mention it's fun to play with! You can even use each side of the pineapple to express opposite emotions, like sadness and joy or fear and courage. Overall, it's a great, affordable toy that works well for preschool and early elementary grades.
Buy a Big Feelings Pineapple on Amazon.
Many adults know that mindfulness can help ease the physical symptoms of anxiety and calm racing thoughts. However, mindfulness can be highly effective in children too, especially kids who experience moments of hyperactivity or emotional intensity. Furthermore, once children learn mindfulness skills, they often utilize them independently.
Mindful mazes, like these ones from Kaplan, are great toys that can help teach mindfulness to kids. Essentially, the mazes contain indented paths for children to follow with their fingers, and the path contains tactile prompts kids can use as they inhale and exhale. This reinforces paced, mindful breathing, which can help calm the body. Kids love the patterns and colors, and they get the added bonus of learning mindful breathing, making it a win-win!
Buy a set of Mindful Mazes on Amazon.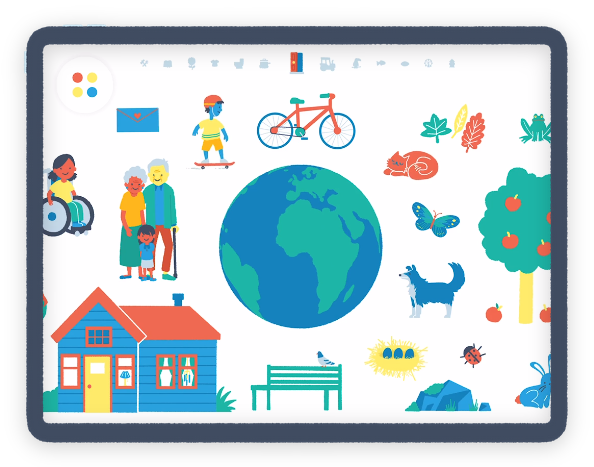 Although I sometimes complain about screen time, there are apps out there that genuinely provide children with critical social-emotional skills they need to foster mental health. One such app is Pok Pok Playroom, a collection of digital toys that spark creativity and learning through open-ended play.
While Pok Pok Playroom is an app, it's more like a collection of "digital toys" that encourage kids to follow their noses and play at their own pace while supporting their cognitive and social-emotional development. It's a gentle, creative experience designed to engage kids without overstimulating them with things like hand-recorded sound effects and hand-drawn animations. It's a soothing app that helps kids learn more about the world, especially in terms of social-emotional development, which is critical in this day and age.
Learn more about Pok Pok Playroom here.
While we may not think about the social-emotional benefits of Play-Doh, they're absolutely there. According to Katie Lear, LCMHC, RPT, RDT, items like Play-Doh, modeling clay, slime, and kinetic sand give kids the chance to engage in sensory play in a safe, minimally upsetting way.
Sensory play is important for building awareness within kids, especially in terms of their emotions and the physical sensations that come along with any feelings we experience as humans. I know that sensory play is especially important for children who experience sensory processing issues. Furthermore, these types of sensory activities can also help kids practice mindfulness, which I already mentioned helps kids process their emotions in a more effective way.
Buy a Play-Doh color pack on Amazon.
While there are lots of great toys out there for kids, there are also lots that do very little to boost their mental health. Luckily, each of the toys I've mentioned provides a unique benefit for kids, especially in terms of their social-emotional development. So what are you waiting for? Get out there and play with your kids in a fun, emotionally-aware way!
Getty image by Elena Kurkutova.