Demi Lovato Comes Out as Nonbinary — Here's Why That's a Mental Health Win
---
Demi Lovato, award-winning singer/songwriter, actress and author, came out yesterday morning on their Twitter account through a video.
"I feel that this best represents the fluidity I feel in my gender expression and allows me to feel most authentic and true to the person I both know I am and the person I still am discovering," Lovato said.
Every day we wake up, we are given another opportunity & chance to be who we want & wish to be. I've spent the majority of my life growing in front of all of you… you've seen the good, the bad, & everything in between. pic.twitter.com/HSBcfmNruo

— Demi Lovato (@ddlovato) May 19, 2021
They added further in the thread saying the following.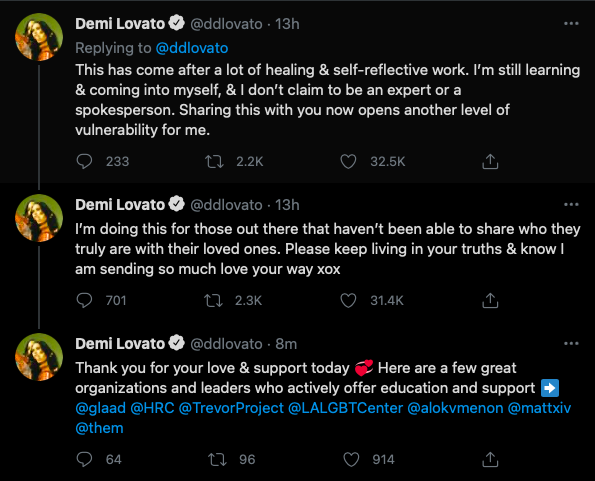 This comes after Lovato announced at the end of March this year while on "The Joe Rogan Experience" podcast that they find their attraction to other individuals to be very fluid, saying that the term "pansexual" felt right to them.
"I heard someone call the LGBTQIA+ community the 'alphabet mafia', and I was like, 'That's it. That's what I'm going with. I'm part of the alphabet mafia and proud," Lovato told Rogan.
Lovato was born August 20, 1992 as Demetria Devonne Lovato, beginning their career first as a child star on the "Barney and Friends" show. Throughout their childhood, they became a Disney Channel darling on a variety of shows including their starring role as Sonny Monroe on "Sonny With a Chance". They have won 61 awards and have been nominated for over 210 different awards for their acting and vocal performances. Other films and television series that they have either starred in or made a guest appearance in include "Grey's Anatomy," "Glee," "Camp Rock 1 & 2," "Demi Lovato: Simply Complicated" and most recently "Dancing with the Devil"-– a song and documentary series released earlier this year about their experiences fighting addiction, mental illnesses and other challenges.
Lovato's star-studded career has not been an easy road from the beginning, having to keep their family afloat financially while working for Disney. It is because of their experiences during the formative years of their life that caused them to fall into addictive behavior patterns using cocaine, OxyContin and alcohol in order to just stay afloat.
However, Lovato has never shied away from telling their story to the public, allowing young individuals to look up to her as both a role model and a celebrity who has had family trauma, struggles with mental illness and fights their own battles every day.  Each of their songs has spoken out about a variety of tough subjects, many of which are issues young adults growing up and dealing with their own mental illnesses and challenges can relate to.
"Twisted reality, hopeless insanity. I told you I was okay, but I was lying. I was dancing with the devil. Out of control. Almost made it to heaven. It was closer than you know."
After leaving a rehabilitation facility, they opened up on social media through a video saying, "I was dealing with issues that I know not only girls just my age but of all ages are dealing with. People that are probably watching this video right now are dealing with the issues that I had to and I hope to one day raise awareness of everything."
They also spoke at the National Alliance on Mental Illness annual convention in 2014, speaking from their own experience and seeking to encourage those fighting similar battles.
Lovato has been an outspoken advocate for the Human Rights Campaign as well, making an appearance in the line up of advertisements HRC developed leading up to the Supreme Court decision on same-sex marriage.
In 2018, Lovato relapsed after experiencing an overdose, prompting them to write the song and documentary series "Dancing With the Devil." In the series, they share about their multiple sexual assault experiences, their overdose and relapses which caused three strokes and a heart attack.
They said in the series, "I internalized it and I told myself it was my fault because I still went in the room with him. I still hooked up with him. I was a part of that Disney crowd that publicly said they were waiting for marriage. I didn't have the romantic first time. That was not it for me and that sucked and then I had to see that person all the time."
No doubt once again having heard this exciting, very personal announcement for Lovato, their fans and the LGBTQ+ community will be inspired and encouraged that they are not alone.
Lead image courtesy of Demi Lovato's Twitter
Originally published: May 20, 2021