How the One Silly Pastime That Gave Me Hope for the Future Now Fills Me With Despair
---
Editor's Note
If you experience suicidal thoughts, the following post could be potentially triggering. You can contact the Crisis Text Line by texting "START" to 741741.
One of my favorite pastimes when depression would kick my ass would be to scroll house listings in areas I'd love to live, but couldn't yet afford. Once upon time this fun activity gave me hope for the future and a reason to work harder. Y'know, if I save X amount and get a job that pays Y yearly, I'll be able to afford a beautiful home. Right? 
Well, that's not exactly how things panned out.
Between two economic crashes, a pandemic, and all of the other mess in the modern world, my favorite pastime has become a sad reminder that the one thing I've wanted and dreamed of is getting further and further out of reach with no end in sight.
We find hope in strange places. Some find it in stories, like we have here on The Mighty, while other people find it in playing pretend and daydreaming. In the same way I find it in going to the mall and trying on pretty dresses that I can't afford but I aim to, I would scroll real estate sites and went into open houses as a glimpse of a better tomorrow where I'm financially stable, happier, maybe even married. My Tudor-styled beacon of hope became dimmer by the day, and now I find myself asking, what's the point?
It's silly for your mental health to be impacted by things such as being able to one day afford an old three bedroom three and a half bathroom colonial homes in northern New Jersey or a small cottage styled home in Connecticut with a little mom and pop shed in the back, but it is. It made me believe that one day things will get better. The image of "better" in my mind that I held firm to, as materialistic as it may be, is gone. Thus I ask, what now?
What tangible thing do I have to hold on to now? What's the point? I know there technically is one, but it doesn't feel that way because I can't see it. I had it attached to the white picket fence 2.5 kids pipe dream they told us about, and now it's not attached to anything.
It's hard to convince myself to keep going, when everything around me points that there simply isn't a point. 
My therapist says there's no shame in attaching our "why" to something that we can see, touch, and smell, but that we have to be careful just in case it disappears, and I guess this is why. 
The goal is to find something else to be my "why." Hopefully it can be something internal so my reason to live isn't associated with the rise and fall of the housing market, but until then we persevere.
In case you want a trip through my dream that I now believe isn't available to me, let's see just how beautiful my life could have been if the world wasn't in flames.
Introducing: The House You Can Only Live in If You Have a Goldendoodle Named Bella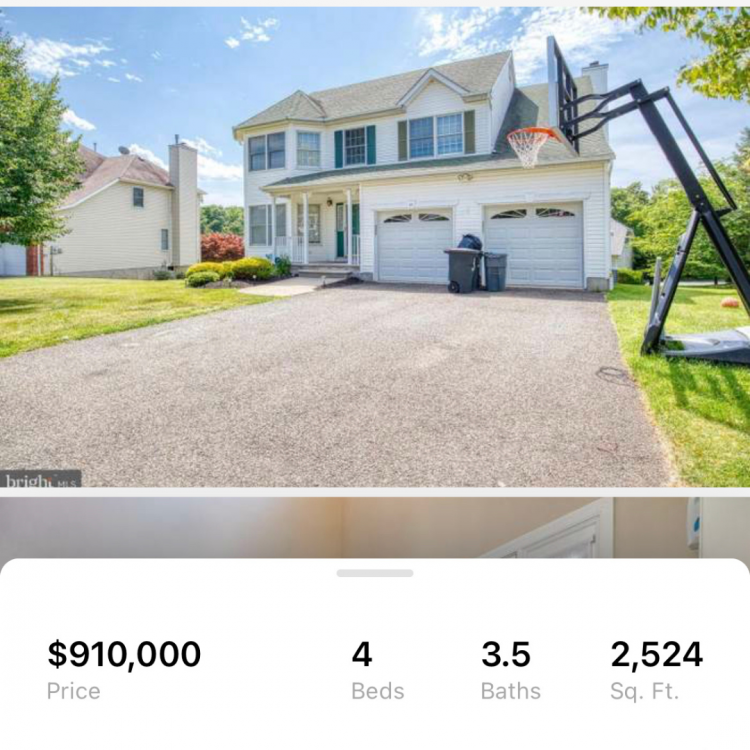 This is where I'd sit and have picnics out on the front lawn. I'd be relaxing, having all of my unalienable rights and feeling like a human being instead of simply a baby making machine in the eye of the government. Maybe I'd be drinking lemonade next to the flowers I'd plant, because climate change wouldn't have impacted the environment to the point that crops are dying.
I'd also put a cute welcome mat too.
A fixer upper, sure, but in this dream economy that's OK! I have the money to do it, unlike my current reality.
We'd keep the basic floorboards, and polish them. I love the charm that the rooms have. It's all the charm of a Disney-ified America where the government actually wants its constituents and citizens to be able to afford basic things like food, gas, and shelter. I'd paint it a light powder blue. 
Once again in other areas, I'd keep the integrity of the wood and paint it a lighter color. Ideally, I'd want to use this area as a creative space where I could paint and write, because in my dream there's time to actually do that because I don't have to use every single waking moment of day to hustle and find more income so I can sleep soundly at night. I have time for hobbies! Wow, what a life.
This is my dream. Not the goldendoodle named Bella (doodles are too much to handle in my opinion), but a house I can make a home and build a family in. Hopefully things shift so this despair doesn't persist, but right now that's not looking too likely and it breaks my heart.
At least I won't have HOA fees, I guess.
Getty image by The Good Brigade