Facebook Messenger Chatbot, Joy, Wants to Help People Improve Their Mental Health
---
It's not uncommon to track how much you walk, sleep or eat in a given day, so why not track how you feel? That's the question Danny Freed, creator of Joy – a Facebook messenger app that monitors and tracks your mental health – seeks to address.
Unlike other apps and trackers, Joy is meant to be more like a friend. Through Facebook messenger, Joy sends daily check-ins, asking how you feel and what you did that day. Joy then uses your response to interpret your mood and respond appropriately. If you are feeling anxious, for example, Joy will offer you some tips that can help you reduce your anxiety.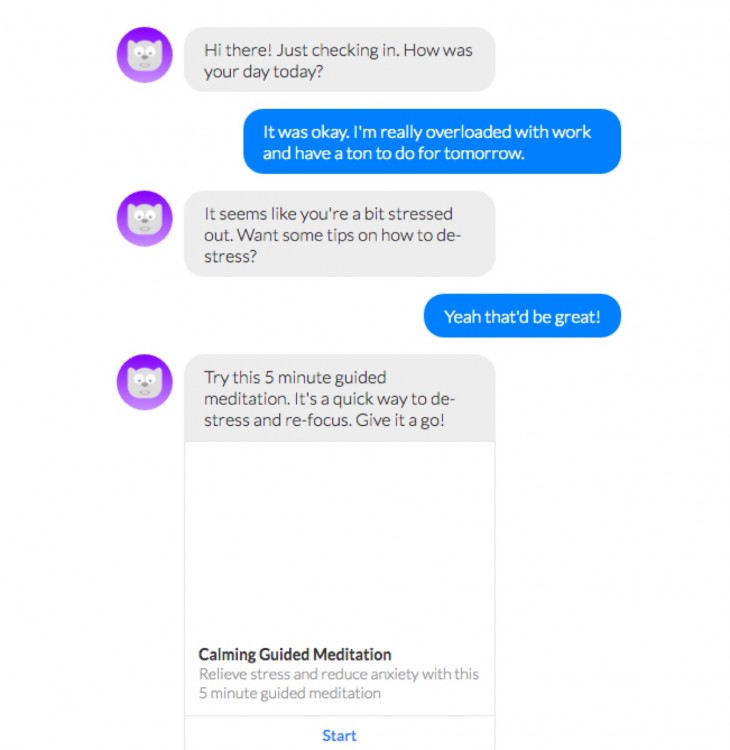 There are some limitations to how life-like Joy is. Currently, Joy can ask questions, but struggles to respond when you ask her questions. "Sorry I can't answer most questions yet, I can only ask them. I'm getting smarter though, hopefully soon," Joy responds when asked a question she can't answer.
While talking to Joy is not the same as talking to a person or mental health professional, the highlight of her programming comes in her ability to track your mood. "Right now, [Joy] will generate a weekly report of your mood based on what you've told her," Freed said. "Soon, she'll be able to offer longer term solutions and therapies based on deep analysis of your emotions over time."
The idea for Joy came after a close friend of Freed died by suicide. "I really didn't know a lot of people struggle with their mental wellbeing or that mental illnesses are real, debilitating and potentially fatal disease until relatively recently," Freed told The Mighty. "This forced me to not only recognize the impact that our mental health has on or overall wellbeing, but to learn about it — for my own mental health and also so that I could potentially help others that might be silently suffering just as my friend did."
Approximately 20 percent of American adults will experience a mental illness this year. Joy is designed to help people open up about their mental health. Because chatting with Joy feels more like talking to a friend than putting your data into an app, Freed hopes those who use Joy will be able to use her as stepping stone to talk to others about their mental health.
"My hope is that the more people start tracking their mental health, the more normalized it will become," Freed said. "This will play a big role in shattering the stigma against mental illness so that people feel comfortable seeking real help when needed." Future updates to Joy may include connections to a live therapist who is professionally trained for those who need additional support services.
"Joy is always there, ready to listen whenever you need someone to talk to," Freed said. "It's a small step, but if Joy can put a smile on your face in the midst of a bad day, it's a step in the right direction."
If you or someone you know needs help, visit our prevention resources page.
If you need support right now, call the Suicide Prevention Lifeline at 1-800-273-8255.
Originally published: July 27, 2016