What It Means to 'Find Your Center'
---
I woke up a few weeks ago with the thought in my head to "Find Your Center." Then, later that day I got the summer catalog for Kripalu Yoga and Retreat Center and there in bold letters was the caption "Find Your Center." I thought this was a message from the universe and just in case I had any doubt about it, my friend Barb sent me this picture she painted a few years ago because she said it reminded her of my blog.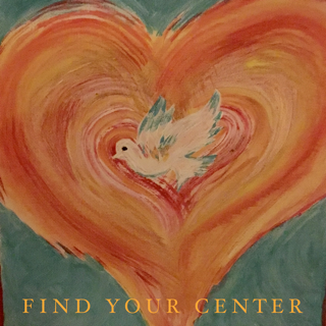 Since then I've been reflecting on what it means to find your center and as a therapist, I've helped my clients to discern what that means for them as well. I believe finding your center is about connecting with the love and beauty inside of you and then, like the dove poised to soar in this piece of art, you can serve as a messenger of peace and love in the world outside of you.
I find my center by taking the time to be still, breathe deeply and connect with the light within. But it's easy to feel disconnected from your center if you are feeling stress, grief and exhaustion from social distancing and this global pandemic. It might help to remember that your center is a place inside of you that remains constant no matter what is happening outside of you.
As the days get longer, I've been appreciating that we have more light and our relationship to the sun is a good way to think about finding your center. On the winter solstice, which is the darkest day of the year in the northern hemisphere, it isn't as if the sun is no longer there. It is still the center of our universe and everything continues to revolves around it, but our proximity to the sun and our ability to access it is all that has actually changed,
The same it true with finding our center. We may spin out of orbit from it in our stress and anxiety, but it is always available and waiting for us to go within and restore our connection to it once more. I believe that finding our center is the greatest gift we can give ourselves, and those we love right now, so maybe you can take some time to breath, be still and connect with the light inside of you. Just like the sun, it is always available, will never leave you, and will restore your ability to be a source of peace and love. The world needs that now more than ever.
Originally published: May 21, 2020