3 Helpful Texts to Send Someone With a Chronic or Mental Illness
---
For as long as I can remember, anxiety and depression have been unfriendly acquaintances of mine that I tried so hard to hide from the world. I could count how many people I had confided in during my teen years with one hand because I couldn't stand for people to think I was different or not "normal." I would shy away from opening up my feelings to my family and friends because I didn't want to feel rejected or belittled because of the overwhelming thoughts consuming my mind.
I've gotten to a place now where I know it's important for me to talk to someone when my chronic illness is overwhelming me, and when my anxious thoughts are spiraling. There are days I bottle up my feelings and try to pretend like they aren't there. It took me years to feel comfortable with even admitting I'm not OK and with time, I found that being vulnerable to trusted individuals in my life helped me feel less consumed and alone, despite what my mind and body were telling me.
Not too long ago, I was texting my aunt about how frustrated and isolated I felt from taking time off school and through the countless doctor visits that had taken up so many of my days. Through the struggle of getting the right diagnosis and battling with chronic pain, I felt isolated from my peers who didn't understand what I was going through and were off starting new chapters in their lives. With chronic illness, it can be hard for others to relate to what you're going through, which only makes you feel even more alienated.
There are three things that stood out to me from my aunt's text that I believe everyone needs to hear when going through a difficult time due to mental and chronic illnesses:
1. Don't let it deter you.
Chronic illness and mental illness can be all-consuming and it changes our "normalcy." It might take us hours to go to the grocery store or longer to do things others might be able to do without even putting any effort or thought into. For many of us, we battle with symptoms that disrupt our day-to-day activities. It gets to a point where giving up on managing our symptoms or on living in general doesn't seem like such a bad idea.
When my aunt said this to me, I knew she wasn't minimizing what I was going through; if anything, I felt like she was saying this to encourage me to keep fighting, even when all hell seems to have broken loose.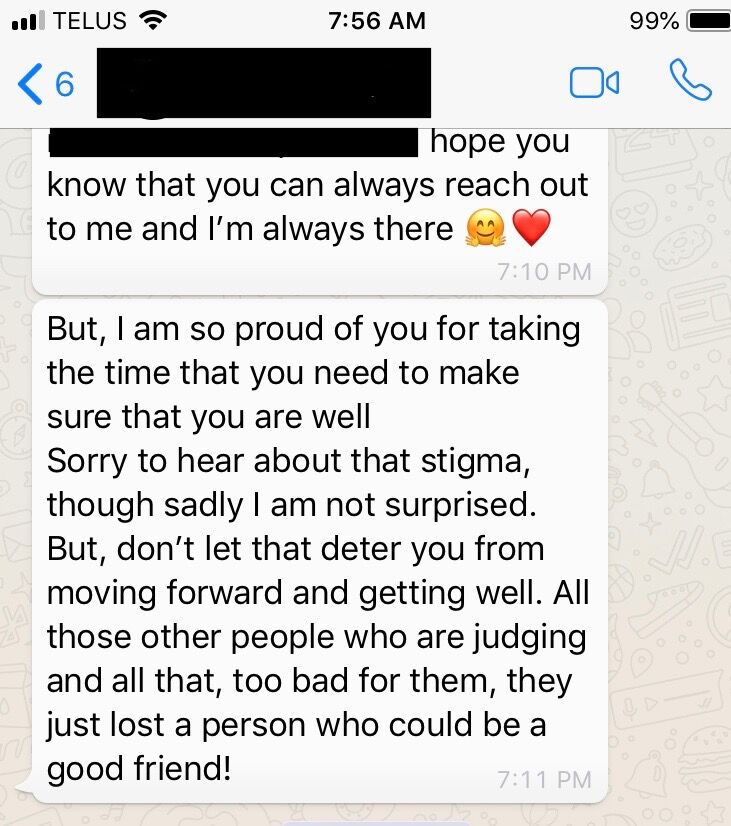 2. Always reach out.
To me, reaching out has always seemed impossibly difficult. I've reached out and been judged and felt belittled more times than I'd like to count. But I've also reached out in other times; it's changed my life for the better and made me realize I need to continue to reach out to my counsellor or people I trust. My aunt's words reinforced how necessary it is for me to continue to seek answers for my chronic illness and to talk to others when I'm feeling hopeless and alone.
3. I'm here.
The struggle of finding people who will listen to you and not judge you for what you're going through is all too real. With chronic pain, the response of "I'm sure you'll be fine in no time" minimizes what we're going through. With a mental illness, telling us to "just relax" or "get out more" also minimizes what we're going through.
My aunt simply saying she's here for me helped me to feel less alone. She doesn't live in close proximity to me or anything like that, but her words resonated with me somehow. It reassured me there will be someone out there — even if it's only one person — who will listen and who will support me emotionally. She's not a doctor but she is someone who I know will be with me on my dark days and for that, it helps to silence those overwhelming thoughts that depression likes to hit me with again and again — thoughts of feeling unloved or forgotten.
Getty Images photo via skyNext