Huddle Lets You Privately Share Videos About Your Mental Health
---
If Instagram is a filtered place for our "best," not-so-authentic selves, Huddle is the platform for sharing our messy realities.
The app aims to connect people through video and text, providing support for those living with mental illnesses, addiction or who just need a little reminder they're not struggling alone.
"We're really focused on accessibility," Dan Blackman, co-founder of Huddle, told The Mighty. "There are a mass amount of people who don't get a lot of help. We think that's because of the [limitations] of traditional paths to getting help and getting therapy."
Both Blackman and fellow co-founder Tyler Faux worked for Tumblr in the past, and were inspired by what they saw as the power of positive online communities. They also have personal connections to Alcoholics Anonymous, and said while they noticed some people they knew were turned off from parts of AA and other 12-step problems, the peer support and friendships they developed were invaluable — and that's what they're hoping to replicate with Huddle.
Here's how it works: When you log on, you immediately have access to recently uploaded videos, and different groups sorted by topic you can either view or join. Like swiping through a Snapchat or Instagram story, in each group you can watch videos of people sharing updates about how they're doing, or asking for advice about something they're going through. You can upload your own video to a group, leave supportive comments on other user's videos or even make a video reply to another user's video.
Right now, Huddle's top groups are Depression, Relationships, Addiction and Self-Image, but users have already created new groups around High School Problems, Multiple Sclerosis, Body Positivity, Quitting Tobacco and more. Faux said while it's easy miscommunicate over text exchange, they hope the video feature fosters more genuine conversations.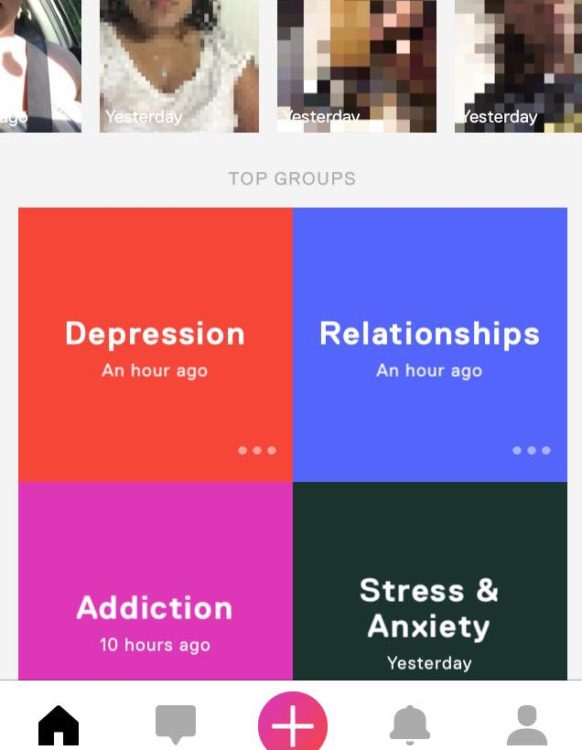 Although it's not meant to be an anonymous platform (you have to sign in with your Facebook or a phone number), no other personal information is required to join, and users who aren't comfortable showing their face have the option to pixelate their image. Blackman and Faux said they wanted to keep the on-boarding process as simple as possible, so no one needs to go through an exhaustive screening or feel "labeled" before they join.
As far as how they're planning to keep their community safe, making Facebook or a phone number a requirement for logging in is actually part of their strategy. "We're creating a place where bullies won't be able to have a community," said Faux. "We want to keep those bad players out from the beginning."
There's a no tolerance policy for harassment or bullying, and they have community moderators to make sure everyone feels safe. Users can also flag content that's hurtful or troubling, and resources are sent directly to anyone who seems to be struggling with self-harm or suicidal thoughts.
Both Blackman and Faux emphasized Huddle is not another online therapy platform, and is no way a replacement for treatment. But they do hope, though, that it helps people feel less isolated. Blackman is trying to quit smoking, and said he personally uses Huddle to keep him in check. "I've started direct messaging with a couple of people, and they'll ask me, 'Hey, did you smoke today?' We're seeing people use it in so many different ways."
You can download Huddle on your iPhone or iPad. If you have an Android and are interested in downloading Huddle, you can put your name on a waitlist here.
If you or someone you know needs help, visit our suicide prevention resources page.
If you need support right now, call the National Suicide Prevention Lifeline at 1-800-273-8255, the Trevor Project at 1-866-488-7386 or text "HOME" to 741-741. Head here for a list of crisis centers around the world.
Originally published: August 28, 2017