Justin Bieber Posts a Selfie From His Therapy Session
---
Justin Bieber thinks therapy is "cool," and wants the world to know.
On Wednesday, the "Sorry" singer posted a selfie on his Instagram story from his therapist's office with the words, "Therapy Session" and "It's cool to have a healthy mind and healthy emotions."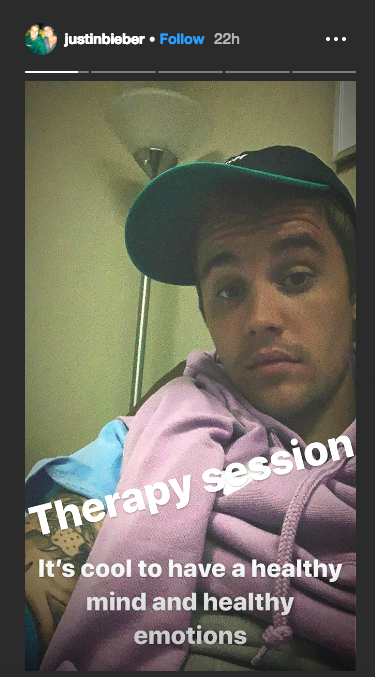 The post comes about a week after telling fans on Instagram that he would be taking some time away from music to focus on his health. He shared:
I've toured my whole teenage life, and early 20s, I realized and as you guys probably saw I was unhappy last tour and I don't deserve that and you don't deserve that, you pay money to come and have a lively energetic fun light concert and I was unable emotionally to give you that near the end of the tour… I am now very focused on repairing some of the deep rooted issues that I have as most of us have, so that I don't fall apart, so that I can sustain my marriage and be the father I want to be. Music is very important to me but Nothing comes before my family and my health.
This isn't the first time Bieber has alluded to struggling with his mental health. The singer told Vogue, he had abused the prescription medication Xanax.
"I found myself doing things that I was so ashamed of, being super-promiscuous and stuff, and I think I used Xanax because I was so ashamed," Bieber said. "Drugs put a screen between me and what I was doing. It got pretty dark."
If you're struggling with your mental health or are trying to decide if therapy is right for you, you're not alone. To connect with a community of people who "get it," download our free Mighty app and post a Thought or Question about mental health.
If you are interested in trying therapy here are some resources that can help you get started:
Header image via Justin Bieber Instagram