'Insecure' Star Kendrick Sampson Pens Mic-Drop Letter on Black Mental Health
---
What you should know: "Insecure" star Kendrick Sampson penned a liberation essay for Complex about the mental health crisis in America, which disproportionately affects Black people. Sampson outlined how his father struggled with trauma before and after the Vietnam war due to racial injustices, violence and discrimination. He called for radical changes to create a more equitable — and effective — mental health system for everyone.
Policymakers will not prioritize our mental health if we don't demand it. To truly liberate our mental health, we have to heal our communities. We must abolish the systems that were built to put our mental well-being under constant attack and build systems founded in liberation, healing, and wellness. — Kendrick Sampson, Complex
View this post on Instagram
The Frontlines: In his letter, Sampson also highlighted many of the systemic issues that contribute to poor mental health in America, especially in the Black community. He highlighted the impact of mass incarceration, how health systems that de-prioritize Black lives due to centuries of systemic racism, and why COVID-19 is worsening these inequalities. He wrote:
Black folks are currently experiencing highly disproportionate sickness and death, on top of being quarantined, and seeing the publicized images of the murders of Ahmaud Arbery, Breonna Taylor, Sean Reed, George Floyd, and Nina Pop. We will have disproportionate grief, trauma, and funerals. And due to the nature of the American legal system, the problematic stories perpetuated by Hollywood, and a culture founded on violence, this is likely to lead to more criminilization, incarceration, and murder of our loved ones.
A Mighty Voice: Our contributor, A Porter, also highlighted that Black people don't have sufficient access to mental health care given the trauma white supremacy has inflicted on generations of Black Americans. "Our mental health is not a priority. The presumption is that we are resilient and are used to all kinds of violence and therefore do not need counseling. I am here to tell you that is not true." You can submit your first person story, too.
Get more on mental health: Sign up for our weekly mental health newsletter.
From Our Community: 
#CheckInWithMe You get to write the next line in your story . What will it say? #MentalHealth #Depression #Anxiety #Disability #CerebralPalsy
Add your voice: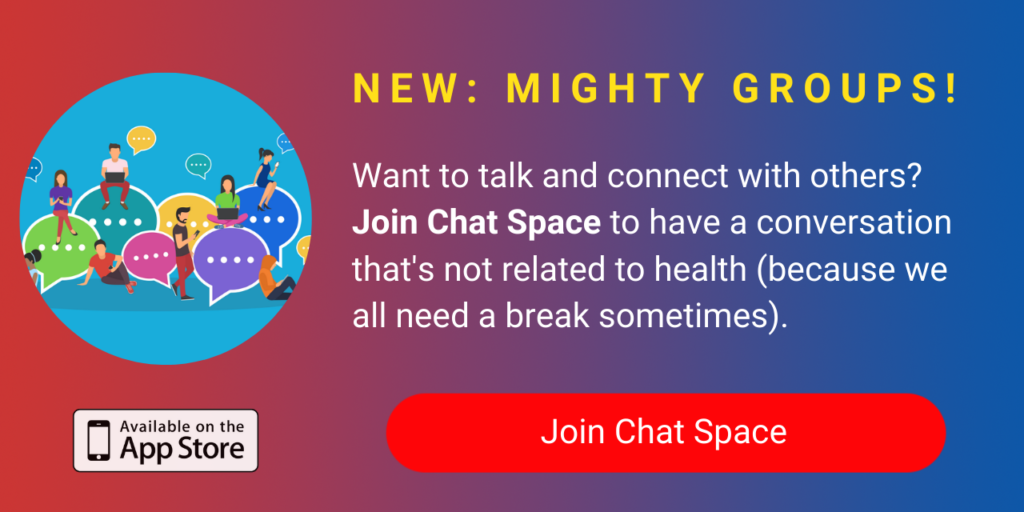 Other things to know: If you're struggling with your mental health right now, know you're not alone. Read more from The Mighty community:
More helpful thinking: Read Sampson's entire letter in Complex here, and check out the grassroots liberation organization he co-founded, BLD PWR, here.
Originally published: June 10, 2020