People Respond to Kevin Spacey's 'Disturbing' Video Following Sexual Assault Charges
---
People are warning each other not to watch a video posted by Kevin Spacey that began circulating shortly after it was announced the actor will be facing criminal assault charges for the sexual assault of a Massachusetts teen in 2016.
According to the Boston Globe, Spacey will be charged with indecent assault and battery at Nantucket District Court on Jan. 7.  Following the news, Spacey posted a video to his social media profiles in the style of Frank Underwood, the character he played on the Netflix show "House of Cards" who was killed off after actor Anthony Rapp accused Spacey of sexually assaulting him as a teen. (Editor's note: The Mighty is not linking to the video out of respect for sexual assault survivors.) Netflix replied to The Mighty's request for comment stating it has no comment and had nothing to do with the video.
Spacey says a number of disturbing and problematic things in the video, such as "you trusted me, even though you knew you shouldn't." The actor speaks as his character did, maintaining eye contact with viewers the entire time. He proclaims his innocence while attempting to gaslight viewers in hopes of getting them to subscribe to his narrative — behaviors commonly exhibited by people who abuse their power. "You wouldn't believe the worst without evidence, would you? You wouldn't rush to judgments without facts, would you? Did you? No, not you. You're smarter than that."
People were quick to respond to Spacey's video, calling it "unsettling" and "creepy."
I am NOT watching that Kevin Spacey video.

— Felicia C. Sullivan (@felsull) December 24, 2018
That Kevin Spacey video is one of the strangest, most unsettling things I've ever watched.

— Scotty The Elf (@yahboyantman) December 24, 2018
after watching that Kevin Spacey video I need to cleanse my palette with something less unhinged and creepy like The Human Centipede

— Brandy Jensen (@BrandyLJensen) December 24, 2018
'Twas the night before Christmas and, all through the house, everyone was feeling a bit creeped out cos Kevin Spacey wouldn't fuck off.

— NEAFCY (@PNeafcy) December 24, 2018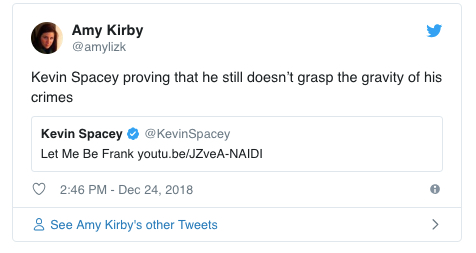 The holidays can already be a tough time for sexual assault survivors. Whether social gatherings make you anxious or going home means revisiting a triggering place, if you're a sexual assault survivor who's struggling, take extra care of yourself this holiday season. Pay no mind to conversations (or videos) that make you uncomfortable, and instead surround yourself with people who make you feel safe and loved. If you need resources or reminders, we've listed some below. You can also use the hashtag #HolidaysAreHard to connect with people in The Mighty's community.