Mandy Moore Accuses Ryan Adams of Emotional Abuse in New York Times Interview
---
Editor's Note
If you have experienced emotional abuse, the following post could be potentially triggering. You can contact the Crisis Text Line by texting "START" to 741741.
On Wednesday, The New York Times published a feature outlining how singer-songwriter Ryan Adams allegedly used his status in the music industry to manipulate and sometimes pursue women sexually. Adams' ex-wife, Mandy Moore, along with six other women, told The Times just how isolating this form of emotional abuse can feel.
The Times article outlines a number of accusations against the popular singer, including a series of explicit and inappropriate messages Adams allegedly exchanged with a talented teenage bass player and fan. Initially, according to The Times, the messages focused on the teenager's musical talent. But they soon turned sexual, with Adams allegedly sending one message that read, "If people knew they would say I was like R Kelley lol."
Other women in the article alleged a "bait-and-switch" type relationship with Adams that turned from musical support to manipulation, control and sometimes sexually inappropriate behavior. According to the women's accounts in the article, Adams isolated them and lashed out when they tried to leave.
Juliette has a question for you and the #EmotionalAbuse community. What do you think?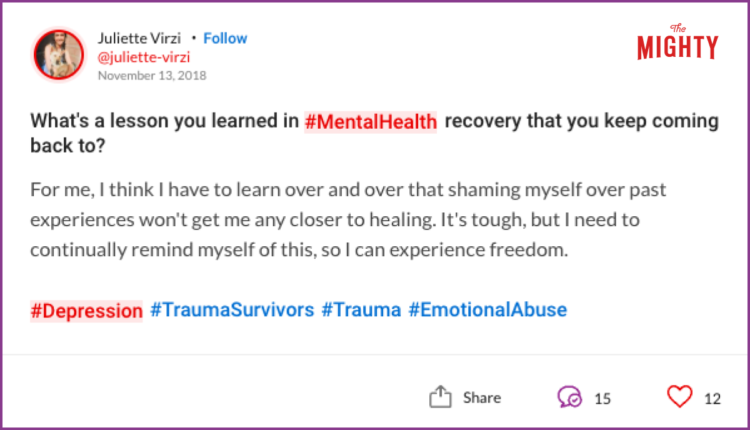 Adam's ex-fiancée Megan Butterworth, for example, said he isolated her from personal and professional support as a means of control. Butterworth said after they split, Adams sent a barrage of emotionally manipulative digital communications attacking Butterworth and threatening suicide.
Moore, who now stars in the hit TV show "This Is Us," described a similar experience. Moore married Adams at age 25 in 2009 and was married to him for six years before officially divorcing him in 2016. She said Adams got involved in her career two years before their marriage. She released her album "Amanda Leigh" shortly thereafter. She hasn't released an album since.
Moore said Adams suggested she not work with other producers or industry professionals, isolating her and giving him control of her career. She said he would book time for them at the studio but replace Moore with other female musicians instead. His behavior, which Moore described as psychological abuse to The Times, effectively stunted her music career she said.
"He would always tell me, 'You're not a real musician, because you don't play an instrument,'" Moore said. "His controlling behavior essentially did block my ability to make new connections in the industry during a very pivotal and potentially lucrative time — my entire mid-to-late 20s."
Adams denied Moore and the other women's accusations through his lawyer in The Times. He has also disputed the allegations in a series of tweets, both apologizing for any hurt he may have caused but calling the article's allegations "upsettingly inaccurate," "exaggerated" and "outright false."
I am not a perfect man and I have made many mistakes. To anyone I have ever hurt, however unintentionally, I apologize deeply and unreservedly.

— Ryan Adams (@TheRyanAdams) February 13, 2019
If you have experienced this type of emotional abuse and manipulation, it can be isolating and you may feel ashamed and even confused. By nature, it can break you down, make you question your own thoughts and beliefs and make you feel completely alone. Mighty contributor Mackenzie Heckbert shared what this felt like in their article, "When You Don't Realize You're in an Abusive Relationship." Heckbert wrote:
He put ideas in my mind that I didn't believe but eventually accepted because his personality is strong and mine is weak. I would forgive him and forget because I was comfortable, I could buy nice things, and I loved his family more than they'll ever know. But this isn't love. Feeling sad, worthless and lonely in the company of another was a warning sign I ignored because four years, six years, eight years is too much time to throw away.
According to The Times, the women who came forward with accusations against Adams felt similarly alone until they discovered others who described their relationship with Adams similarly.
"What you experience with him — the treatment, the destructive, manic sort of back and forth behavior — feels so exclusive," Moore said. "You feel like there's no way other people have been treated like this."
After The New York Times report was published, Moore also took to Instagram to voice her support for the other women who have come forward to share their experiences with trauma.
"Speaking your truth can be painful and triggering but it's always worth it," she wrote. "My heart is with all women who have suffered any sort of trauma or abuse. You are seen and heard."
Image via Creative Commons/MingleMediaTVNetwork