50 Secrets of People Who've Stayed in Psychiatric Hospitals
---
If you have an interest in mental health reform, you might be familiar with the term deinstitutionalization — a time in our history starting in 1955 when two things happened: 1) Patients in psychiatric hospitals where pushed out of those hospitals, and 2) Those hospitals promptly closed.
In 1955, 558,239 people with serious mental illness were in public psychiatric hospitals. In 1994, this number was 71,619.
It some ways, this was a great thing. The conditions in these hospitals were for the most part appalling, and they were often used to simply separate people with mental illnesses from society. But the issue is this: as we shut down hospitals, we didn't adequately fund alternatives.
Fast forward to today.
While the conditions in psychiatric hospitals are much better than they were before, we still have a lot of work to do before they are adequately funded and until we have enough beds. Current hospitals still live in the shady past of old institutions — and it's not just the places, but the patients who get a bad reputation. (See: Halloween attractions, sitcoms, costumes.)
That's why it's so important to demystify psychiatric hospitals — so those who can benefit from their services aren't afraid to go — but also to keep the conversation going about how these spaces can improve.
To learn more about psychiatric hospitals from people who have actually stayed in them, we teamed up with Frank Warren at PostSecret and asked our communities: If you've stayed in a psychiatric hospital, what's one thing you wish others understood?
It's important to note these experiences range from long-term treatment centers to 72-hour holds. You'll notice the conditions differ — but maybe you'll read something that surprises you.
Here's what our communities had to say:
1. "I was lost and didn't know who I was until I was admitted. This experience literally led me down the right path. People don't understand the impact of just someone caring daily. And that's all these professionals do, care about the person."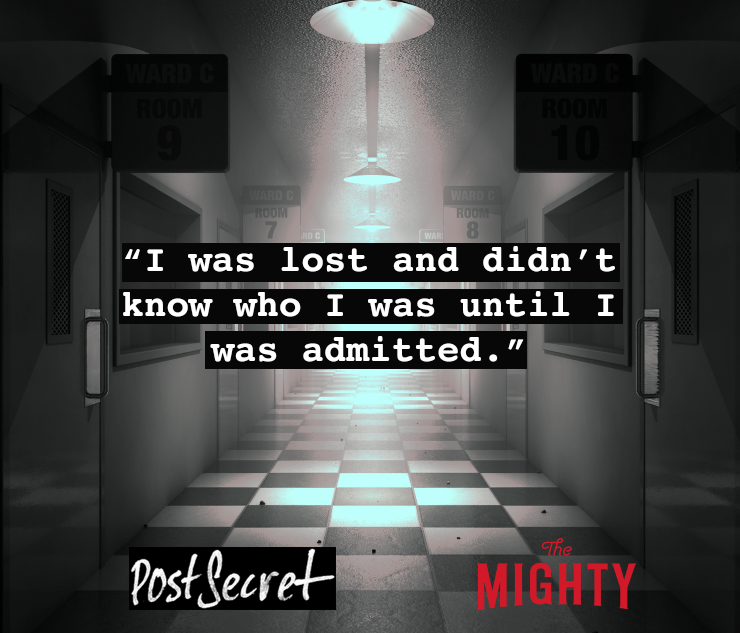 2. "I wish people would understand it's probably not what they think… It's the lost souls who haven't found a home in the world. It's your daughter, your brother, your neighbor who feels completely alone and empty; as if they were placed here with no instructions on how to be 'normal.' I've met some of the most amazing people in these places. I've also learned there is no such thing as normal and that a little compassion and open-mindedness goes a long way."
3. "You get to know people in there better in one week than you know your family and best friends. It's a lifelong bond, tied together by a similar struggle."
4. "Being admitted to a psych hospital/ward isn't an admission of weakness. It's revealing that you have struggled to carry a burden for so long that it is killing you."
5. "I'm stuck in a closed ward at a German psychiatric hospital to detox. I've never been more proud to admit it. I'm nauseous, I'm sweating and cold, I'm shaky. I can do this."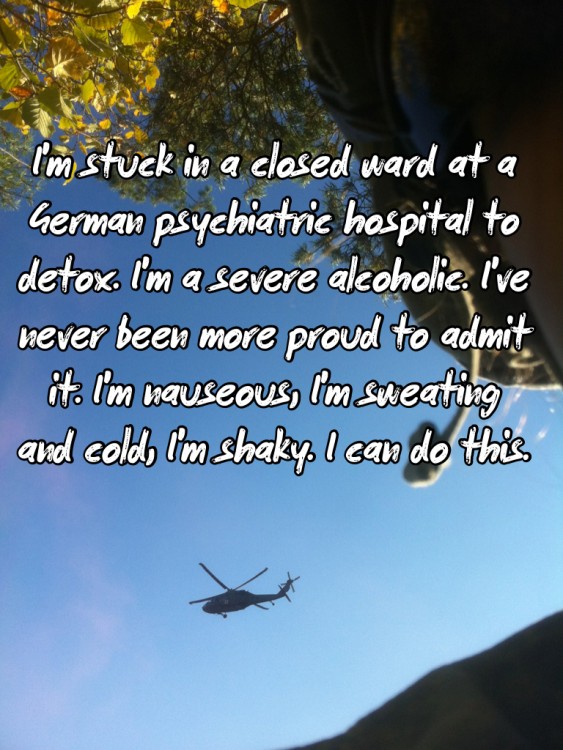 6. "It's not for everyone. I was admitted when I was a teen because I opened up to my parents about suicidal thoughts. Being in there, despite being with people my own age, was terrible. I felt like I lost all my dignity when they strip searched me… I felt so disconnected to the outside. I felt like I got more help from the psychiatrist and therapist I saw after I got out than I did while I was in the hospital. That being said, there are types of people who could benefit from working through their problems in a group environment, I was just not one of those people, nor did I have a choice in the matter."
7. "For me, it was a jail with no release date. I didn't get released when I was better. I got released when I learned to tell them what they wanted to hear. I got better a long time after I got released."
8. "It's not as scary as the media and popular culture make it out to be. I was recently in one and it was the safest most welcoming, most eye-opening experience I've ever had."
9. "It's not a vacation. It's not fun. I got no help, other than medication adjustments… no therapy, no one to talk to about my issues. I colored pictures, watched TV and slept while I was there."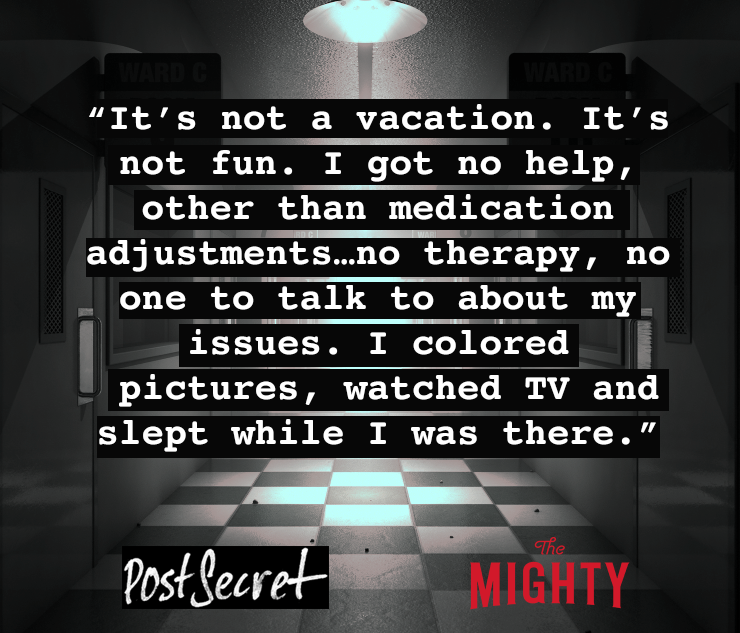 10. I worked in a psychiatric hospital… In so many cases, [the patients] looked like me. Sometimes they let their circumstances get the better of them. If you are afraid of what psychiatric illness looks like, you really don't know what psychiatric illness looks like."
11. "I admitted myself two years ago because I had never been correctly diagnosed and was at the lowest point of my entire life, completely unmedicated. I wanted to die, and I had the means to do it. But I felt like if this was rock bottom, I had to get better. It wasn't the best experience… but once I started on drugs that were made to combat what I had, it was easier. I didn't go because I was some psycho. I went because I didn't have the will to keep myself alive."
12. "It was a welcome respite from living with mental illness all your life. In the hospital I felt like I was among perfectly normal people who had suffered like myself, just wanting help and support and above all get better!"
13. "When I was 13, I left school for two months, and when I got back I told everyone I was really sick because I was too afraid to tell them I had went to a psychiatric hospital."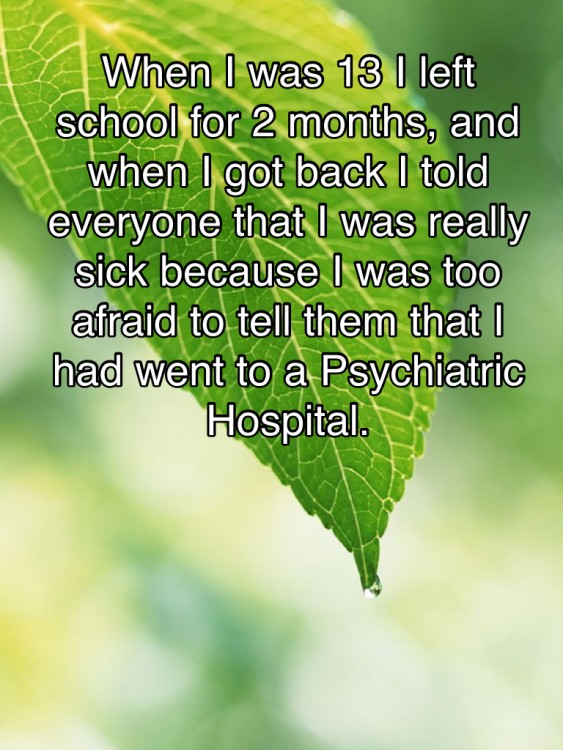 14. "[From what I've noticed] most of the people there are only there because they lack the resources to get treatment, and coming back is the only way they get regular medicine, counseling and sometimes even food. My fellow patients were also some of the most compassionate people I've ever met."
15. "For me, it was nothing liked I hoped. I received no help and left so helpless when I was discharged. It was not my safe haven I had placed all my hope in. Also, I wish people knew it was not a cure — I still needed and desired help and support when I got home, which I never received. And no, staying in a psych ward does not make me a bad person, a freak or contagious."
16. "Staying in a psychiatric unit short term is not a 'cure-all,' it's a temporary measure taken to help stabilize you. Do not expect to come out of it with all your problems gone."
17. "Talking with the other patients actually helped me more than the therapy classes I was required to attend."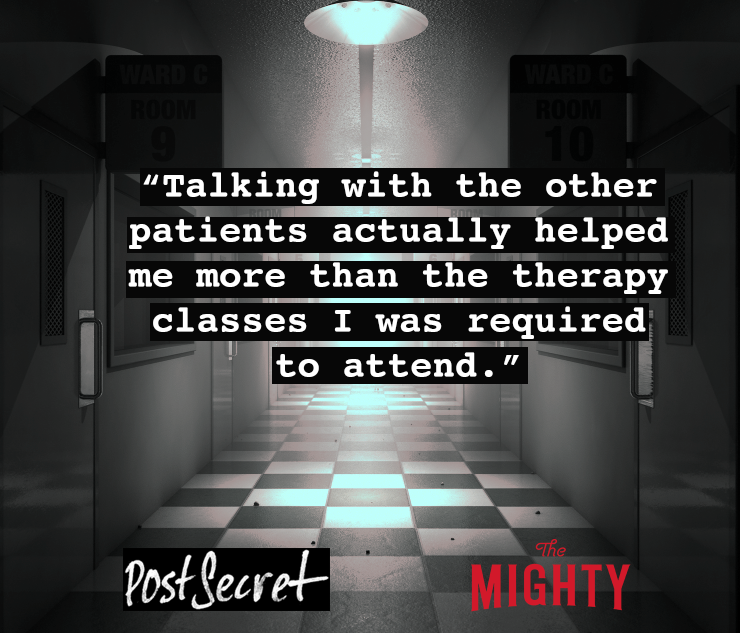 18. "I wish people understood how scary it is to get out. Sure, it's wonderful to be deemed well enough to go home, but it's terrifying to leave the safe bubble where everything is decided for you. You actually have to face the life you took a hiatus from. But you do see everything differently once you've been in that environment. It can be the break you need to focus on taking care of yourself and realizing some of the things you need to do to help yourself in the future."
19. "As a mental health therapist experienced in the field, I can say that there is a serious lack of funding for inpatient hospitals (as well as other mental health facilities), and sadly the people who suffer are the patients. Too many places are understaffed or staffed with under qualified people. If this is important to you I urge you to become involved in your community."
20. "When I leave the hospital, it doesn't mean I'm fixed or all better. I still have to deal with the shitty problems I went in with. The difference is I am a little bit more stable, a little more educated, a little more present."
21. "I met my best friend in a mental hospital."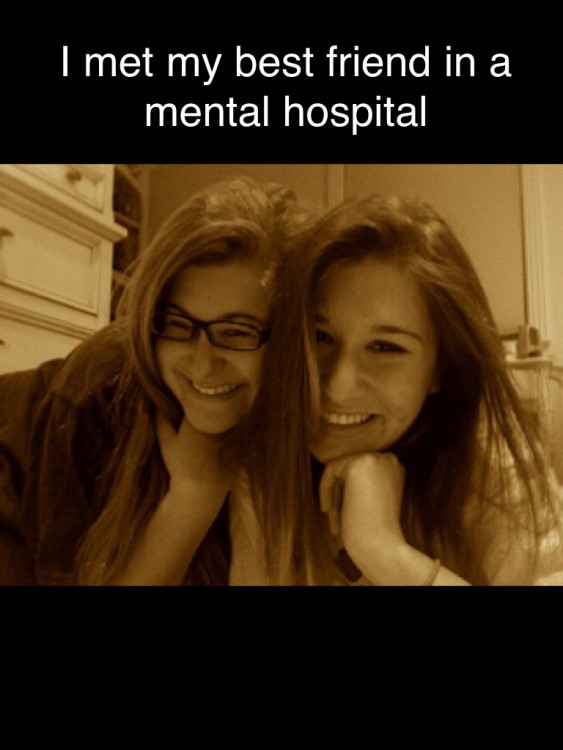 22. "I stayed for almost three weeks a few years ago. Not all of my friends and family know this. I want people to know that a good majority of people in there are your 'average' everyday people just trying to get by. Who have a momentary lapse and need support and understanding, not judgment and seclusion."
23. "I wish people understood that people who are admitted to a psych ward aren't suddenly a different species. Just because we needed help (or other people thought we needed help) doesn't mean we're suddenly a person that other people can't relate to or have a normal relationship with."
24. "'Non-compliance' doesn't always mean you don't want to comply. It might mean you can't. Maybe you can't do group because your social anxiety is off the charts. Maybe you can't explain your problem because your words don't make people understand you. Maybe you can't tolerate meds. Just because you can't doesn't mean you aren't trying or don't want help."
25. "We aren't broken people. We are your neighbors, your friends, your children. Please don't judge us for having gotten the help we needed, because calling us crazy just makes us wonder if we should have never left that hospital."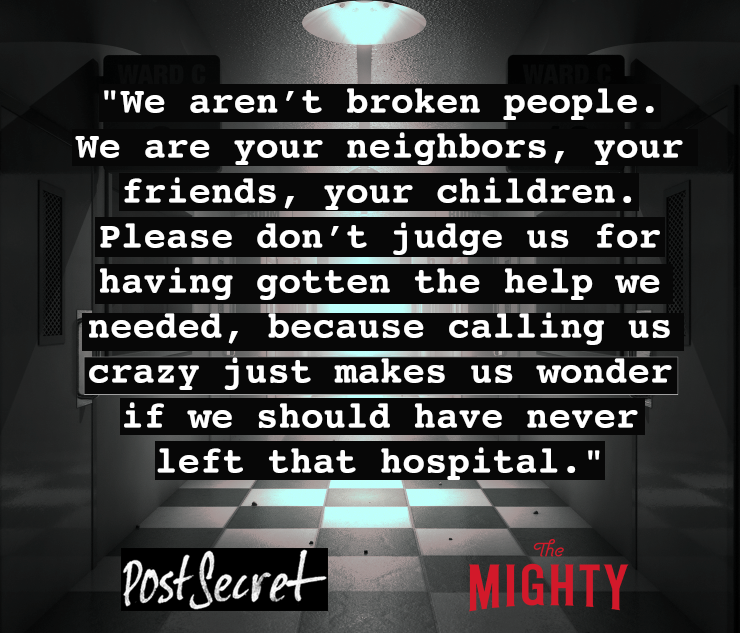 26. It was the best thing I ever did for my mental health. The coping skills I learned there have stuck with me more than any therapy session ever has. My depression is only under control because I learned how to recognize the signs early and ask for help… I would never have learned that if I hadn't gone to the hospital."
27. "My experience in a psychiatric hospital was rather disheartening. While they might prevent you from harming yourself in any way shape or form, it was still lonely — one of the things that really put me down that path anyways."
28. "It could be anyone, in there with you. There are New Jersey housewives who have battled all their lives to be 'normal' and failed, there are kids who are goth because it's a more socially acceptable way to speak out than actually speaking. There are crass women who are crass because they feel weak, and homespun boys who feel ashamed because they feel like weakness isn't allowed. Every kind of soul is vulnerable, every kind of soul can be found there."
29. "I'm currently a patient in a psychiatric ward for the third time in the past year. Ironically, I'm a 20-year-0ld student studying at uni to be a mental health professional."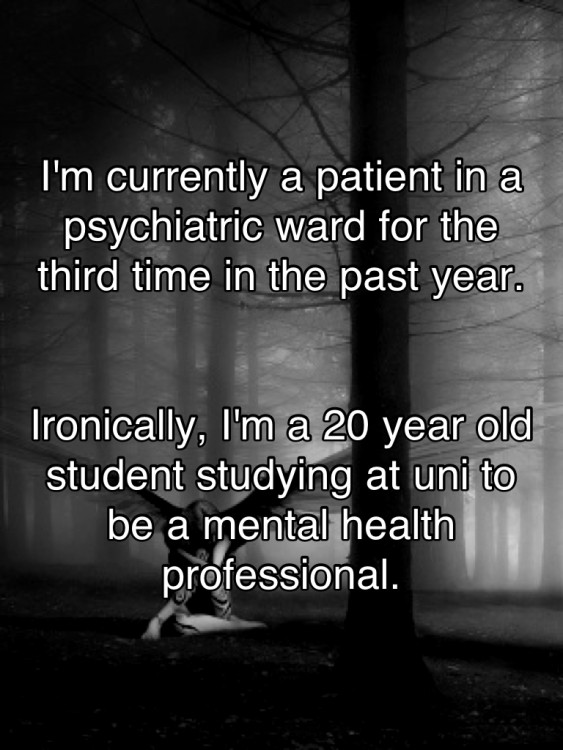 30. "It gave me an honest look at everything I had been dismissive of and really forced a change. My experience was the exception though, not the rule."
31. "It was the first time in my whole life that I felt like I wasn't the only f*cked up creature on this earth, that life takes from everyone."
32. "At 30 years old, I'm in a much better place in my life. It can get better, it just takes time. The facilities that exist now are amazing compared to when I was a kid. Never be afraid to seek the help you want or need. And never ever let someone hold you back. There is no shame in talking to someone. You gotta look out for numero uno, baby, and that's you. Fix you before you fix anything else."
33. "It wasn't a vacation. It wasn't easy, or fun. I was not entertained. I was sobbing to strange nurses and coming to terms with my disorders, developing treatment plans and signing contracts about keeping myself safe. I had to accept a lot of things I would rather have run from. It was a hospitalization as serious and life threatening as for any other disease. It wasn't a break from life; but it was what brought me back to life."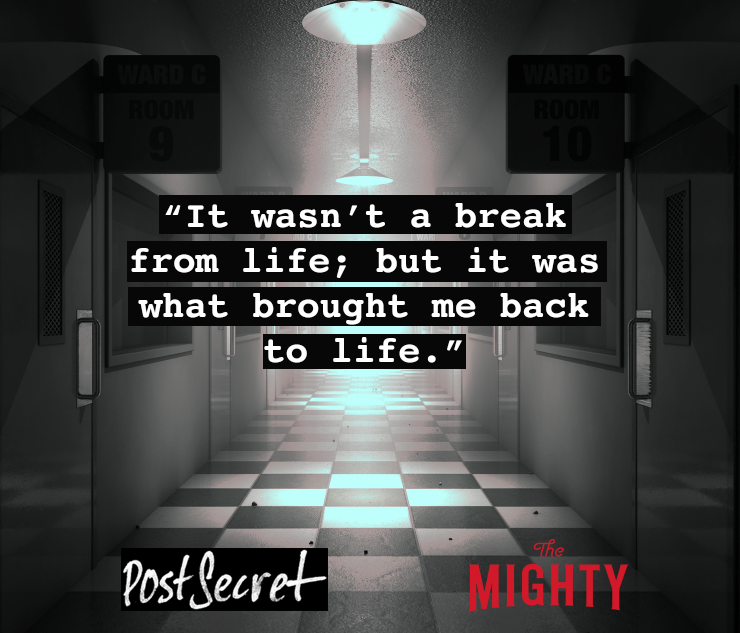 34. "You always tell yourself 'you don't have time for a breakdown'… but really, I was so spiraled out of control that the breakdown was the only thing that saved me."
35. "Staying in the hospital is what showed me how bad I was. It was a reality slap to the face. iI wasn't sunshine and rainbows and three weeks off school. It was when I realized I was really sick. That what I was feeling wasn't the average teenage angst. And that I needed help. I wish people realized intensive inpatient therapy isn't a walk in the park. it's as the name suggests — intensive."
35. "It was the scariest moment of my life not because the nurses were mean, or the other patients were 'crazy,' but because I was told by so many people there was something wrong with me and I thought they were right."
36. "This is the best Halloween I've ever had. We're in a mental hospital."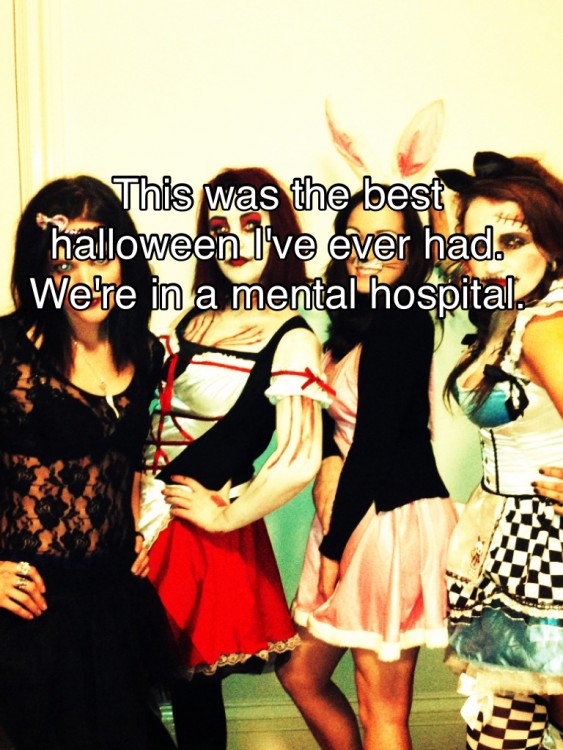 37. "One thing I wish more people understood about the experience of staying in a psychiatric hospital is this: It takes immense courage to face tomorrow when you have zero strength left to face another day. Sometimes people need a little extra help in working through that, and a hospital can be a safe place to work through the pain until you can face the future on your own. There is nothing shameful in it, rather, it makes you a stronger individual."
38. "It's lonely, scary, unfamiliar, depressing. But as much as I hated being there, it saved my life. I was more scared to leave the place than I was to arrive. Leaving meant I was being trusted not to hurt myself, but I still had a huge journey before I was on the way to recovery."
39. "Every person there was in unbearable pain while simultaneously being treated like a minimum security prison inmate. It was hellish, but in that place I finally felt understood."
40. "It was like an oil change for my brain. Set schedules. Set routines. All expectations put out to you right from the start. Knowing for sure if you've taken your meds. Your meals prepared for you — healthy balanced meals. You get to a point where you have no choice but to focus on you and not dull your senses with drugs, caffeine, nicotine and excuses like being too busy. It was a good thing for me."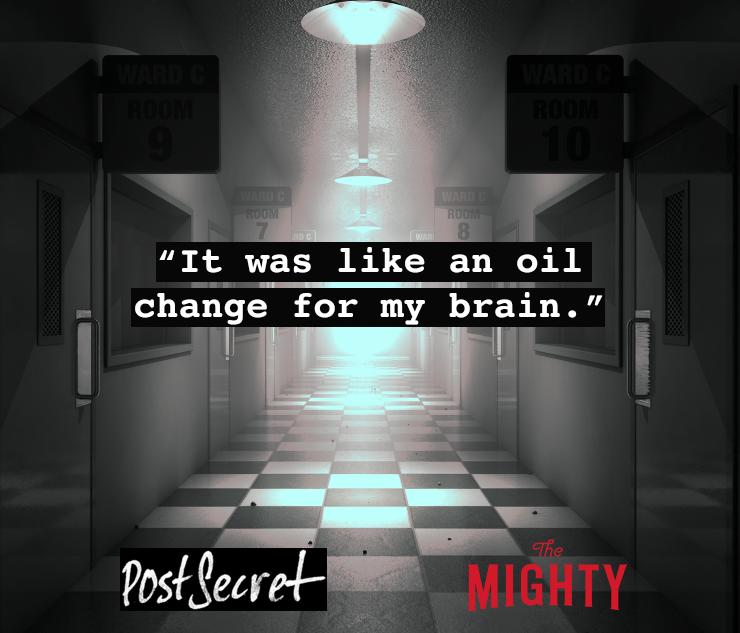 41. Time spent was time wasted. I did not receive the help I needed. I had more pills thrown at me and was left in a semi-conscious state majority of the time. The doctors and nurses were worn down and look pretty well defeated…. Sometimes it didn't seem real."
42. "We're all human. Patients and staff too. Sometimes we get it wrong — patients can be loud or intimidating or too reliant on each other; staff can be overburdened and under-resourced — but in the end we're all walking this road together, with safety and stability the main goal. Everyone is doing the best they can with what they have."
43. "I wish people knew that for the most part we are treated with respect. My nurses actually cared. The therapists cared. I was not seen as a threat to society."
44. "I miss the kinds of people that I'd meet in the psych ward. It was like camp for sad people."
45. "I'm still a work in progress, but the support I received and continue to receive was phenomenal."
46. "It doesn't mean I'm weak, it doesn't mean I am crazy, but it does mean I cared enough about myself for one moment to save myself. Because sometimes we need a break. Sometimes we need to rest and find stability with medications again. It took more strength and courage to admit I needed help than ending my own life. Nobody else can save me, but I can save me, and so I did. Since then I have made great strides and I have made much progress… I'm not weak, I am strong, and I am not ashamed to say 'I've been to the psych ward.'"
47. "Four years ago, I was admitted to a psychiatric hospital facility. My dad literally dragged me as I screamed, kicked and bit him. I wish I could apologize, but I never know how to bring it up. Thanks for being strong and always loving me, Dad."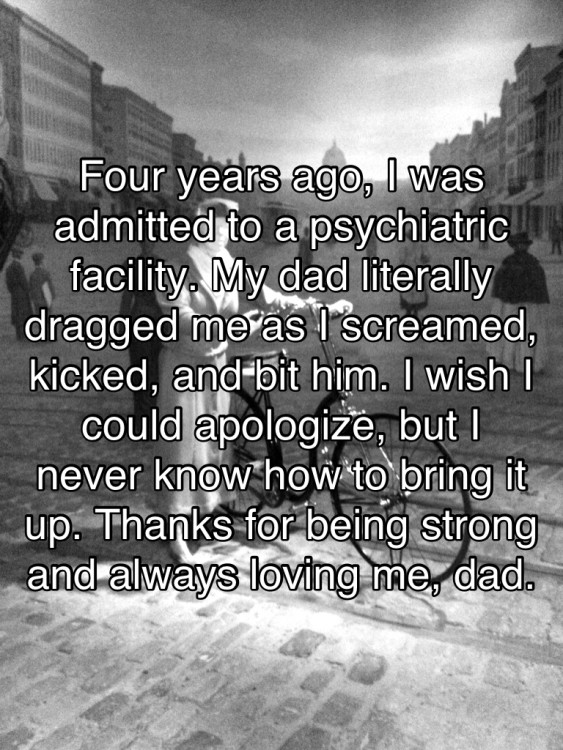 48. "I wish more people had asked to visit. It gets lonely in the hospital sometimes, it would be nice if people behaved the same way they would have if I was being treated for an illness in any other part of the hospital. Some days I may not feel up to having company, but knowing that friends and family are available to offer support is comforting."
49. "Two weeks ago I was placed in a psych ward for attempting to take my own life. I was sitting alone until another boy came up to me and simply said, 'You're not the most f*cked up person anymore.' For the first time in my life I didn't feel like I was the only one struggling."
50. "Most people think it's weak to end up in a psychiatric hospital, but admitting I needed help and putting myself in the hospital was the best thing I have ever done. I was weak emotionally, but brave mentally. I met people in the hospital who understood me and who helped me in my journey. Often I wonder how my friends from that week are now, but can only hope they found their peace or work at it everyday like I do now."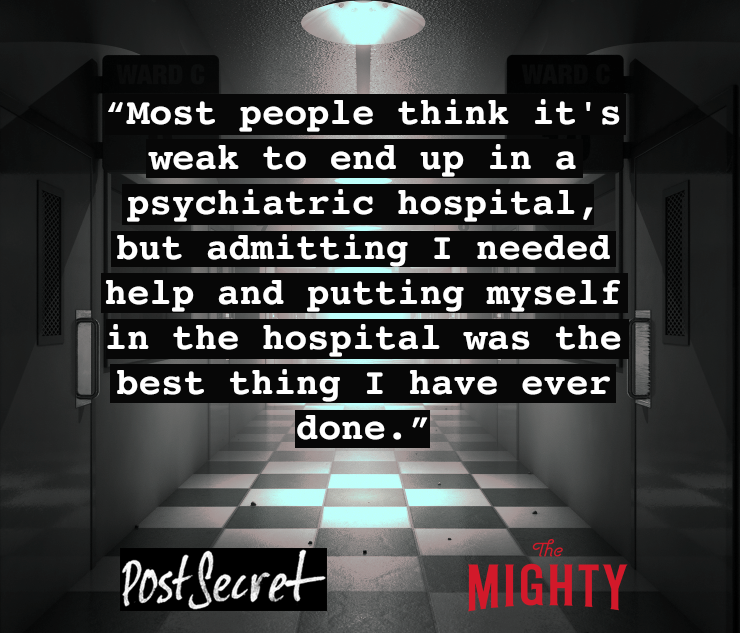 If you or someone you know needs help, visit our suicide prevention resources page.
If you need support right now, call the Suicide Prevention Lifeline at 1-800-273-8255. You can reach the Crisis Text Line by texting "START" to 741-741.
Originally published: September 28, 2016