12 Valentine's Day Gifts to Show Someone With Mental Illness That You Love Them
---
Editor's Note
We hope the products below, all recommended by our Mighty community members, help you or a loved one in your health journeys. Just so you know, The Mighty may collect a share of sales from the Amazon links on this page. Prices and product availability are accurate as of publication.
Living with a mental illness can be taxing in so many ways. Physically, it can manifest as tenseness, debilitating fatigue, stomach pains, sweating — the list goes on. But it can also leave you believing that you're unlovable, worthless and burdensome. It's easy to feel alone and isolated, especially during any holiday. Even if you don't have a significant other for those times, you still deserve to receive love and care, whether it be from family, friends or yourself.
With Valentine's Day coming up, we decided to ask our mental health community and what gifts they would love to receive and added a few suggestions of our own. If you or someone you know lives with a mental health condition and you want to show some love, check out these suggestions!
Join the conversation and answer this Mighty member's question: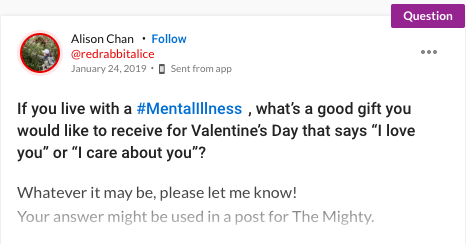 Here's what our community recommended:
1. Houseplants
"A houseplant because they reflect my mental health and I love to collect them. …When you have new leaves or flowers, you feel awesome. They are alive and you care for them, so you should care for yourself too." — Jury S.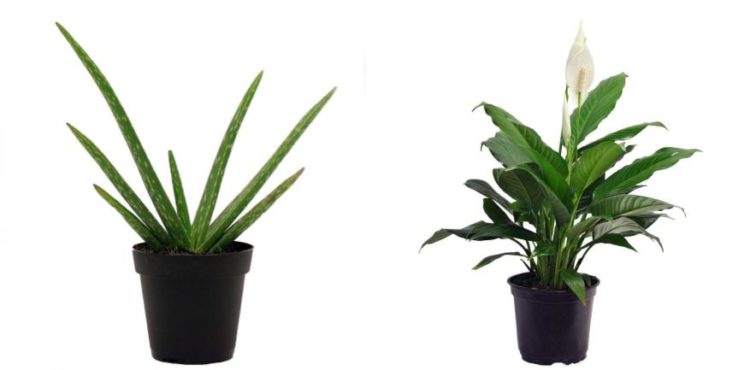 Our picks: Aloe Vera ($13.34) and Peace Lily ($27.59) from Home Depot.
2. Personal Messages
"My closest friends are all married and have their mates and I feel so alone and left out. So … something to let me know I'm loved too on this day by my bestie and close friends. A card with a written message, because those are permanent to me when it's in a person's handwriting. A card means a lot to me and is something I can go back to anytime." — Lindsay F.
"A card telling me that you are on my team and on my side and will stick with me through thick and thin." — Kate D.
"The words. A text, a message, saying it to my face, maybe a card with them if you're feeling fancy. Just a small reminder that you're still here, that I'm not alone. It doesn't need to be a lot. … It's the fact that you thought about me that means the world." — Joleen Q.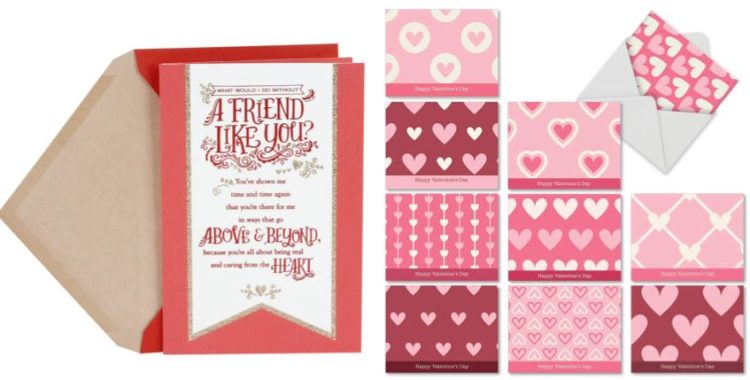 Our picks: Card for a Friend ($4.59) and Assorted Cards ($9.98) from Amazon.
3. Self-Care Kit
"A safety self-love kit. … It would be motivating to have a special kit set aside for those days and nights that merge together. Maybe a weighted blanket, headphones, a notebook and a face mask. I feel very loved when my struggles are acknowledged by someone willing to help me cope in a healthy way." — Meaghan T.
"Self-care items. Scented lotion, fuzzy socks, adult coloring books, incense, candles, chocolate. Just nice calming, comfortable things." — Tara S.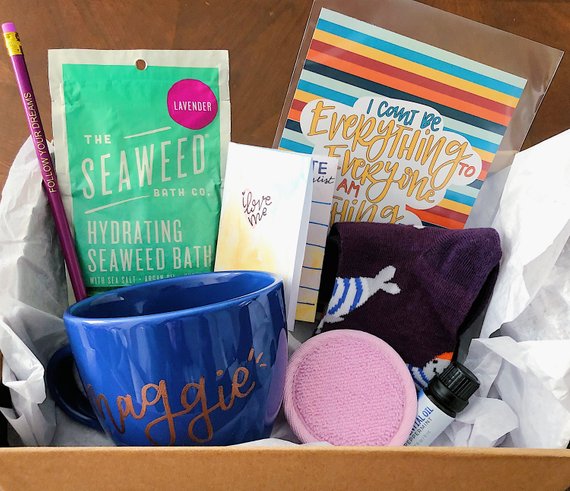 Our pick: SURPRISE – Self Care Box ($16-$35) from Etsy.
If you need inspiration to make your own self-care kit, check out some other recommendations from The Mighty community.
4. Quality Time
"A day. Like a day to spend with someone. Shopping, ice cream, dinner and a movie. Just something that says: I care about you and I know you're very lonely this time of year." — Shayna K.
"Maybe just a visit. Or some quality time. Just company from someone who genuinely cares and wants to be there to support me with whatever I need at the time because what I need to support me is different every day." — Lulu B.
"Their time. The memory of the day with the person means more than any material gift." — Brooke N.
5. Journals or Notebooks
"A journal that has pre-printed gently encouraging quotes and a note from my beloved encouraging me to write down my feelings because they WANT to know the thoughts in my head even when I don't have the words, maybe especially when I don't have the words. The idea would be to give them the journal to read at their leisure. That token of love and acceptance of my mental illness as a mutual part of our lives while wanting to help me manage it is more beautiful than a whole room full of red roses." — Sarah H.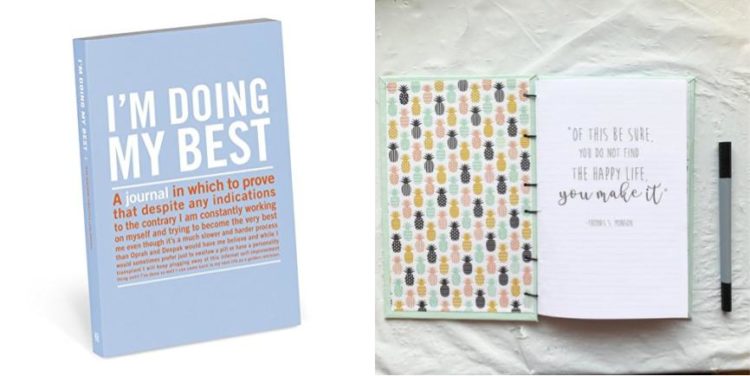 Our picks: Inner Truth Journal ($11.08) from Amazon and Handmade Inspirational Quote Journal ($15) from Etsy.
Want to share your experience? Connect more easily with The Mighty's mental health community by downloading our free app.
6. Teddy Bear or Comfort Item
"A soft teddy bear for me to hug and to think about the person who gave it to me." — Melissa A.
"My husband had already got me my Valentine's gift and it's perfect. A build-a-bear with a recorded message from him reminding me that I'm loved." — Laura L.
"A blanket. They're the only thing that truly calms me and brings me comfort and when I receive one. I spend a lot of time huddled in it just to make it 'mine." — Rose F.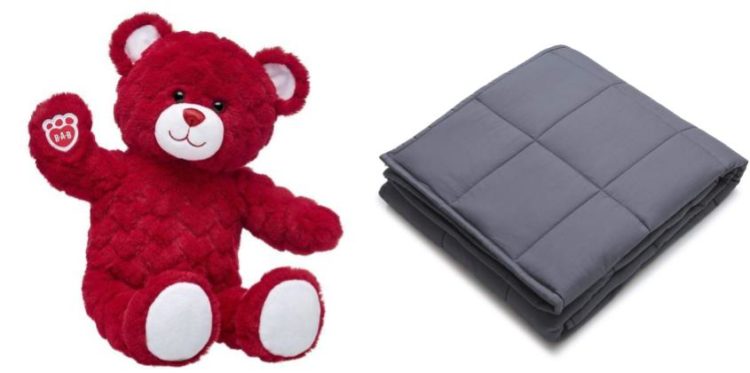 Our picks: Build-a-Bear Voice Message ($8) and Teddy Bear ($22) from Build-a-Bear Workshop and 15-lb Weighted Blanket ($79.90) from Amazon.
7. 'Open When' Letters
"Open When" letters let you fill in a note for your loved one to open just when they need some comfort. The front of each letter contains a different prompt, including open when you need to smile, need a pep talk or need motivation. You can fill the letters with advice, corny jokes, favorite memories and words of affirmation. When your loved one is going through a rough time, they can pop open a letter and remember that you're there to support them.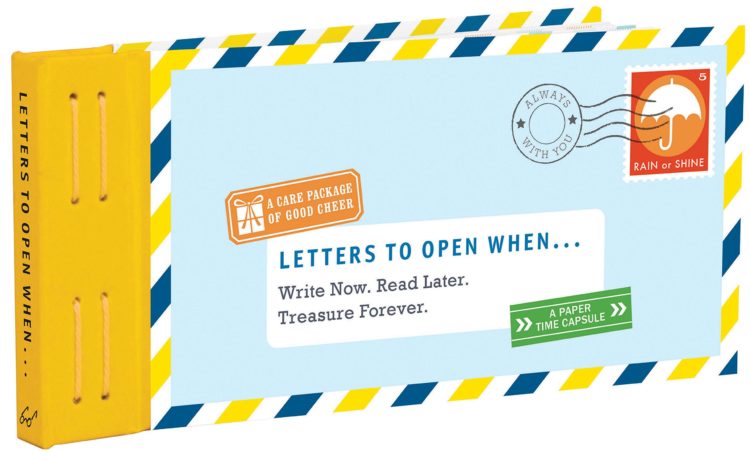 Our pick: Open When Letters ($11.84) from Amazon.
8. Spa Day
"I would like a spa day or at least a gift card for a massage. Or for my husband to give me a whole day and night off from adulting/parenting." — Alyson F.
"A spa day or massage. I find it difficult to really relax, but being pampered, and not being able to do anything else, actually relaxes me so much. At least I can feel better and human for a while." — Jenny B.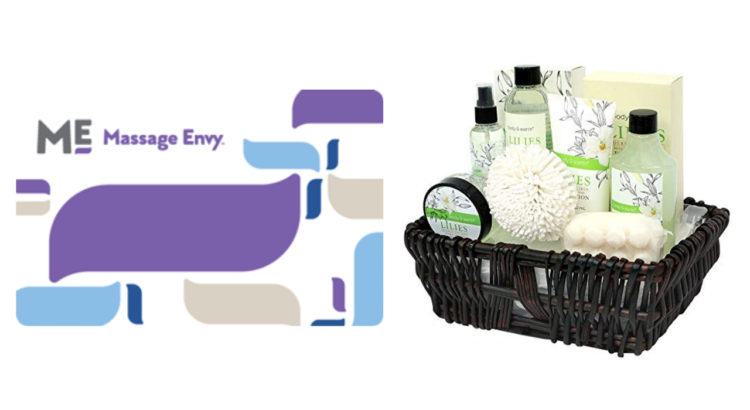 Our picks: Massage Envy gift card ($75+) and Body & Earth Spa Kit ($29.99) from Amazon.
9. Gift Cards
Mental illness can make it difficult to do self-care. For me, there have been days where I've neglected to eat or take care of my personal hygiene. Being able to access services, like take-out meals or ordering toiletries online, make those small tasks easier, which can make a big difference. Plus, you can never go wrong with a gift card!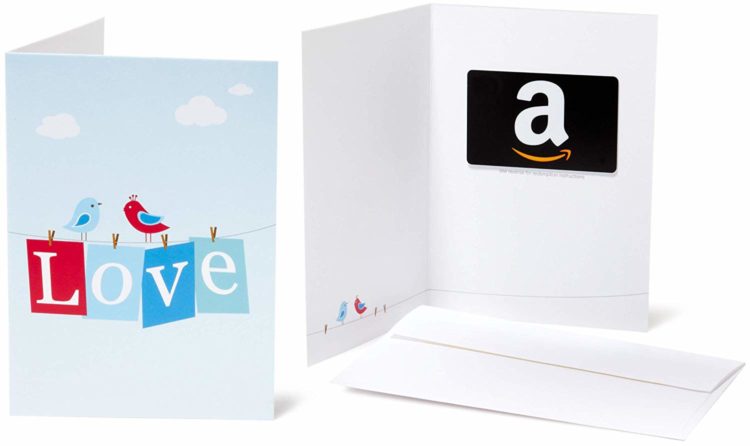 Our picks: Grubhub gift card or Amazon gift card.
10. Adult Coloring Book
"A new journal and coloring books. I do a lot of both to calm myself down." — Shayla F.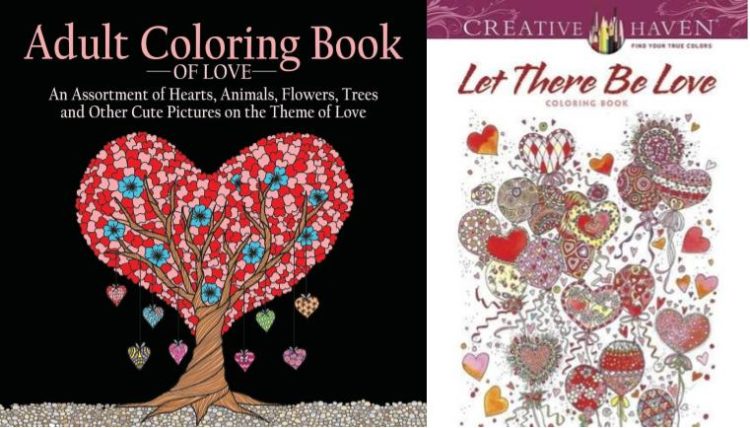 Our picks: Adult Coloring Book of Love ($7.95) and Let There Be Love Coloring Book ($5.99) from Amazon.
11. Assistance With Tasks
"Helping me organize things or buying me equipment to do so, like a bookcase so I can have all my books in one place. My depression makes it very hard for me to tidy and organize myself and my surroundings, so any support in that sense is greatly appreciated!" — Lauren T.
"Helping me organize my room or a nonjudgmental conversation with active listening sounds dreamy." — Jaime E.
12. A Hug
"Quite simple. A hug." — Kevin C.
"A big hug. I'm not the type of person that likes physical attention but I really crave a long hug and to be told you're going to get through this." — Tanya S.
What are some things you would love to get? Let us know in the comments below!