3 Phrases That Remind Me to Focus on Self-Care During My Recovery
---
For four years, I have been actively focusing on recovery from a suicide attempt, childhood sexual abuse, religious abuse and addiction. I have learned that recovery for me is about digging. About finding. And about facing realities. And, equally as important, recovery is about self-care.
For me, recovery and self-care are inextricably connected. My recovery has required dump-truck-loads of self-care. In simple ways, sometimes self-care means knowing it's OK to have a good, hard cry. Maybe it's closing the office door and taking some deep breaths. Or taking a "mental health day" because you just cannot push through another minute. Self-care is giving yourself permission to be first for a little while. It's not making excuses about why you can't do what you know in your gut you need to do. I'm a Christian, but I have found myself in a desperate place at times, needing something other than Jesus. Something like a nap or a friend who will just listen.
There are no overnight fixes, but here are three tips that have ushered self-care into my life and made my life better:
1. I deserve safety, love and belonging.
Folks with mental illness tend to be extremely compassionate toward others, but we often do not show ourselves the same grace. But self-compassion is absolutely necessary to have a whole, healthy life. We must be kind to others, and we must also be kind to ourselves. As Brene' Brown says, I must learn to speak to myself the same way I would speak to someone I love. It's helping to heal my own shame.
2. Shame no longer gets a vote in my life.
The flashbacks from my childhood sexual abuse have haunted me for decades. When buried memories begin bubbling up, the worst thing we can do is shove them back down and close the lid. All that pain has a way of seeping back to the surface. It might take months or even decades, but in time it will always ooze out.
So what do you do?
Take a step toward deliberate "safe relationships" with people who will not shame you through the process or gossip about your recovery. And take a step away from hiding and performance. I tried to keep up appearances for 30 years and it nearly killed me. Don't let it hurt you.
3. I am more than my diagnosis.
Labels are important, especially from a medical standpoint. They give us a plan of action. They show us a lot about our limits. They teach us which medications may help and what substances or situations to stay away from. But when we focus more on the label than the person behind it — a human being in need of love and belonging — we miss an opportunity to live a full and meaningful life.
My diagnosis doesn't define me. I am much more than a label or the stigma attached to it.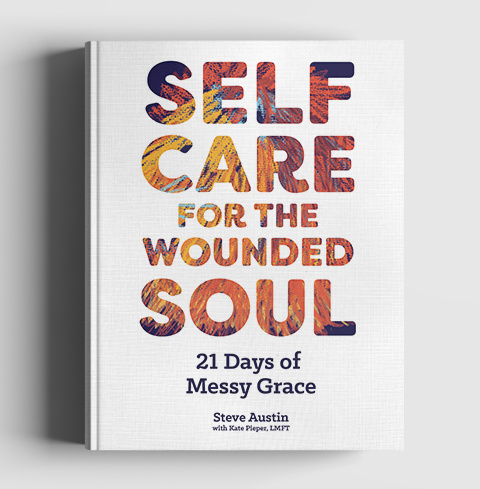 If you have ever felt hopeless, if you have ever believed all the bad things in your life were beyond redemption, if you have ever felt unworthy of being loved or accepted, if you have ever feared what would happen if people found out whatever it is that haunts you — I get it. I have been there, too. Maybe you are recovering from abuse, addiction or a suicide attempt like me. Maybe you are struggling with anxiety or depression and don't know why yet. The tools in my brand-new book, "Self-Care for the Wounded Soul: 21 Days of Messy Grace," are meant to help with answering the question, "Now what?" Get your copy today at graceismessybooks.com.
If you or someone you know needs help, visit our suicide prevention resources page. If you need support right now, call the Suicide Prevention Lifeline at 1-800-273-8255.
If you or a loved one are affected by sexual abuse or assault and need help, call the National Sexual Assault Telephone Hotline at 1-800-0656-4673 to be connected with a trained staff member from a sexual assault service provider in your area.
Image via Thinkstock Images
Originally published: October 28, 2016