To the Family Member Who Told Me I Didn't Need My Cane
---
The other day I was dropping off gifts at a relative's house. I just had a very important doctor's appointment, which went extremely well. I was very nervous leading up to it; I never know if I'm going to get good news or bad news. It's a roller coaster.
When you have five chronic illnesses, life is unpredictable. Ever since I was diagnosed for myasthenia gravis (a rare neuromuscular autoimmune disease) in 2008, I have been working on rebuilding my life with medical procedures, physical therapy, medications, nutrient therapy, nutritional supplements, and, most recently, starting a non-GMO diet.
That year, I went from doing yoga five days a week to not being able to feel my legs. I was bedridden for over a year. I was given a 50/50 shot of living.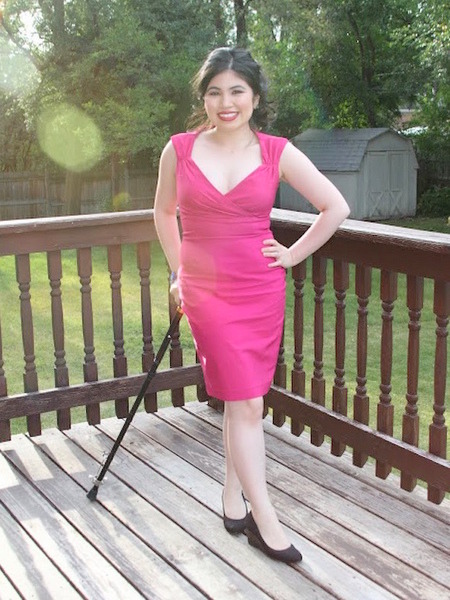 Today, I carry a cane. There are times when I lose feeling in my legs or on one whole side of my body. I have no idea when those moments will happen.
As I dropped off the gifts, I explained to a family member I was coming from a doctor's appointment. I loved her makeup that day and told her she looked wonderful. My family member said, "You look great." I said thank you — I did look great that day. Great lipstick and good news will do that. Then she followed it up with, "You don't need your cane. You should get rid of that." Sigh. I know she meant well, but still, it stings.
Here's the truth about chronic illness: Some illnesses are invisible (although some might argue that an illness that requires a walking aid is not invisible). I also think there's another source of misunderstanding: The strategies we employ to manage our illnesses often make us feel or look better to the point where people assume our illnesses are over.
The reason I didn't hit the ground when I lost my balance twice at a store last October? My cane. The reason I didn't fall down when I left my house and immediately stepped into two feet of snow? My cane. Physical therapy has helped a lot, but even my physical therapist says I should use my cane. I think he's the expert on this subject.
I had a similar conversation years ago regarding my bipolar 2. I was diagnosed with bipolar disorder at the age of 18. It wasn't easy; it was a long hard road, struggling with suicidal thoughts and uncontrollable depression to becoming happily stable and developing creative strategies for successfully managing my mental illness.
I graduated cum laude from Northwestern University with a B.S. in communications and a second major in political science. I learned to follow through with things like sleeping on time, seeing my therapist regularly, adhering to prescribed medications and exercising.
A few years after college, I was considering a big transition that would involve moving away. While discussing this with a friend, I told her I was considering how it could affect my depression — in both positive and negative ways. She replied, "Don't think about that! You don't have that anymore. That's in the past." To her it seemed my bipolar disorder was over because I had gotten better. But the reason I am better is because I practice mental health hygiene every day. I have to work at it.
In addition to myasthenia gravis and bipolar disorder, I live with polycystic ovarian syndrome (PCOS), asthma and psoriasiform dermatitis. People ask me what it's like to live with five diseases. As I described in my TEDx Talk, it's like this: I see myself as Rocky and my five illnesses as Rocky's different opponents. Every day, I get up and step into the ring with Apollo Creed (bipolar disorder), Ivan Drago (PCOS), Clubber Lang (asthma), Tommy Gunn (psoriasiform dermatitis) and myasthenia gravis (Mason Dixon). Each morning, I wake up in tremendous pain, and then I play "Eye of the Tiger," put on my boxing gloves autographed by Manny Pacquiao and pray for strength to survive another day.
I know many people with chronic illnesses who are also going to war every day. Chronic illness is like running a race with no finish line. Comments such as, "You don't need a cane," "You don't have that anymore" or "You shouldn't be parking in the disability spot" diminish our daily challenges. Worse yet, they amplify the loneliness of our journey. I wish people would just listen to people with illnesses and disabilities. And believe us.
If you or someone you know needs help, please visit the National Suicide Prevention Lifeline. You can also reach the Crisis Text Line by texting "START" to 741-741. Head here for a list of crisis centers around the world.
The Crisis Text Line is looking for volunteers! If you're interesting in becoming a Crisis Counselor, you can learn more information here.
Follow this journey on Fashionably Ill.
The Mighty is asking the following: What's one thing people might not know about your experience with disability, disease or mental illness, and what would you say to teach them? If you'd like to participate, please send a blog post to community@themighty.com. Please include a photo for the piece, a photo of yourself and 1-2 sentence bio. Check out our Submit a Story page for more about our submission guidelines.
Originally published: April 1, 2016