Learning a New Way to Travel With Chronic Illness
---
I cannot remember a time in my life when I wasn't dreaming of my next overseas adventure.
Exploring our world was a value instilled in me at a very young age, mostly due to the fact that I was born into a family of travelers.
Being born in Italy and moving to Australia at age 3, with family in both countries, flights became a place of familiarity to me. To this day airports and economy class cabins are where you will find me at my most peaceful.
Getting sick with multiple chronic illnesses meant that everyday life became incredibly hard. It meant I had limited energy to expend and could flare up at any time without even a moment's notice.
Becoming a chronically ill traveler has meant that I have had to learn a new way to travel. I was not going to give up my thirst to explore the world. I knew that although I couldn't travel exactly like I used to, I would still be able to plan those dream trips and make the most out of the life I have.
Since becoming ill, I have traveled to parts of Europe, North America, Central America and Asia, and I don't plan on stopping. Here are just some of the tips I have learned from being a chronically ill traveler. Whether you're chronically ill or not, you might find some of these helpful.
Be Prepared
My favorite part of traveling is the unknown — getting lost and walking around for hours seeing sights that you would have otherwise missed. Being spontaneous and doing a last-minute activity that you wouldn't dare to do at home — bungee jumping, anyone?
Unfortunately, I realized that spontaneous fun can no longer be a part of my travels and as sad as that has made me, it is also a reason why I can still travel at all.
I need to ensure all accommodation is booked in advance, as I cannot risk not having an adequate place to rest and recover.
I need to forward plan my itinerary to make sure that I have enough time to rest and that activities aren't clustered together making a busy schedule. For example, if I am visiting a Disney park, I will plan to stay on-site, and add at least an extra day so I can easily get back to the hotel and rest. It also means I don't feel the pressure to push beyond my limits and can avoid certain times of the day, such as the morning opening backlog or the middle-of-the-day heat). It also means I sometimes I have to prioritize activities I feel are a once-in-a-lifetime experience, and miss out on others that would leave me completely spent, even though I'd enjoy them.
Being prepared also means the boring (but important) stuff like making sure you have appropriate travel insurance. This can be particularly tricky when you have pre-existing conditions, so don't leave it last minute and don't just accept basic insurance add ons offered by travel agents and booking sites. In my experience having a rare and "high risk" condition meant a lot of insurers would flat out refuse to insure me, but with research (and higher than average premiums) we have found a company that will fully insure me and all of my conditions.
Make sure your doctors and/or specialists have given you the OK to travel and consider seeing a doctor who specializes in travel (I use The Travel Doctor's Sydney location and have found them to be great to deal with). They will keep in mind your medical needs while also considering how you can decrease risk of infection exposure or any other health-related issues related to the area you are visiting. I recommend calling them as soon as you know you are traveling, as certain vaccines may need to be given over a few months. While you are at your appointments, ask your GP to write a letter with a brief medical overview stating your conditions and medications. Keep this on your person when you are traveling as it can become very handy when in foreign countries.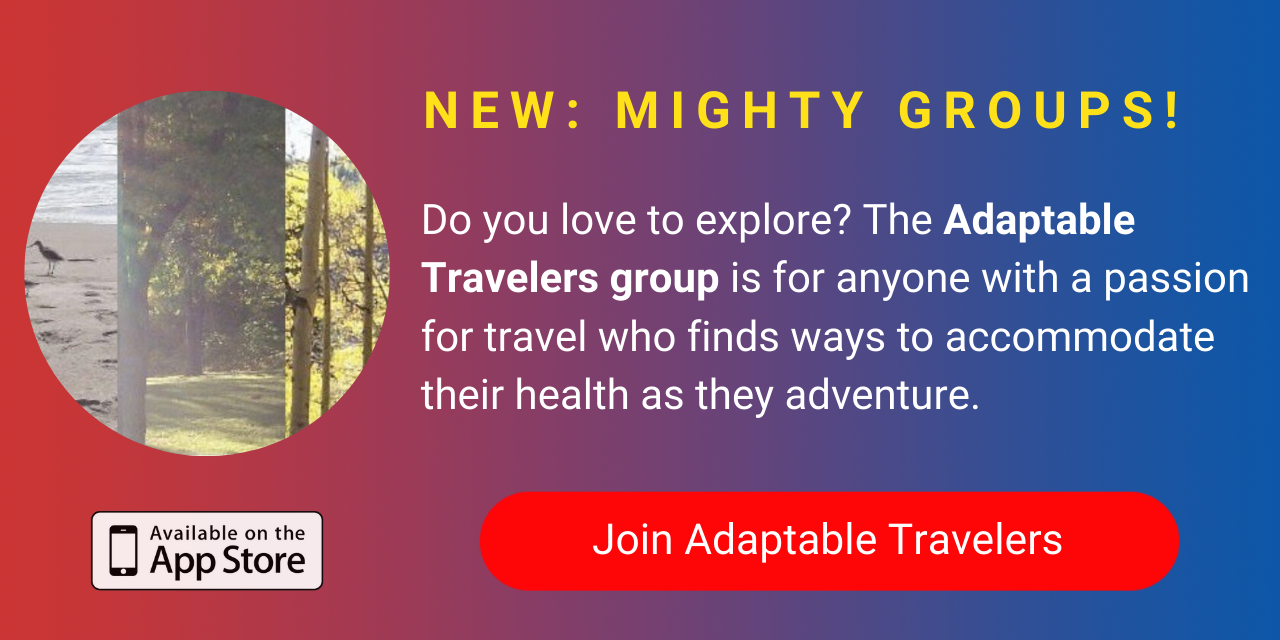 Ask for Help
I always call the airline in advance (or note on my reservation if I am able) to let them know I have a disability which can cause unexpected and sporadic limited mobility and request wheelchair assistance. This allows me to avoid surprise long walks through the terminal that could set off a flare that might see me unfit to fly. It also means I get through the airport safely while preserving my energy. I get to board the plane first and get off last which means I can rest for longer and not be at risk of injuring myself in the crowds or slowing down antsy travelers.
Keep in mind that in Australia it is illegal for anyone to ask you to prove disability (or even ask you what you have). I always travel with my doctor's letter (as mentioned above) and government-issued disability card as I find people are much more helpful as often I can look perfectly healthy. Traveling with evidence also helps in countries that do not have the discrimination laws of Australia. Some airlines will charge for mobility/wheelchair assistance but will often refund the fee when seeing government-issued proof. Unfortunately, this has been occurring due to the abuse of such disability services by able-bodied travelers.
Most airports have dedicated people to assist those who need it, so it's always worth calling in advance to see how they could make your pre- and post-flight a little easier.
Pack Well
Apart from ensuring that all clothing will be weather appropriate for my destination, I make sure I have all my medications (enough for the duration of the trip and some extra) packed in my hand luggage. This is important if I have a flare on the plane or my luggage gets lost or delayed, which happened to me three times on one trip alone! I also always pack a small pouch full of things that will hopefully make the flight more comfortable even if I do have a flare.
Getty image by CentralITAlliance.
Originally published: June 30, 2020