'Matilda' Actress Mara Wilson Calls Out OCD 'Joke' on Twitter
---
Editor's Note
If you struggle with obsessive-compulsive disorder (OCD), the following post could be potentially triggering. You can contact the Crisis Text Line by texting "START" to 741-741. To find help, visit the International OCD Foundation's website.
A now-deleted post from a Twitter user played up an old trope about obsessive-compulsive disorder (OCD) and perfectionism. Actress and mental health advocate Mara Wilson wasn't having it, and she and other advocates pointed out why such "jokes" are harmful to those with lived experience of obsessive-compulsive disorder (OCD).
On Saturday, Twitter user @prettymayonaise tweeted images showing windows misaligned, crooked lines painted on the street and a bag of chips opened from the wrong end, along with the caption, "How OCD are you?" The now-deleted tweet used the familiar punchline about "being so OCD," which makes light of and negates OCD as a real and debilitating mental illness.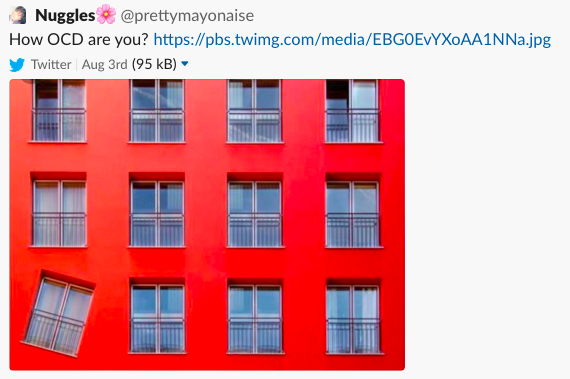 The "Matilda" and "Mrs. Doubtfire" actress called out the user on Twitter, pointing to her own experience with the condition and her advocacy work.
"I gave the keynote speech at the International OCD Foundation's annual convention, that's how," Wilson tweeted. "This is nonsense. Stop using our debilitating illness to try to build your 'brand.'"
I gave the keynote speech at the International OCD Foundation's annual convention, that's how. This is nonsense. Stop using our debilitating illness to try to build your "brand." https://t.co/Pv1yr5l9nA

— Mara "Get Rid of the Nazis" Wilson (@MaraWilson) August 5, 2019
OCD jokes similar to the one @prettymayonaise tweeted are not new. In 2015, Target came under fire for its "OCD Ugly Christmas Sweater," where "OCD" is short for "Obsessive Christmas Disorder." In 2018, U.K. fashion brand BooHoo tried the same design, but removed the shirts after customer backlash. Khloé Kardashian called OCD a "blessing" in a video titled "KHLO-C-D" where she was organizing cookie jars.
Like other times this happens, Twitter users joined Wilson and also called out @prettymayonaise's Tweet, highlighting why the "joke" wasn't funny and how OCD is more than a "quirk" by sharing their own experiences with OCD.
OCD is a mental disorder not a quirky adjective / character trait

— child of gaia (@kiIIyrdarIings) August 6, 2019
I once changed my outfit six times because if not, I kept telling myself I'd die. But yeah sure that window is wonky.

— chlo (@chloe_hawthorn) August 6, 2019
And that was one of my more innocuous episodes.

— scott (@sc0tttttttttt) August 6, 2019
"lol man i'm ocd i like to keep my pencils the same way"

yeah me too except i have to hold my hands like this for 20 minutes or i have a panic attack and think my family's going to die

— Leger-Felicite Snorlax ???????? (@SegaTape) August 5, 2019
PREACH ???? Life before my diagnosis and treatment was a fucking nightmare. Shit like this invalidates our very real experiences.

— Anya (@steelwoolsocks) August 6, 2019
As someone who has been struggling with OCD and generalized anxiety for years, these bullshit posts always piss me off. Thank you for calling them out!

— Greg (@therealgregtho) August 6, 2019
This is perfectionism which is definitely a component of OCD, but not OCD in its entirety. I hate it when people do this.

— Ellen Borenstein (@fluffernuffers) August 5, 2019
OCD is a mental illness characterized by intrusive and usually difficult or disturbing thoughts you can't get rid of and compulsions, repetitive actions or patterns you feel compelled to do to neutralize the intrusive thoughts. The condition looks different for everybody. While for some people OCD can mean needing everything to be in exact order, there's usually another half of that equation — everything must be in order or someone I love will die, for example.
More than 2% of the U.S. population will experience OCD in their lifetime, according to the National Institute of Mental Health. Of those, about 50% will experience "serious" OCD, meaning the condition disrupts your life. You may find it impossible to leave your house, do certain activities or, depending on your rituals, end up in harm's way. OCD is also difficult because you may realize your thoughts and actions don't make sense, but you don't have control. If this sounds like your experience, you're not alone. With treatment and support, you can recover.
Wilson also knows first-hand what living with OCD is like. As she mentioned in her tweet, Wilson gave the keynote speech at the 2019 International OCD Foundation's annual conference. In an interview prior to the conference, Wilson shared why it was important for her to be open about living with OCD and advocate for a better understanding of the condition.
"I knew from a young age that if I grew up to have any kind of platform, I wanted to use it to speak up about OCD," Wilson said, adding:
I felt it was my responsibility, and I knew the importance of accurate portrayals and discussion of OCD in media and literature, because it was a book that got me help! As for advocacy, I think it's important to destigmatize OCD and fight the stereotypes about it. It's not a personality quirk or type, it's a debilitating illness. There needs to be more understanding of what it actually is! I also want to help ensure that everyone who needs help for OCD can get it, regardless of where or who they are. 
The Mighty reached out Twitter user @prettymayonaise for comment and has yet to hear back.
Image via Creative Commons/Gage Skidmore
Originally published: August 6, 2019