After Losing Both Parents, This 6-Year-Old Is on a Mission to Make Others Smile
---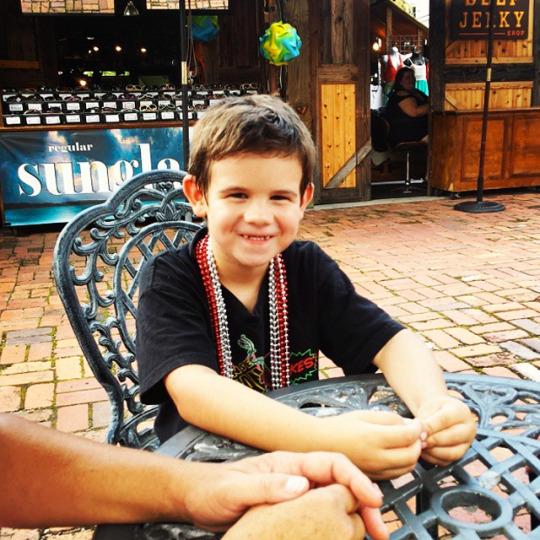 The last thing that anyone would expect of Jaden Hayes — who recently lost his mother only two years following his father's death — is a smile. But that is what the 6-year-old is giving strangers all over the city of Savannah, Georgia, and getting in return.
On July 22, Jaden kicked off a "smile experiment," as he's calling his campaign, to get grins from grim-faced strangers. His plan: simply asking for a smile and giving out small toys. Jaden's goal is 500 smiles, each of which he documents by taking a picture. In the first two days, WSB-TV reported, Hayes already had 275 photos in his collection, bringing a ray of sunshine into what is otherwise an understandably dark time for him.

STORY: Late Teen's Bucket List Inspires Others to Do Good After Her Tragic Death
"At first, he was hesitant, but once he got that first smile, he was off like a firecracker," Hayes's aunt, Barbara DiCola, tells Yahoo Parenting of the boy whose mother's death at age 48 was a shock to the family. (They are still awaiting a toxicology report to determine what may have caused her to pass away in her sleep, DiCola says.)
"When he smiles, he has a glow," she says. "And for a young boy who's been through so much to be able to walk up to complete strangers and give them something to make them smile, then hug them like he's known them his whole life, that is a gift. You can see the power of the love that he feels from these people, too, who share their smiles with him."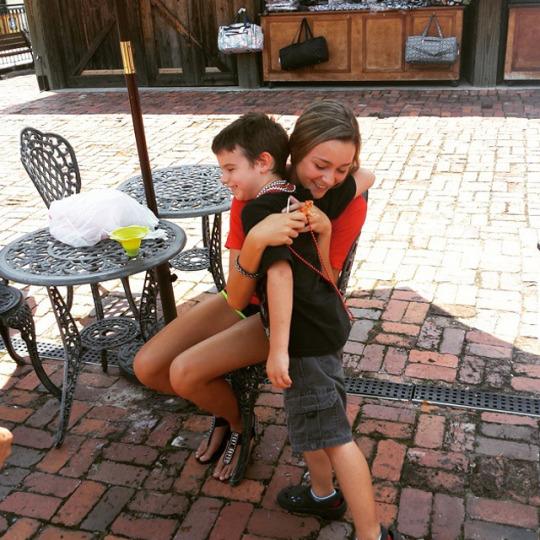 STORY: Sheryl Sandberg's Poignant Letter About Her Family
Trying to get people to grin was entirely Hayes's idea, DiCola told WSB-TV. "I was getting him ready for bed, tucking him in, and he says, 'Auntie, I'm so tired of everybody with frowny faces,'" she said. "'We need to make people smile. … Can we do that?'" DiCola agreed, and then told him they'd discuss ideas in the morning. "I'll be darned if that boy didn't wake me up at 5 in the morning with ideas," she said.
By Jennifer O'Neill
STORY: 'Hero' 12-Year-Old With Down Syndrome Saves Sister From Drowning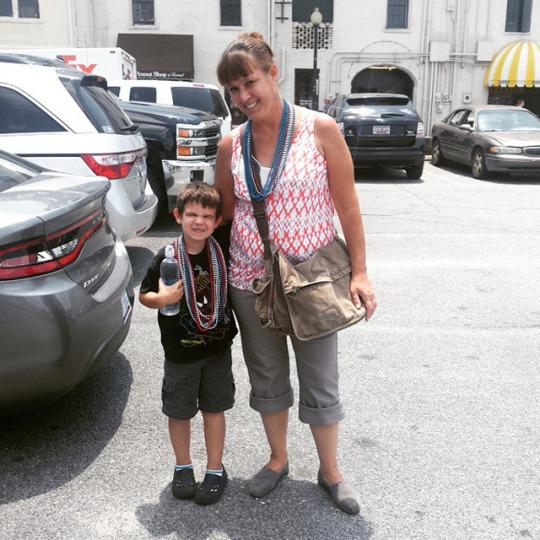 Read more from Yahoo Parenting:
Man to Teen's Father: 'Your Son Just Saved My Life'
Tattoo Artist's Incredible Disney Villains for 8-Year-Old
Mom's Inspiring Selfie: 'Today My Son and I Overcame a Huge Obstacle'
Originally published: August 11, 2015