To the Stranger Who Cried When He Held My Infant Daughter
---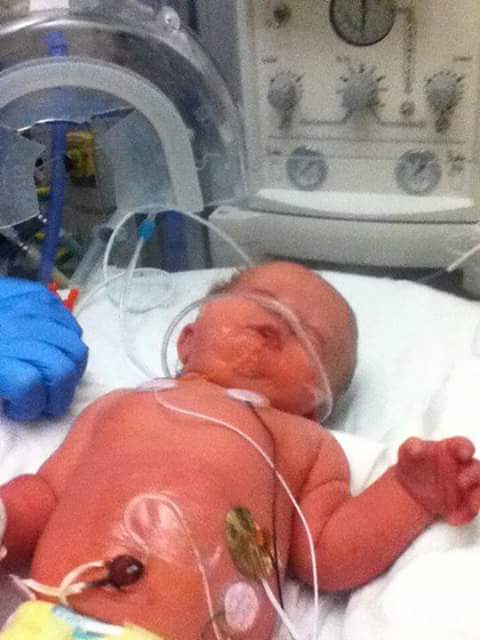 I don't think any parent goes into their 20-week ultrasound expecting to hear there's a problem with their unborn child. I know we didn't, but that's exactly what happened. Our fourth child, our first together, our precious daughter, had brain abnormalities. From that day on it was a whirlwind of ultrasounds, meetings with doctors and genetic counselors, blood tests, an amnio and still no clear answers.
My fiance has a large family, so naturally news traveled fast. Rarely did a conversation with my mother-in-law end without her telling me "[so and so] is praying for you." So, as thankful as I was, in that moment, hearing that my fiance's cousin's father-in-law had added us to his church prayer list was nothing overly significant.
As soon as our daughter was born, she began to defy the odds. The surgery to place a shunt in her brain that we were repeatedly told she would need immediately after birth, wasn't necessary. The six-week NICU stay we were told to expect turned in to a short 13-day stay. We took our daughter home not knowing what her future would hold.
A few weeks later, we traveled the two hours to my fiance's hometown for a birthday party. My mother-in-law, being the proud new grandma, proceeded to take our daughter around to introduce her to the family. She handed my infant daughter to a man I'd never seen before; I was a little uneasy. When tears began to run down this man's cheeks, I was confused. It all made sense when he began to speak to her… telling her how hard he'd prayed for her every night, that his entire church was praying for her, how he never dreamed he would get to meet her, what a miracle she was. I promised myself he would see her again, he deserved to watch her grow. The next day, he died from an allergic reaction to a bee sting in his yard. I still think he gets to watch her grow.
My daughter is doing things doctors said she would never do: walking, talking, learning, laughing. She finally had to have that brain surgery and a second one. She has struggles. But I believe she also has someone in her corner in heaven. He was in her corner fighting for her before I could wrap my head around the fact there was a battle to fight. My fiance's cousin's father-in-law… my daughter's first hero.
The Mighty is asking its readers the following: Describe the moment a stranger — or someone you don't know very well — showed you or a loved one incredible love. No gesture is too small! If you'd like to participate, please send a blog posttocommunity@themighty.com. Please  include a photo for the piece, a photo of yourself and 1-2 sentence bio.