The Unusual Way We Celebrated the Bar Mitzvah of My Son With Special Needs
---
It's hard to believe we just celebrated my son's bar mitzvah.
Zachary was born a beautiful healthy baby, but at the age of 16 months, he started having seizures. Over the years, he has faced significant challenges as a result of his developmental delays and being nonverbal. I've always looked for ways to include him to the best of his ability. So when his 13th birthday was fast approaching and I realized a "traditional" bar mitzvah was not going to work for him, I was despondent at the thought of not being able to celebrate Zachary. Learning Torah was something he was not going to be able to do.
Even though Zachary doesn't understand words, he does understands tone of voice. He understands things on a visceral level, and he explores through his senses. With this in mind, I began searching for a different way to mark his transition.
Zachary deserves to be celebrated like any other child despite his disabilities. I wanted to celebrate his beautiful Jewish soul, and I wanted to do it in a way that would work for him. The idea of celebrating Zachary reaching the age of bar mitzvah with an immersion in the mikveh, a bath where many transitions in life are commemorated, was an idea that came about at a Jewish support group for parents of children with special needs. I knew it was a way of celebrating him that he could participate in and enjoy.
The morning of his bar mitzvah came, and we gathered family and friends outside in the atrium between the two mikveh pools at Mayyim Hayyim. The small window above the closed door of the mikveh carried a beautiful niggun, a wordless Jewish melody. Our guests were singing as Zachary and I entered the waters of the mikveh. Rabbi Audrey Marcus Berkman, who is trained as a Mikveh Guide, helped us craft the ceremony and officiated that morning. With her help, we chose two blessings to be spoken during my son's immersion, both of which my husband sang beautifully by the mikveh. As we left, once again, our guests sang a beautiful niggun to us. The color and lights of the mikveh and the beautiful sounds of both our guests and my husband singing were something that Zachary truly enjoyed. He knew it was a special moment for him.
We quickly dressed and joined our guests. Surrounded by friends and family, my husband recited the prayer for putting on tallit, the Jewish prayer shawl, and placed it around Zachary's shoulders for the very first time as a bar mitzvah. With all of his developmental challenges, we found a Jewish way to celebrate him with family and friends. The whole event was beautiful and something that we as a family will always cherish.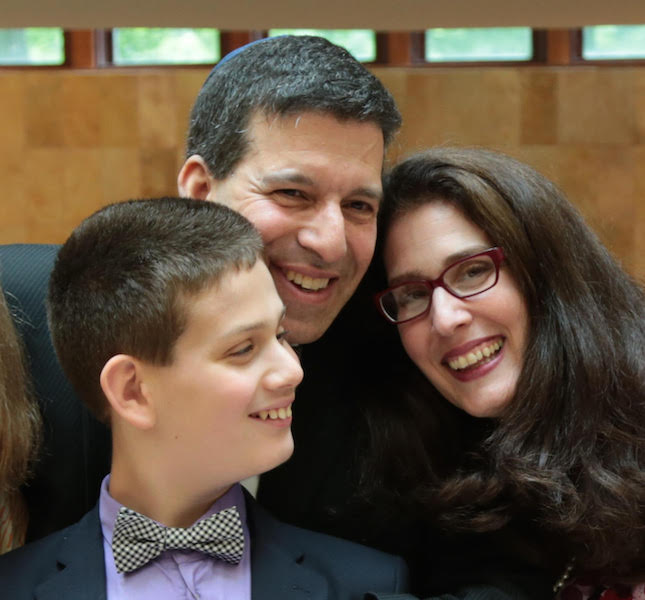 A version of this post originally appeared on Mayyim Hayyim's blog.
Originally published: September 23, 2015