We Need a Coffee Shop Like This One in Every Town
---
A coffee shop in Wilmington, North Carolina, has become a hometown hit for a few reasons — the biggest being it provides employment opportunities for staffers with intellectual and developmental disabilities.
Amy Wright, whose son Beau and daughter Bitty have Down syndrome, opened Beau's Coffee  on Jan. 25 and hired more than a dozen staffers with intellectual and developmental disabilities (IDD) to help her run it.
Wright got the idea to launch the business just a few months prior, and she says it's hundreds of customers have visited each day in the two weeks since its doors opened. "While establishing Beau's Coffee unfolded very quickly, my husband and I have been advocating for people with intellectual and developmental disabilities for over a decade," she told The Mighty. "Beau's Coffee just flowed from this passion."
Nearly 70 percent of adults living with intellectual disabilities are unemployed, according to the U.S. Equal Employment Opportunity Commission. Wright finds this statistic completely unacceptable. "People with IDD make wonderful employees who can make positive contributions to a business when given the chance," she told The Mighty. "My experience has been that people with special needs bring a refreshing perspective to every moment in life. Working alongside this population has been one of my greatest joys in life."
"We knew we were creating jobs," Wright wrote on Beau's Coffee's Facebook page. "What we didn't know was that we were creating a culture. Just look around Beau's Coffee and you'll find people from all walks of life doing life together. Everybody counts."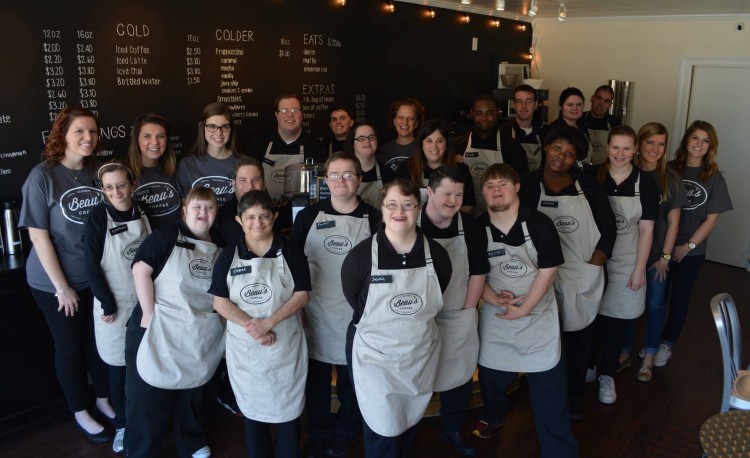 Wright's main hope for Beau is that he lives a happy and fulfilling life, but she'd be delighted if he was interested in taking over the family business. Wright told local website StarNewsOnline she also hopes to expand with new locations over the next few years. "I would love for Wilmington to be a model (that) integrate(s) people with disabilities into the workforce," she said. "Now, let's try to replicate it elsewhere."
Wright originally hosted a community meeting to share her plans for Beau's Coffee, and from there she was able to meet potential employees.  The company is a 501(c)(3) nonprofit, and currently 18 staffers with IDD are employed.
Matt Dean, 26, has autism. He lives with parents in Wilmington and spends several days a week working at Beau's Coffee. Dean told The Mighty he got the position after attending that meeting, and he's been there since day one.
He says he loves working at Beau's Coffee and can't decide what he likes more — the camaraderie with his coworkers or helping customers. "It's amazing," Dean told The Mighty. "I love all of the nice customers, and it gets packed, so we stay busy — especially on Fridays. I love being around other people. All my coworkers are friendly, and they do such a super awesome job."
When asked what advice he has for other individuals with intellectual and developmental disabilities who are hoping to find employment, Dean told The Mighty, "Never give up and keep on trying. Just keep moving forward and believe in yourself."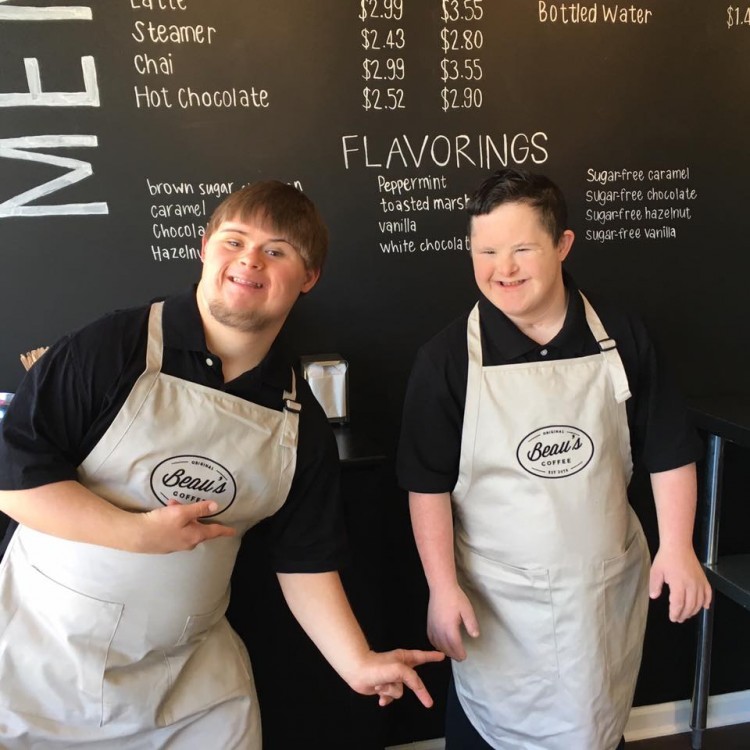 Michelle Slape, executive director at International Down Syndrome Society (IDSC), told The Mighty in the last year there's been a rise in the number of businesses employing individuals with disabilities.
"Hopefully, in the coming years more companies will follow Amy's lead and see the potential  adults with disabilities have," Slape said. "As a parent of a 9-year-old with Down syndrome, I hope opportunities such as this are readily available for him when he is older and that the 70-percent unemployement rate for those with IDD has been significantly reduced."
"Our community has completely embraced Beau's Coffee," Wright added. "Every expectation that we had has been exceeded."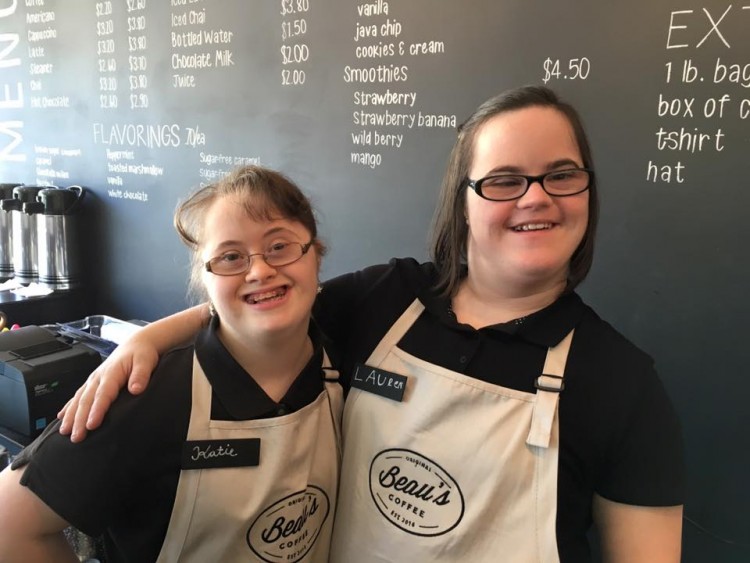 All images courtesy of Amy Wright / Beau's Coffee
For more information, visit Beau's Coffee on the web and Facebook.
Originally published: February 12, 2016