How This New App Can Make It Easier to Self-Monitor Your Epilepsy
---
A new epilepsy self-monitoring app called EpSMon was released Tuesday by the University of Plymouth and other partners to help people keep track of seizures, prescription usage and overall health.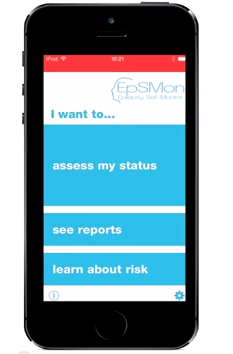 The app helps users monitor seizure-related health risks like increased seizure frequency and seizures during sleep. It first asks for the user's prescriptions and dosage. Then, the assessment process prompts the user with a checklist about his or her life from the prior three months, asking questions about the main health risks associated with epilepsy and then making a recommendation for future action.
Reports are saved in the app so users can share information with their doctors. After the first use, the app will prompt the user every three months to update information.
The app aims to reduce deaths related to seizures, as fatalities from Sudden Unexpected Death in Epilepsy (SUDEP) can happen. The best protection from SUDEP is to improve known risk factors, according to SUDEP Action.
Technology for people with epilepsy is improving. Recently a startup created a watch that helps monitor seizure activity and alerts loved ones when the wearer is having a seizure. Another new app being released later this year, Neurish, helps connect and build support systems for people affected by epilepsy.
EpSMon is currently available on for iPhones, and it will be released for Android users later this year.
Learn more about EpSMon in the video below:
Originally published: July 14, 2015