9 Things I Wish Doctors Would Do When Interacting With My Child With a Disability
---
In February 2012, my daughter, Justice, then 6, spent four months in the hospital fighting for her life after a super nasty bowel obstruction (right colonic volvulus to be precise). In the three years since, we have faced hundreds of doctors and other health professionals who didn't know Justice beyond her diagnosis on a piece of paper.
But things are changing as new avenues for advocacy become available. Justice and I now read her book, "I Am Justice, Hear Me Roar," to medical students. I also teach disability rights, humanism and patient-centered medical home courses to medical students and pediatric residents.
I believe in the power of doctors. They can make a lasting impact on the lives of people with disabilities. With this list, I hope to show doctors how easy it is to interact with my daughter.
1. Relax.
Before you enter a room, take a deep breath. Relax. This is not rocket science. Sure, my daughter may not be able to talk to you with words, and she may not be able to stand up or walk over to you when you enter, but she is a child first and foremost. You were once a child, so I don't believe you don't need fancy-shmancy training to relate or talk to a kid. 
2. Know your patients by their names, not their diagnoses.
A diagnosis is used to determine treatment or services, but it doesn't determine a child's life, hopes and dreams. Who wants to be known as a diagnosis?
Do you know things, other than the diagnosis, about your patients? Hello, doctor, I would like you to meet Justice. She loves pink and anything shiny and sparkly. She loves music and dancing, especially the whip and the Nae Nae.
Remember this tongue-in-cheek joke: What do you call a child with a disability? A child.
3. Make eye contact with her.
Just because Justice has optic nerve atrophy and cortical vision impairment doesn't mean she's unaware you're not looking at her. This may or may not be intentional, but we notice and often take it to heart. Have you ever been ignored or overlooked by someone because of your gender, race or age? How did it make you feel? You only have one chance to make a first impression. Show my daughter and me the type of person you are and look her in the eye.
4. Start with hello.
I am often asked, "How do I say hello to your daughter, Justice?" The answer is simple. Hello. Bonjour. Hola. The answer is the same in all languages and countries. It's the same for people with all abilities, too. Many children love it when an adult focuses all of their attention directly and solely on them. And they typically fume when everyone talks over, around, about and without them. So how would I recommend a doctor talk to my daughter with a disability? Start with hello.
5. Don't assume.
Don't assume a loud vocalization from a child who is nonverbal is an expression of something bad. When Justice doesn't focus her eyes on you, don't automatically assume she is sleepy or tired. It's natural to be uncomfortable around behavior you're not used to, but don't assume it's negative.
6. Be sincere.
Please don't talk loudly and slowly to Justice just because she uses a wheelchair. Please don't use a baby voice with Justice because she has a cognitive disability. I'm sure you can see how this can be disrespectful. Be sincere. If someone needs you to speak up, they will let you know. If someone needs you to use plain language, they will let you know.
7. Ask questions.
If I had a dollar for every time I was told, "You know your daughter best," I would be rich. I may not always use all the medical jargon correctly or I may give too much information, but please ask me anything and everything. Ask for my interpretation of a behavior, reaction or response. Ask me, "How do I know what Justice is saying, feeling or seeing?" But please don't ignore Justice and ask me the name of her stuffed animal instead. You'll help build a relationship with Justice as she begins to understand who respects her and who doesn't. And it could help you take better care of Justice.
8. Pay attention to the way she communicates.
You completed a lot of training to become a doctor. Your evaluative, analytical and critical-thinking skills are superb, so please use them during your appointment with Justice. When you get to know her, you'll learn she expresses pain with facial expressions and a specific cry. Although this isn't a number on a pain rating scale, it's indisputable evidence of pain. The communication of pain is just relayed in a different way.
9. Never forget the power you have as a role model.
How you treat, acknowledge and interact with Justice directly influences how she feels about herself. Similarly, how you treat, speak about and portray Justice to your colleagues and staff determines how they will see and treat her. Your power to save lives extends to more than actual life and death. For a child with a disability, you can inspire, share joy and spread hope simply by treating them just like a kid.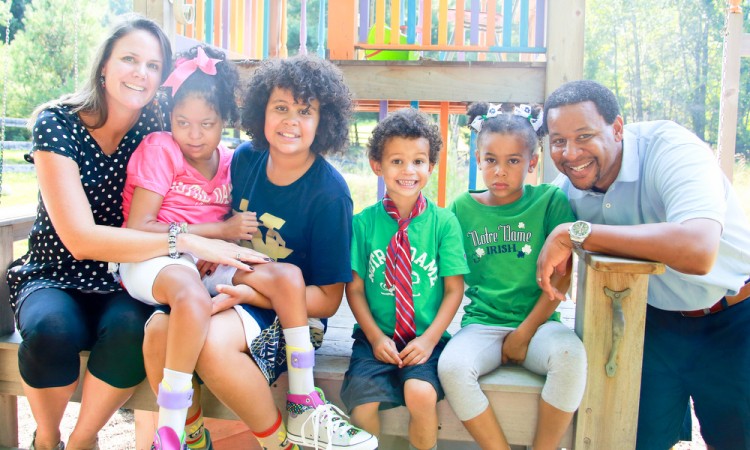 Originally published: October 15, 2015