When My Life Changed Forever Overnight, This Helped Me Find My Strength
---
My life changed forever overnight when I was in high school. I became sick, and instantly I was in a world of hospitals, doctors, medications, needles, surgeries and therapies. I lost friends who didn't understand my new world. I had to learn to deal with people staring at me because I had tubes coming out of my spine, portable IVs, lost all my hair and used a wheelchair. I yearned for the life my friends had, going to school and parties, and playing sports. But I had a different job: to focus on healing, something I had to constantly remind myself to do.
After years of working so hard with my recovery and resuming a more "normal" life, I got sick again in my 20s and regressed dramatically. Physically it seemed like I would never gain my independence, and I was frustrated. I wasn't progressing with my rehab and was only getting more fragile. I knew something had to change, so I decided I needed to try hippotherapy (horse therapy).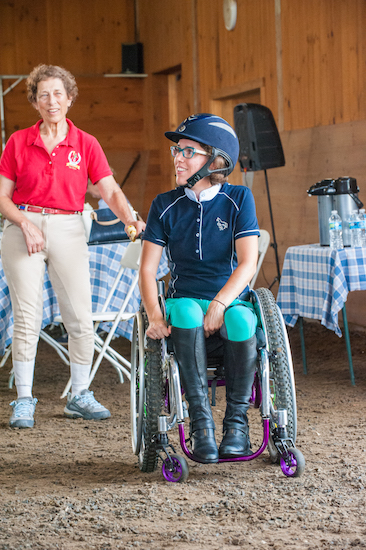 But I knew nothing about horses! They only came into my life when I needed them the most — a time when I was so weak and sick, my physical therapist was actually scared to put me on one. But I knew this was the one thing that was somehow going to help me.
From the first day I was paired up with my horse, Lusco, something changed within me. The movement and sensory input from the horse can be used to address things such as posture, balance, sensory integration, coordination and mobility in people with disabilities.
Once I started, I saw so many changes emotionally and physically, and I wanted to be challenged every day.
It took years working with my physical therapist to be an independent rider. Each week we'd work on things that seemed little but over time allowed me to sit independently, build up my strength and stamina and even stretch my legs down straight enough to fit in the stirrups. Eventually the day came when I was safe and secure enough to add reins. Since I don't have any grip in my hands, we had to find a way to adapt the reins by using loops that go around my wrist. With the loop reins, I'm not able to adjust the length of the reins as you would when riding, so I began learning how to use them and tuning my horse into my aids.
I started learning more about dressage and the sport of para-dressage. Dressage is a competitive equestrian sport where you're required to perform a sequence of pre-determined movements with your horse. It's sometimes referred to as "horse ballet." Para-dressage is currently the only equestrian discipline in the Paralympic Games and was introduced in 1996, according to the Fédération Equestre Internationale. As para-dressage riders, we're able to show and compete alongside our peers no matter our physical disabilities.  I'm a Grade 1b para-dressage rider who trains with Lehua Custer Dressage at the L.A. Equestrian Center.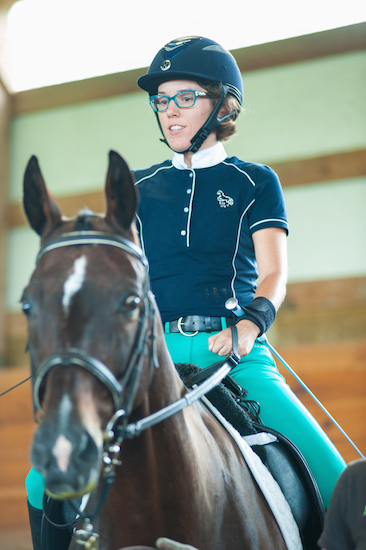 As someone who spends her days using a wheelchair to get around instead of walking, riding a horse is even more special to me. When I look back at all the work I've had to put in to get to where I am today — from starting off not even being able to sit independently or get my legs in stirrups, to being independent today — every lesson and day at the barn is truly extraordinary.
Horses connect with people in a way no other human can. Unlike when I'm in my chair when I'm looking up at people, when I'm atop my horse, people look up at me for a change. It makes me feel empowered. And even though the horse takes the steps for me, I do experience the sensation of walking when we're out together, something most people take for granted.
For that period each day, I gain a sense of freedom while my horse lends me his legs and I'm able to feel such amazing movements and motivation.
Horses are so healing and bring great inspiration to my life. I strive to find happiness in each day. I've found my passion, and I will fight to follow through with it. Some days my body has nothing left in it physically, but I fight because I want to get out with my horse and push further. I've battled obstacles and roadblocks but never let my disability limit my capabilities. I use my strengths to triumph over any pain and physical limitations.  Some people are surprised I get on a horse after all I've been through. But why not do what makes you happy emotionally and physically each and every day?
You never know what can happen in life, how quickly things can change. This has given me back my life, my spirit. And my journey is still unfolding as it should be. I know I'm strong enough to handle anything and am grateful for all my family and friends who have supported me along the way.
Follow this journey on Alanna Flax-Clark's site.
The Mighty is asking the following: What's one thing people might not know about your experience with disability and/or disease, and what would you say to teach them? If you'd like to participate, please send a blog post to community@themighty.com. Please include a photo for the piece, a photo of yourself and 1-2 sentence bio. Check out our Share Your Story page for more about our submission guidelines.
Originally published: November 14, 2015