Teacher Gives Student With Special Needs Offensive 'Award'
---
The grandmother of a student with learning challenges feels her grandson was made fun of by his teachers.
Debra Jose, the grandmother of a 14-year-old student at Sulphur Springs Middle School located just outside Dallas, was shocked when her grandson recently brought home an unusual award, CBS News reported.
Her grandson, who is in a class for students with varying levels of learning challenges, brought home a certificate that read "8th Annual Ghetto Classroom Awards." On it was printed Jose's grandson's name, along with a line stating that he had won "The 'huh?' Award." The paper was signed by two teachers, a Mrs. Garner and a Mr. Couch.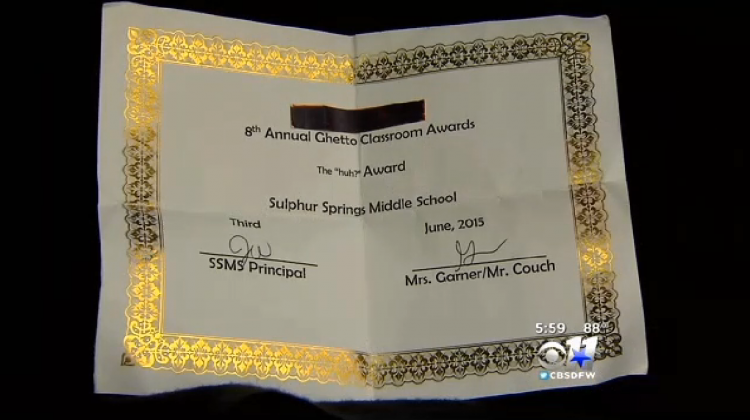 "Tears just started falling out of my eyes. I was like, 'What did they just do to him again?'" Debra Jose told CBS News. "I just want them to help him. Don't insult him."
Michael Lamb, the Sulphur Springs Superintendent, told the outlet the administration was unaware of the offensive award. He says the school district is not proud of it and they're investigating the situation.
When asked about the fact that the certificate states this is the eighth annual award, Lamb told the outlet the teacher who signed the award brought the practice with her from previous years working as a special education teacher in the Carrollton Farmers-Branch school district.
RELATED: 9 Moms Respond to Teacher's Offensive Award for Student With Special Needs
Get the full story from the video below: