Kylie Jenner's Wheelchair Photo Shoot Sparks Outrage
---
Kylie Jenner is featured on the cover of Interview Magazine's December issue, and in addition to one of the cover images, the 18-year-old reality television star is photographed wearing fetish outfits in an elaborate gold wheelchair inside the publication as well.
After receiving backlash from disability advocates and hundreds of individuals on social media, Interview Magazine released a statement, but they didn't actually apologize for running the controversial images.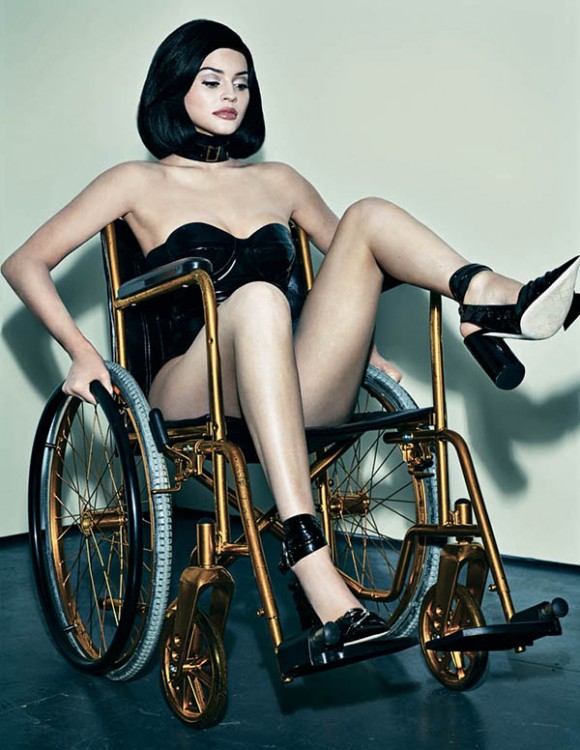 "At Interview, we are proud of our tradition of working with great artists and empowering them to realize their distinct and often bold visions," the magazine told E! News on Tuesday. "The Kylie Jenner cover by Steven Klein, which references the British artist Allen Jones, is a part of this tradition, placing Kylie in a variety of positions of power and control and exploring her image as an object of vast media scrutiny."
"Throughout the Art Issue, we celebrate a variety of women who are both the creators and subjects of their artistic work, and the Kylie feature aims to unpack Kylie's status as both engineer of her image and object of attention," the publication continued. "Our intention was to create a powerful set of pictures that get people thinking about image and creative expression, including the set with the wheelchair. But our intention was certainly not to offend anyone."
"At United Cerebral Palsy (UCP), we appreciate pushing boundaries for the sake of art," a spokesperson for UCP told The Mighty. "In fact, there are many talented artists with disabilities who explore themes of 'power and control,' which is how Steven Klein from Interview describes one of the motivations behind the image of Kylie Jenner posing as a wheelchair user. What the artists behind this cover seem to be missing, however, is an understanding that using a wheelchair is not exactly an artistic 'choice' for nearly 3 million people in the U.S. While we understand there was no intent to offend, we would hope that people who are setting out to capture 'powerful images' that make an artistic statement would not diminish the challenges people with disabilities face by using a wheelchair as nothing more than a prop for a celebrity."
"It's deeply disturbing," Emily Smith Beitiks, associate director of the Paul K. Longmore Institute on Disability added to CNN. "People with disabilities are already seen as powerless, and this just reinforces that. I think she's literally being objectified made to look like a sex doll, and this wheelchair is an added element of passivity they're adding on."
Kayla Whaley, editor of the blog Disability in Kidlit, told CNN she would like to see a formal apology. "I'm constantly infantilized because of my wheelchair, denied even the idea of sexuality and agency let alone desirability," Whaley later tweeted. "But Kylie? She gets paid and praised to wear the shallowest possible illusion of my disability for a few hours. The wheelchair is a prop to her. It's my mobility, my freedom, my agency, my identity, my reality. A reality I'm often despised for."
A rep for Jenner told The Mighty that she would not be commenting on the matter, and Interview Magazine has yet to reply to our request for an additional statement.
Twitter has been abuzz with comments about the photos, with many users expressing their outrage over the message it sends.
As someone in a wheelchair @KylieJenner @InterviewMag, this is offensive. My chair is not haute couture. pic.twitter.com/y3sBaiJzIH

— Jessica Jewett Jones (@JJ9828) December 1, 2015
Kylie did NOT have to go w/ the wheelchair pic it is ableist but also what about the photographer? why aren't u guys talking about his part

— SoKi (@angeIofempathy) December 1, 2015
Oh I see! When I'm in my wheelchair noone can look me in the eye but when Kylie Jenner sits in a wheelchair it's FASHION. silly me.

— Amelia (@amysgotmilk) December 1, 2015
So disabled models can't get work or advance in the fashion industry but Kylie jenner can use a wheelchair and be classed as edgy ????

— Beth (@BethElizabethuk) December 1, 2015