When Customers Questioned Working With Me Because I Have a Child With Special Needs
---
When our daughter suffered from a traumatic brain injury due to her metabolic crisis, there were a lot of things we weren't prepared for. Things like a G-tube. Things like unbelievable amounts of therapy, appointments with more specialists than I thought possible and the exhaustion that came with all of that. One thing I didn't think we would have to encounter would be people's resistance to work with us in business.
I'm talking about this topic because I don't believe it's ever been talked about. Seriously, I Googled "losing business when you have a special needs child" and the like, and I found zero. Nada. But this totally happens because it's happened to my husband and I both, and on more than one occasion.
We were first met with this startling reality when my husband, who owns his own insurance agency and has been selling insurance for 17 years, had to hear about a phone call his customer had with one of his employees. The customer called wanting to speak with my husband, but he wasn't there and the customer was upset she couldn't talk with him. This was right after our three-week stay in the children's hospital when our world was turned upside-down. My husband and I were both doing the therapy and doctors' appointments together, as a family. We needed each other to lean on and we needed to be there for our daughter. We did this for a couple months. The employee informed the customer we'd been in the hospital recently with our daughter and mentioned we had a special needs child.
"Oh, he has a special needs child?" they remarked. "Do we need to take our business somewhere else? Will he be able to help us?"
The employee on the phone handled it with such grace and truth, "Well sir, I'm helping you right now, and we have three other people who can assist you with all of your insurance needs."
I've been a realtor for 11 years. To say my husband and I are both seasoned in our careers would be an understatement. I'm hired based on my merit, based on my track record, based on recommendations and referrals from past customers. So when I had a customer call my broker and tell him the reason her home was not selling was "due to that special needs child she has and her current life circumstances," I was livid. The reason, ma'am, that your home is not selling is due to the price and home nuances, based on feedback from 20-plus realtors, as I've told you for several months now. It is not my
daughter's fault your home is not selling. It is not my fault. The fact that I
care for my beautiful, fighter of a daughter does not mean I don't know how to
sell homes or be a realtor anymore.
Why am I talking about this? Shouldn't this be kept amongst our family and not put on blog blast? What if our daughter reads it one day?
I hope she reads this, because she will know, beyond a shadow of the slightest doubt, that her mom and dad fought for her and they stood up to these injustices. She will learn to stand up for herself — after all, that's one of the biggest things we as parents can teach her to do. She can watch her parents fight on her behalf and stand up to these ridiculous stereotypes no one talks about but unconsciously feels in their hearts. She will watch as her parents enlighten people about these skirted topics and she will know we never shied away from difficult things, that we approached them head on and then dropped the mic.
It's a new type of discrimination that says, "I think you would do a good job, but you have stuff in your life."
A friend and customer wrote these words to me, and nothing has resonated more than this: "When those people question your ability, it's a reflection of how they believe they'd handle the same situation. If they don't think you can, it's because they don't think they could."
Having a daughter with additional needs does not make me incapable of working. It is possible for me to have a career and do a damn good job at it, while mothering and being a wife and friend. And having my daughter will not make me be quiet on the issues our family faces; on the contrary, I'm going to talk about it, with a megaphone.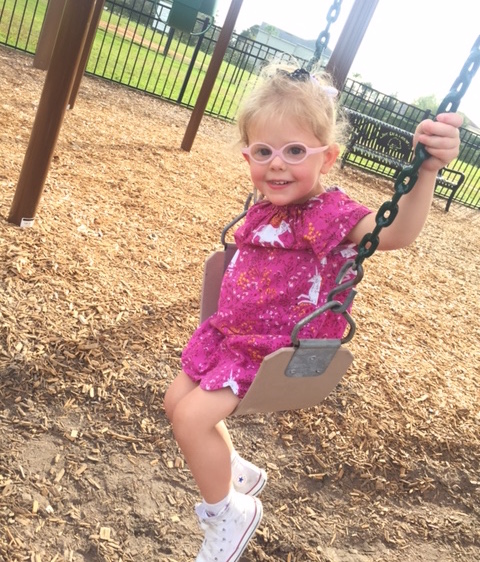 I want my daughter to walk proudly. I want her to walk strong.
Walking — something she started doing at 2 and a half years of age, something she was never guaranteed.
I want my daughter to know she has overcome so many obstacles, more than many have ever had to encounter. I want her to know that thousands are standing and watching, awestruck as they follow her story, watching countless miracles continue to unfold. I want to tell my little princess she's taught us to fight harder. And I want her to know she did not inhibit us. On the contrary, she changed us for the better and challenged us. She brought a voice to the silent hardships so many families face. Without her, we wouldn't even know about these hardships.
We will forever be the champions you need, daughter, until you can voice things on your own. And even then, you won't be on your own. We will always have your back, ready to deal with any inequalities you might face. Embrace your story, noble girl, and hold your head high for you have much to be proud of. We are thankful for you.
The Mighty is asking the following: Describe a moment you were met with extreme negativity or adversity related to your disability and/or disease (or a loved one's) and why you were proud of your response — or how you wish you could've responded. If you'd like to participate, please send a blog post to community@themighty.com. Please include a photo for the piece, a photo of yourself and 1-2 sentence bio. Check out our Submit a Story page for more about our submission guidelines.