What a Special Needs Mom Sees in This Photo
---
This may just look like a regular picture. I took it with my iPhone 4S; it's not particularly the best quality. It's a bit blurry because it was taken on a merry-go-round, and the toddler who is the focal point of this moment was a bit wiggly when I tried to capture it. It was the Mall-o-Ween event at our local mall, and this little guy was a minion because his daddy was dressed up as Gru. To you, this might look like a regular picture. As deceiving as it is, this is so much more than a regular picture taken by a mom with her phone on Halloween.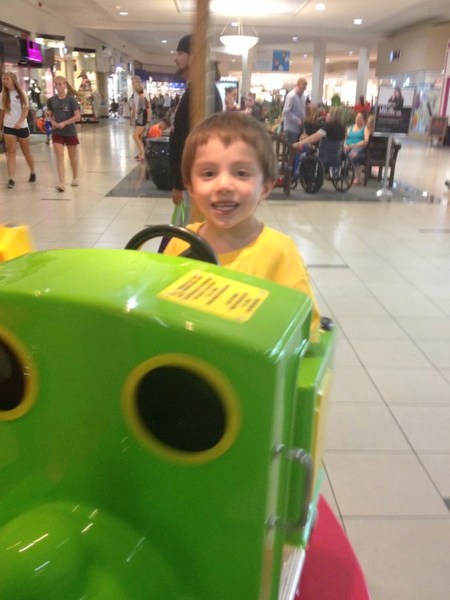 Here's what you don't see in this picture:
This little boy came from humble beginnings. He was born at 29 weeks and spent 46 long days in a NICU in Orlando, Florida.
He's a rainbow baby, which means he was born after the death of another. His big brother was also born at 29 weeks and left too soon 11 hours later. That makes him the color of our world.
He is 4 years old, but he's still very little.
A 16-year-old big brother and a 9-year-old sister protect him at all costs.
His name is Milo, but he can't tell you that. He doesn't talk like other 4-year-old kids. His small vocabulary consists of "baba," "apple," "Daddy," "Mommy" (which he tends to pronounce like "money" or "mominy") and then mostly gibberish.
He gets frustrated when we don't understand him or if we're trying to communicate. There's a barrier. In reaction to that, he cries. He screams. He tantrums. Sometimes it's only once a day, and at times, it seems like he might have tantrums all day long.
We've attempted potty training, but we can't communicate with him enough to help him accomplish it. It doesn't mean we don't try, but he still wears diapers when we're out.
When I took this picture, I repeated "Milo" over and over in a high-pitched voice. I normally can't get his attention for a picture. Usually, he's moving too much or he's too busy with whatever he's doing to let the camera capture him without it being blurry. 
His smile in this photo was a precious moment that's actually difficult to capture. You may think this is a regular picture. But this smile was fought for. It was one picture out of a 100, because I have to take many pictures in a row in hopes of capturing a smile and a moment where mother and son connect, even only for a second. Where it feels like his eyes looked right at me, and he smiled.
He doesn't talk, but this picture spoke many words to me.
"Hi, Mommy!"
"Look at me, Mommy, I'm having fun!"
"This is the best Halloween ever, Mommy!"
"I really like this ride, Mommy!"
"I love you, Mommy!"
This may look like a regular picture. But to me, a mother of a child with severe developmental delays and speech/language delays, I hear these words: "I love you, Mommy!" I may not hear them with my ears, but I hear them with my heart. Yes, this may look like a regular picture to you, but to me it speaks volumes and has a story. It's a smile from my son and a shared moment that nothing can take away.
This may look like a regular picture. To me, it's a masterpiece and a treasure.
The Mighty is asking the following: What's one thing people might not know about your experience with disability and/or disease, and what would you say to teach them? If you'd like to participate, please send a blog post to community@themighty.com. Please include a photo for the piece, a photo of yourself and 1-2 sentence bio. Check out our Share Your Story page for more about our submission guidelines.
Originally published: November 13, 2015