January's My Mighty Month Challenge Is Keeping a Health Diary
---
It's almost January, which means you're probably being inundated with cheery, encouraging-but-vaguely-threatening instructions to "make 2018 your best year ever!" Now, apparently, is the time to become your "best self," "take charge" of your life and "kick those bad habits!" And improving your health is, of course, one of the most common New Year's resolutions people make. Unfortunately, improving your health isn't as easy as it might sound, especially when you're dealing with chronic health challenges that aren't necessarily under your control.
I don't know about you, but pressuring myself to accomplish huge goals like "Exercise more!" and "Eat healthier!" rarely turns out well. Inevitably, I'm overwhelmed by the end of January and sadly discarding my lofty dreams by March, kicking myself for thinking I could ever make such a huge change. But what if we decided not to give ourselves a New Year's resolution to start or stop doing this or that? What if we simply decided to help ourselves get a better picture of our health, so we could see exactly where meaningful yet manageable change can take place?
That's why January's My Mighty Month challenge is to keep a health diary. A health diary is exactly what it sounds like: a journal, spreadsheet, app or whatever organizational method you prefer, to keep track of your symptoms, medications, eating and sleeping habits, exercise, mood… basically anything that can have an effect on your health. Then, at the end of the month, you can look back and see if you notice any trends that offer clues about causes, triggers, and treatments to try, continue or stop.
This information is also invaluable to your doctor, who likely doesn't see your day-to-day experience and might be able to use your diary to inform treatment options or even new diagnoses. After all, we all know how hard it can be to remember to tell your doctor about that one weird symptom you felt last Wednesday and meant to ask about…
Although the benefits of keeping a health diary are pretty intuitive, research also backs up the practice. A study published in the Journal of Rheumatology found that participants with chronic pain disorders who kept a health diary doubled their recall of daily symptoms, while a study of patients with cancer published in the Journal of Clinical Oncology found that the patients who reported their own symptoms using a tablet computer, rather than being simply monitored by physicians, experienced a higher quality of life. A Pew Research Center poll found that tracking symptoms led people with multiple chronic conditions to ask their doctors new questions or seek a second opinion, and had influenced a decision about how to treat their illness.
Beware, though, that studies have also shown that tracking symptoms can also lead you to perceive them as more severe. So, just be mindful of how often you're tracking (opt for once or twice a day, not every hour unless your specific condition demands it) and whether you're judging your symptoms more harshly because you're now paying closer attention.
To help you get started with your own health diary, we've created a health tracker you can download and fill in every day this month (and duplicate for future months). Feel free to edit and customize it however it makes sense to you. Consider this template a jumping-off point for your own personalized health tracking system. (Below is an example of one way you can customize your tracker.)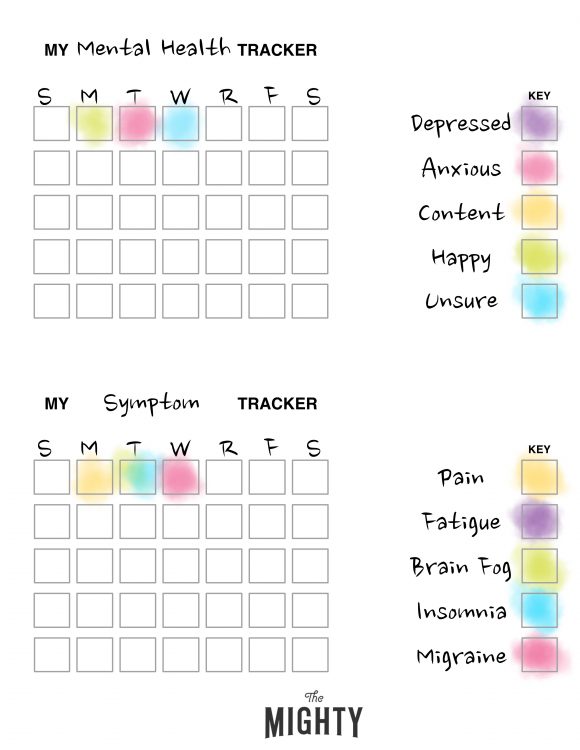 For those without a printer, we've also created a digital spreadsheet for you to log your symptoms in as well.
If you like the idea of filling out a health template but don't love the one we've created, check out Mighty contributor Jo Young's pain tracker, which you can also download for yourself. We also love Keira Bailey's colorful mental health tracker, which is based off Pinterest's "Year in Pixels" template and allows you to color-code your mood each day.
For the high-tech among you, there are also a number of apps designed to help you track your illness. Flaredown, Cara, and Symple allow you to track tons of different symptoms, while apps like Migraine Buddy and Phendo (for endometriosis) are tailored to specific illnesses. If you're looking to track your mental health, a few options include Start (for depression), Daylio, What's Up and T2 Mood Tracker. Share in the comments below if you've found any other great health-tracking apps.
If you are feeling pressure to "reinvent" yourself this year and "be your best self," remember you can start small and make positive changes in your life.
Want to make January a Mighty Month? Join us on Facebook at My Mighty Month, and don't forget to tag any social media posts with #MyMightyMonth. You can also sign up for our weekly email, (select "Mighty Monthly Challenges" from the newsletter options), which includes tips and reminders designed to keep you motivated.