When People Say 'What Do You Mean, He Can't Eat?'
---
My son Cohen has a very real "superpower…" He can live without eating food!
"What do you mean, he can't eat?" people ask. Two years ago I would have had a similar response. That was before I knew people can survive without consuming food.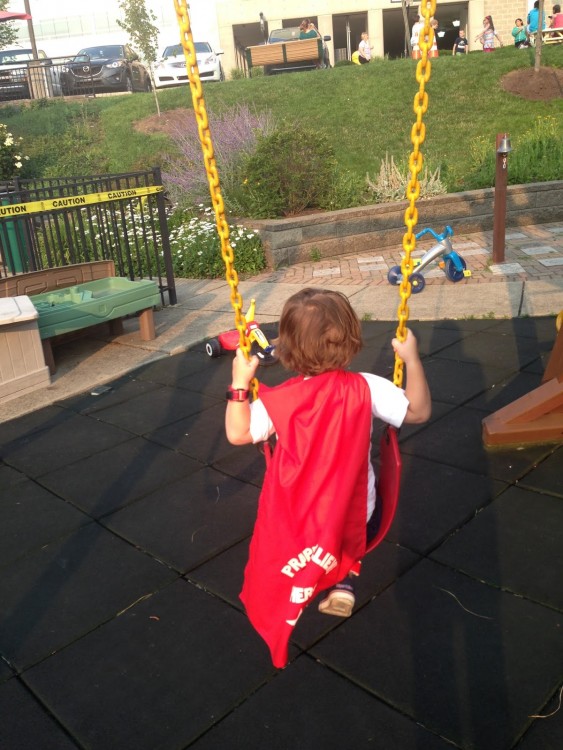 HPN Awareness Week is August 7–13, 2016. About 40,000 Americans, including my son, live on home parenteral Nutrition or TPN (total parenteral nutrition). Parenteral nutrition (PN) is the feeding of a person intravenously, bypassing the usual process of eating and digestion. The person receives nutritional formulae that contain nutrients such as glucose, salts, amino acids, lipids and added vitamins and dietary minerals. It is called total parenteral nutrition (TPN) or total nutrient admixture (TNA) when no significant nutrition is obtained by other routes.
Our journey with TPN began in March 2015, when attempts to feed Cohen through his GI system failed. Cohen's doctor describes his condition as idiopathic intestinal failure, which simply means we have yet to figure out why his intestines don't function like they should.
All of Cohen's nutrition comes from this amazing source of life sustaining medication. In the past, patients on TPN would have had to remain hospitalized to receive this type of treatment, but now because of advancements in medical equipment, patients like Cohen can live at home.
TPN is made especially for each patient; it's a "made to order" form of nutrition, extremely specific to each individual's blood lab results. In order for Cohen to grow at an
appropriate rate, he must receive continuous nutrition through his veins (or as Cohen says, he eats through his heart) and his infusion lasts for 20 hours. Unfortunately, this only enables him to be disconnected from pumps and IV poles for a few hours each evening, but this is his time to be like other kids his age. Watching him run, jump and play with his friends and siblings is a gift I will never take for granted.
There is no doubt that TPN provides us with many blessings, allowing us to live outside of the hospital. However, TPN does not come without risks, and should not be considered unless all other options of nutrition have failed first.
One potentially devastating side effect is liver damage, which can occur from long term use. Because TPN is administered through an IV catheter, there is also a great risk of life-threatening infections. Last February Cohen developed a fungal infection which progressed to what his physicians described as an overactive immune response by his body. He went into acute liver failure and septic shock. It was a very scary time for us, but we are grateful that he is doing much better now.
Because of the danger of infection, we must be vigilant in the way we care for Cohen and his IV line. This requires us to do weekly sterile dressing changes at the catheter insertion site. He must also avoid contact sports and swimming, because the line must remain protected and dry to avoid bacteria growth.
We live in a world where food is the center of much of our daily experiences, such as parties, movies, and other events. But for someone who can't eat, it can be another reminder of how different they are from others. This week gives us a chance to share a glimpse of what life is like for those who can't eat food. For a 3-year-old, it means no swimming, and limited time on the playground. It means no birthday cakes or treats like other kids his age.
TPN is not easy to deal with, but it allows Cohen to be part of life. Our family strives to enjoy the blessings and gifts each day has to offer.
My hope is that by answering questions about TPN, we can build a pathway to education and understanding, breeding compassion and inclusion.
This is a very special week for us. It is our chance to remind the world that we are all beautifully different.
Visit the Oley Foundation for more information about living on HPN or enteral feeds.