Why Some Parents Are Dismayed Over Lego's New Wheelchair-Using Figure
---
The toy company Lego recently released a Duplo Community People Set, a collection intended to educate young children about a variety of different people and occupations.
This latest collection includes something parents all over the world have been requesting on behalf of their children for months: a Lego figure with a disability. However, the new toy isn't exactly what they had in mind. Rather than including a child with a disability, Lego's new toy set features an elderly man in a wheelchair.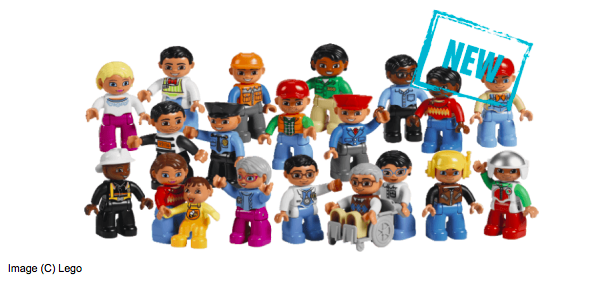 Organizers for the social media campaign Toy Like Me, a parent-run campaign calling on the toy industry to produce toys with disabilities, say the wheelchair figure furthers the stereotype that disability only occurs in older people and does little to support children who live with disabilities.
"We applaud Lego for producing a wheelchair-using Duplo figure," Rebecca Atkinson, co-founder of the Toy Like Me campaign, said in a press release. "But it's so disappointing that the only wheelchair-using figure across all Lego products is an elderly person being pushed along by a younger figure. What does this say to children about disability? That it only exists in the over 65?"
The campaign's Change.org petition to prompt Lego and Hasbro to join the toy box revolution has garnered more than 17,800 signatures so far, but according to Toy Like Me, Lego has not yet responded.
To learn more about the Toy Like Me movement, visit the campaign's Facebook and Twitter pages or search the hashtag #ToyLikeMe.
Related: How This Mr. Potato Head Doll Could Lead to Better Disability Representation in Toys