25 Statements About Life With a Disability That Everyone Should Hear
---
It's estimated that nearly 1 in 5 people in the United States and 1 billion people in the world have a disability. Despite those figures, disability is a topic that many individuals don't feel comfortable discussing. When we came across vlogger Robyn Lambird's YouTube video about the types of positive disability discussions we need to have, it inspired us to get some more conversations going.
In a series we hope to continue, we asked our readers with disabilities this question: "Whether it's sad, funny, inspiring or brutally honest, what are some words everyone should hear about life with a disability?"
Here's what they had to say:
1. "Me having a disability is nothing for you to feel sorry about." — Jessica Stephens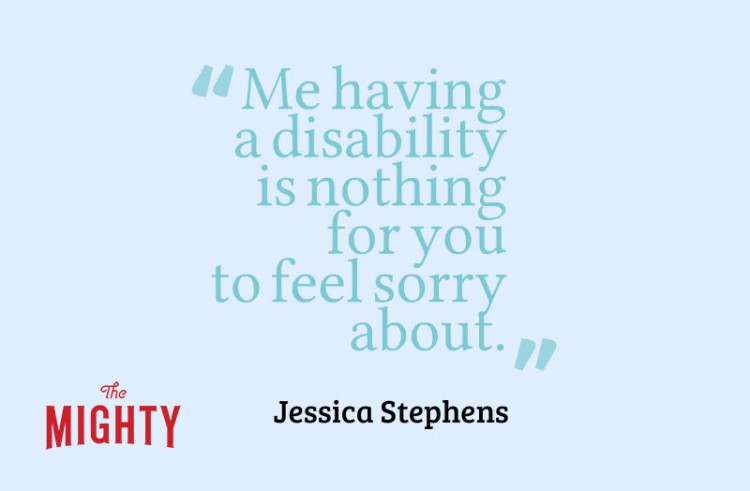 2. "Having a disability does not define you." — Christie Yimin
3. "A physical disability can be more difficult in the emotional aspect than in the physical aspect." — Maria S. Barriga-Lunde
4. "To be honest, some days it just sucks." — Tina Gardner
5. "I am not stronger than you." — Elizabeth Dellaratta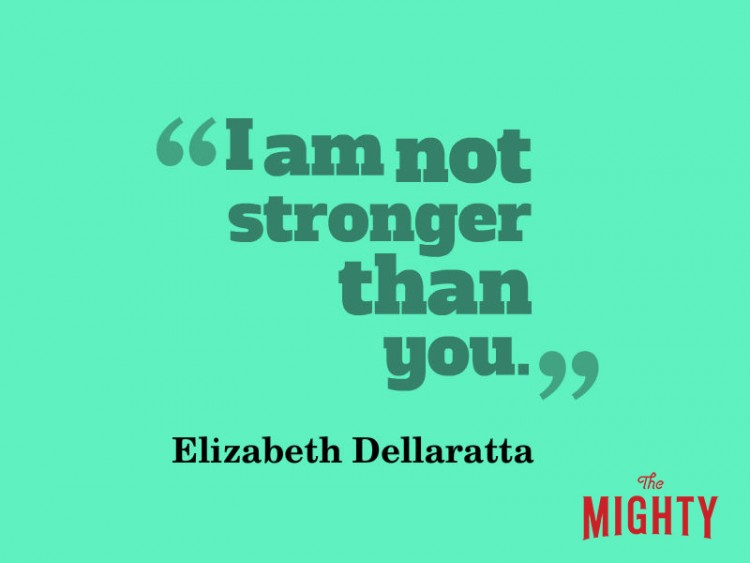 6. "Different is not bad and it doesn't need to be 'fixed.' Different is good and should be refreshing or educational." — Rachel Ward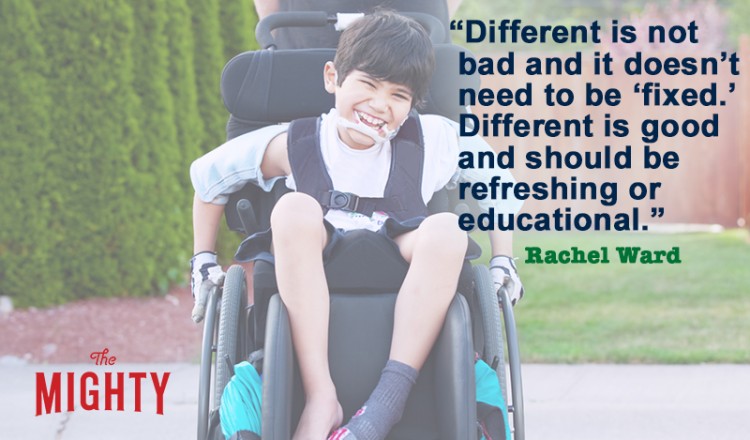 7. "It's OK to ask questions. In fact, I welcome them. I would rather you take the opportunity to be educated than just stare at me." — Cassie Musslewhite
8. "Essentially, living with a disability is much the same as living without one. The difference is, we are forced more often to confront our fears, our mortality, our limitations, as well as consider our blessings and find the positives in life, than the average person is." — Julie Pruitt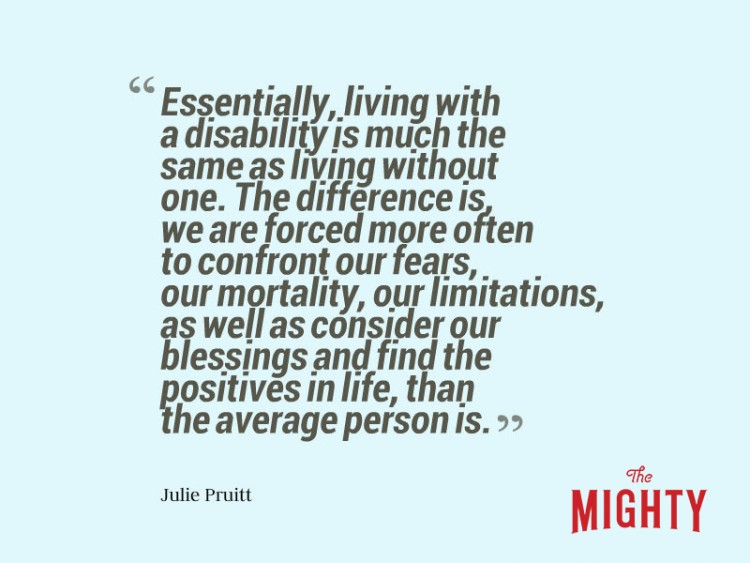 9. "People with disabilities aren't here to inspire or make people without disabilities better people by teaching them lessons." — Tori Manning
10. "Just because you can't see it, doesn't mean it doesn't exist." —Carrie Go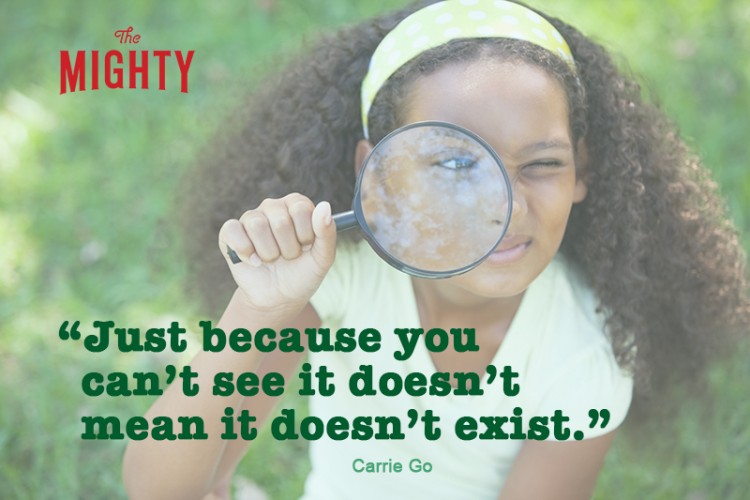 11. "We are people too, not a freak show." —Chris Amor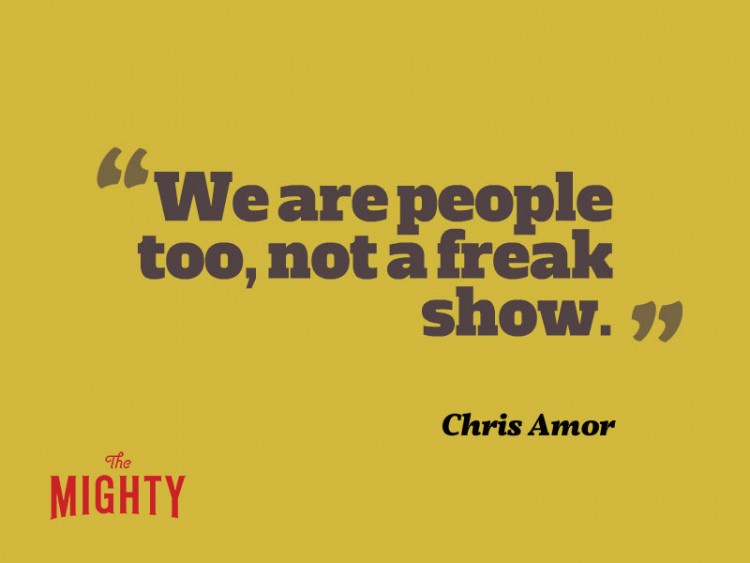 12. "Our lives are different. Don't dismiss how someone feels by saying 'it could always be worse, or at least you have this or that.' I'm allowed to feel what I feel. And that's grief and sadness and anxiety and uncertainty, a lot… It's also happiness, joy, pride, appreciation for inch stones, immeasurable love." — Karen Siciliano
13. "I don't insist on accommodations to make your life harder; I do it to make my life easier." — Katie DeMore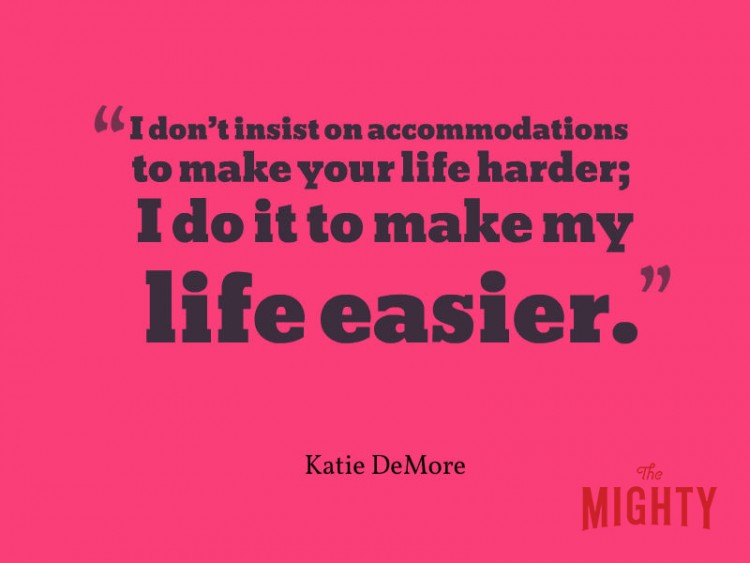 14. "Don't assume we aren't smart or can't do something because of our disability. We know what we can and can't do. Everyone has struggles with something. It is how we decide to handle different situations." — Angie Johnson Cassell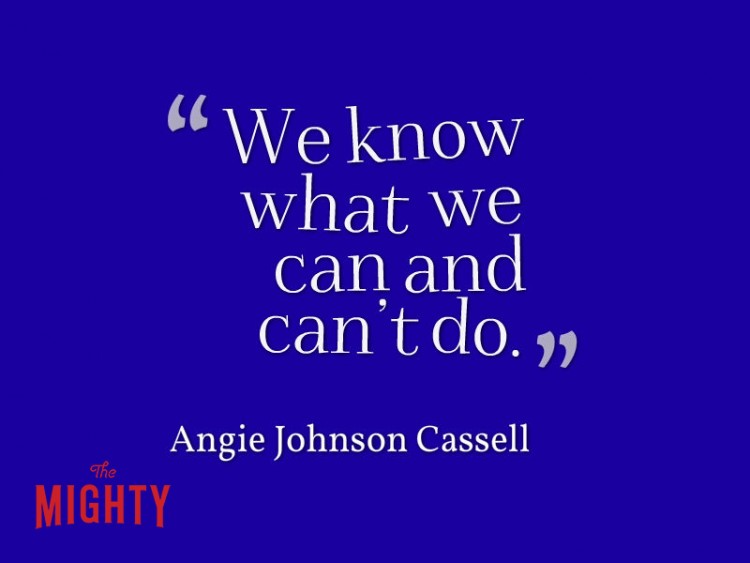 15. "There are good days; many times it's easy to get bogged down with all the bad stuff we deal with and forget about the good stuff." —Charity C. H. Porter
16. "There is no vacation from disability." —Sue Rutan Donald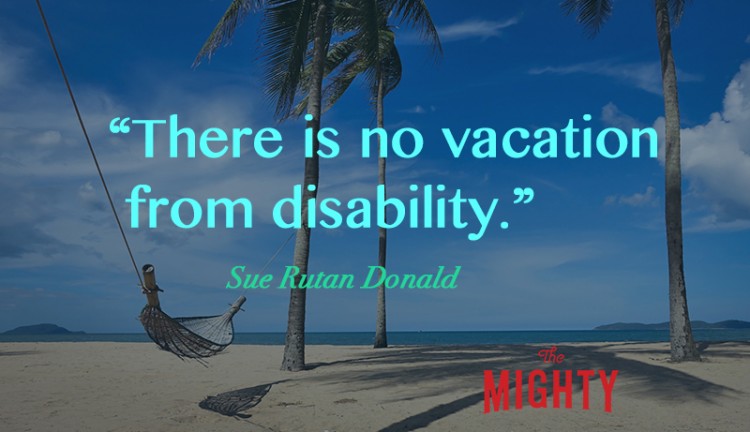 17. "Don't tell me how brave I am because you 'couldn't live like this.' Don't ask me how I survive this way. You have no idea what you can live with until it happens to you, and you survive by waking up each day, the same as anyone else. It's the only option I have if I want to live." — Selena Marie Wilson
18. "I don't want your pity. I don't want your attention and I'm not interested in being an inspiration. I just want the same opportunities as everyone else." — Christina Ebersohl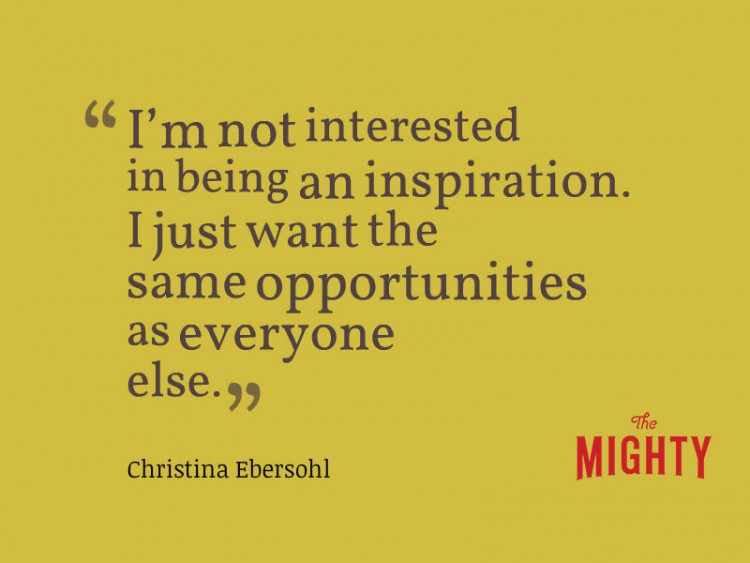 19. "The fight for disability rights, accommodations and respect will be fought against many, the overwhelming majority being those who are good people with the best intentions." — Michelle Heather Korth
20. "It is still a good life… full of unexpected moments that become treasures." — Susan Crowe Brown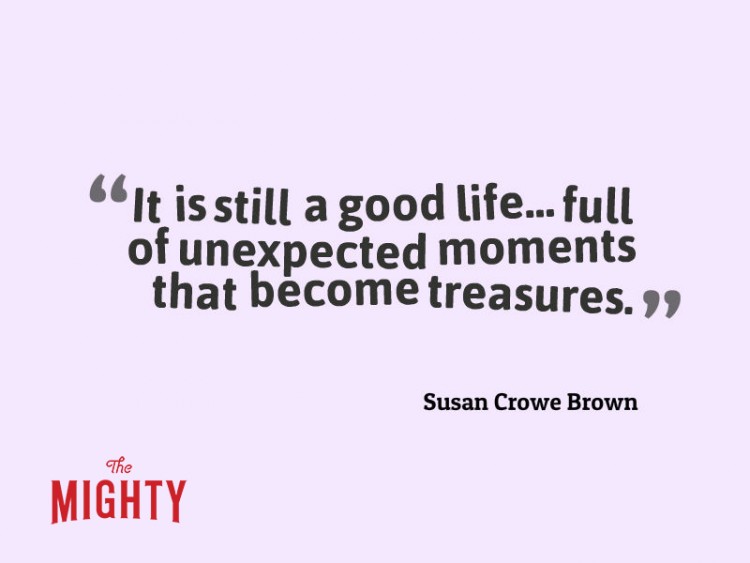 21. "Normal is overrated." —Mandy Ree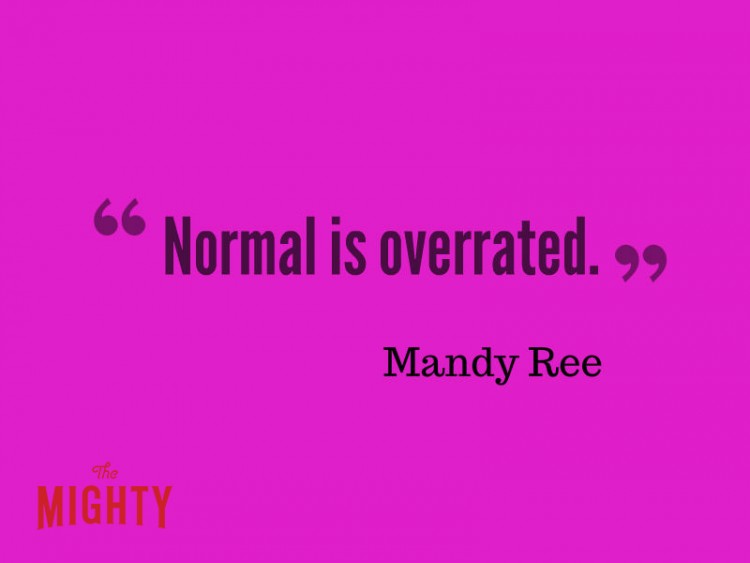 22. "It's incredibly lonely and isolating." — Jeff Ostach
23. "The problem with having a disability is not the disability. The problem is other people. Other people's biases, prejudices and ugliness gets in the way of seeing people as people. I wish people would understand that disability is just a variation of the human experience." — Johanna Hirons Radziwon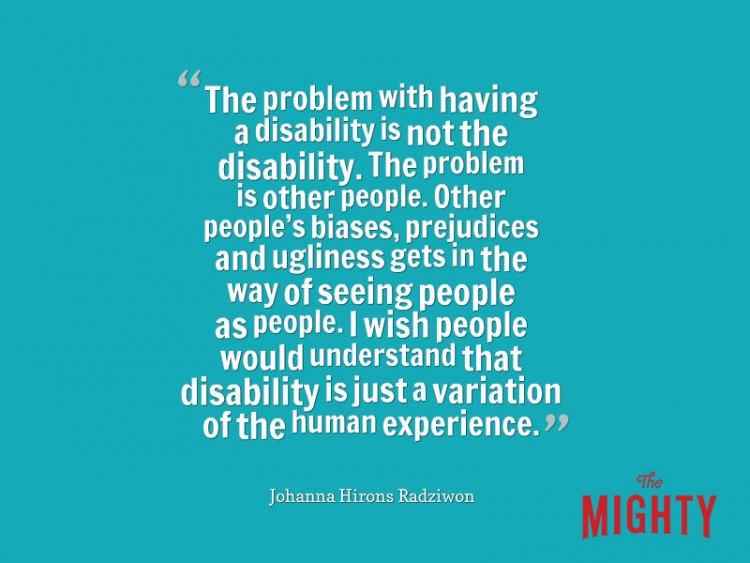 24. "Just the word 'disability' attaches a stigma to it. It suggests that we are unable. Maybe we are challenged. Maybe we see things in a different light. Maybe we will reach our goals taking a different route. We don't necessarily need to be pampered. We need to be understood, accepted and loved, not as anything special but just like anyone else. Instead of telling us how to act or suggesting that we do what society considers 'normal,' why not ask us if there is something you can do to help? Please open your eyes and see, we are doing the best we can and are always striving in our hearts to do more." — Rose Williams
25. "Our life is amazing! We have learned so much about tenacity and perseverance and strength." — Kylie Mackey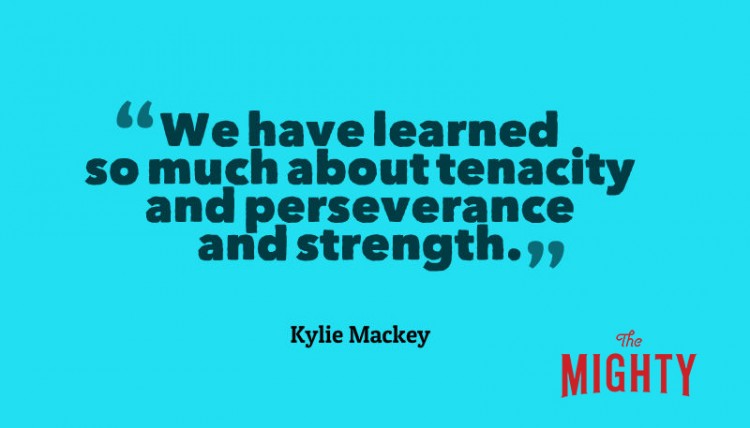 What's your answer to our question above? Let's have more positive disability discussions in the comment section below and beyond.
Originally published: November 14, 2015