April's My Mighty Month Challenge Will Help You With Your Spring Cleaning
---
For many, spring means growth and new beginnings. Perhaps this is why people typically do a big "spring cleaning" at this time of year. As great as starting fresh cleaning-wise can be, when you live with a mental or physical illness, sometimes just the thought of cleaning anything can feel too overwhelming to accomplish.
Maybe you live with a chronic illness and chores like scrubbing the counters and mopping the floors exacerbate chronic pain and fatigue. Maybe you have a mental illness and can't get yourself out of bed to feed yourself — much less clean anything. Or maybe you use a mobility device and have trouble finding adaptable methods of getting things done around the house.
If the idea of cleaning makes you overwhelmed, you're not alone.
"This is a big struggle for a lot of people," licensed clinical social worker (LCSW) Tammy Merlo told The Mighty. "So first off, kind of normalizing that a lot of people struggle with this is important."
Because we all need a little help and encouragement when we are struggling, we made April's My Mighty Month challenge about spring cleaning. 
Cleaning up your space usually doesn't happen in just one day, which is why we're giving you daily cleaning suggestions to repeat throughout April. Our "Spring Cleaning Suggestion Guide" is organized by kitchen, personal tasks, bedroom, bathroom, kitchen (because isn't this one the hardest?), laundry and living room. As a note, these suggestions are meant to help you plan your own schedule and aren't a list of things to accomplish all in one day. Feel free to pick one or more tasks you feel you can accomplish that day! We've also included a blank downloadable calendar if you want to fill in your own cleaning schedule.
Below the cleaning guide and calendar, you'll find Merlo's tips for navigating cleaning when you're feeling overwhelmed by your mental or physical health.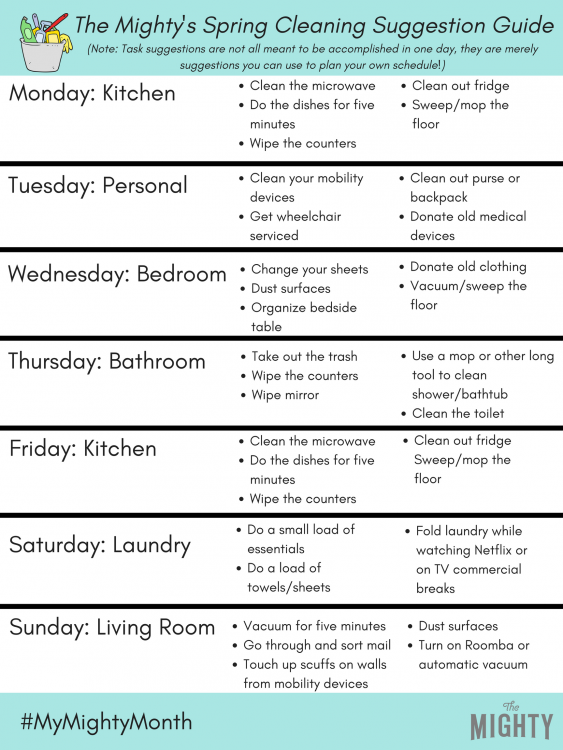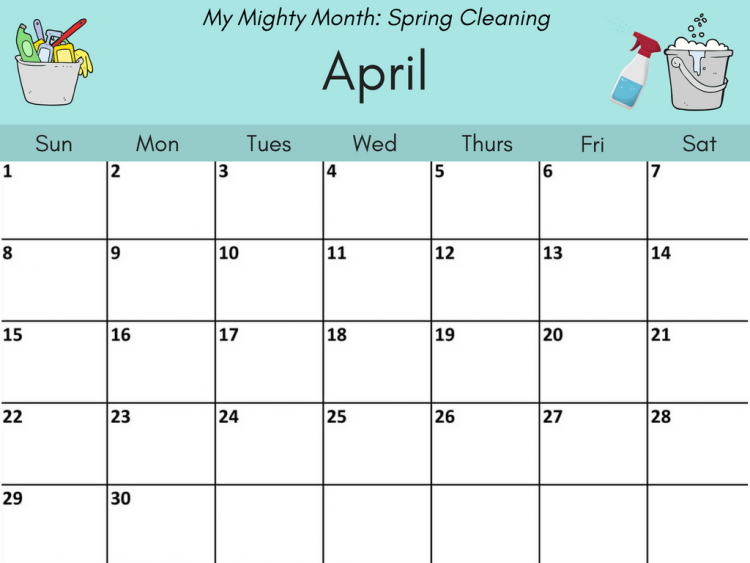 Download and print the Spring Cleaning suggestion guide here. Download and print the blank April Spring Cleaning calendar here.
Now that you have the cleaning suggestions and calendar at your fingertips, how can you find the motivation to clean? Here's what Merlo suggests:
1. "Dig where the ground is soft."
Merlo said it's important for her clients to know how to set themselves up for success. Rather than setting a long list of unrealistic expectations for yourself, Merlo said: "dig where the ground is soft."
'Dig where the ground is soft' means start with something that's doable, [something] you can succeed in. And I think that when you start making headway or having success, it kind of breeds itself and maybe also makes you motivated to do the next thing.
2. Focus on Cleaning an Area That's Important to You
Merlo emphasized how picking an area of the house to clean that is important to you can help with motivation.
Start small. Pick one area of your house or apartment that feels doable to you, like maybe the area that feels most important to you — whether it's the kitchen, doing the dishes and cleaning the counter, changing or making your bed. You know, an area that's gonna make you feel good. People have different areas of the house or apartment that are important to them. Picking an area that is important to you makes you feel good when it's neater or cleaner.
3. Make it Adaptable to You
When you live with a physical or mental limitation, Merlo recommended making use of adaptive products to get things done.
There's a lot of little things that make cleaning a little less daunting like Swiffers and I know people who sometimes use a toilet brush to clean the shower — obviously a clean toilet brush — rather than getting on their hands and knees and scrubbing it with a sponge. There's a lot of great stuff out there these days that can make cleaning a little bit easier.
If you are looking for specific product recommendations, check out our piece, "24 Products That Can Make Cleaning Easier if You Have a Chronic Illness or Disability."
4. Don't Be Afraid to Ask for Help
If you are struggling with cleaning, Merlo shared it is more than OK to reach out for help.
I always remind my clients it's OK to ask for help from friends or family members or anybody who might be able to just make them feel like they're not alone in this and give them some company while they are sorting through things.
5. Have Self-Compassion
Above all else, Merlo said to have self-compassion — this is so important in times when you are struggling.
Be really kind to yourself and be affirming of what you are doing. Like I said, it's a challenge for a lot of people to keep things neat and clean, especially in our busy world today. So I think just really acknowledging anything that you can get done, rather than beating yourself up about it.
Mighty stories you might find helpful this month:
Want to make April a Mighty Month? Join us on Facebook at My Mighty Month, and don't forget to tag any social media posts with #MyMightyMonth. You can also sign up for our My Mighty Month emails, (select "Mighty Monthly Challenges" from the newsletter options), which include tips and reminders designed to keep you motivated. 
Getty Images photo via ciripasca
Originally published: April 1, 2018