To the Spouse of My Daughter's Heart Surgeon
---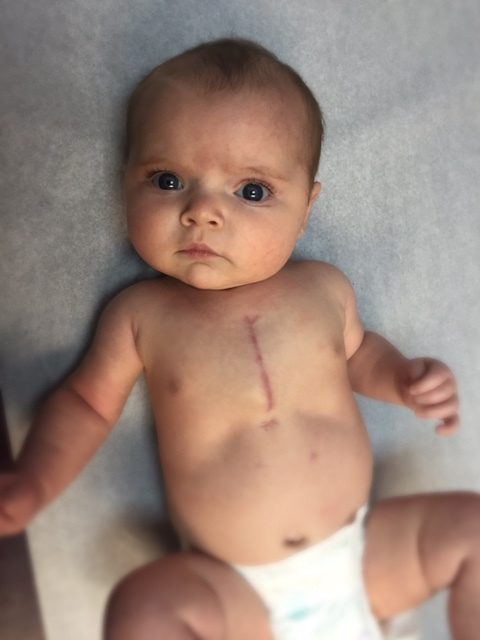 This letter is dedicated to all spouses and family members of pediatric cardiac surgeons who give up so much to give us so much. 
To the woman behind the man behind the mask — the wife of my daughter's heart surgeon,
My daughter took 23 days to recover from her first open heart surgery. I was able to say thank you to the man who performed that surgery dozens of times. He was there 22 of 23 days, most of the time twice a day, to check on her recovery. He was always there, standing next to my husband and me, watching her monitors with us, answering our countless questions. He was always there, and together we celebrated her milestones and lamented her setbacks. He was always there, not only making sure that she was OK, but also making sure that we were OK.
That man is your husband, and he was always there.
My daughter was constantly surrounded by an incredible team of nurses, clinical care coordinators, technicians and nurse practitioners. She had an entire team, and I am eternally grateful to all of them, but his visits were the visits I appreciated the most.
He had saved our daughter's life, and with that, he earned our trust forever, and so it was him we looked to when trying to decide what was best for her.
I remember the moment it dawned on me. He was in the ICU next to my husband, standing the same way my husband does: tall, strong, with his arms crossed. They were talking but never looking away from her monitors. They both had their eyebrows furrowed while discussing a respiratory setback. He was in this with us. We were not there alone, and I was thankful.
That is when I noticed his wedding ring and it hit me. Because he was there with us, he was not there with you.
That was the day that I realized everything you must do so your husband could be standing next to my husband.
That was the day I began praying for you, and I haven't stopped.
There must be so many times it is hard to be married to a hero.
When his pager goes off while you're finally out to dinner, you may bury your disappointment.
When he misses saying goodnight to the kids, you may bury your annoyance.
When he is so transparently going back over the last patient's chart in his head instead of listening to the story you've been waiting to tell him all day, you may bury your hurt.
Oh, the magnitude of what you must bury.
But you do it.
Because you know.
You see it on his face when he comes home from a successful surgery. You hear it pour through the voices of parents in the thank you cards you hang on the wall. You see it, and you hear it, and you remember.
You married a hero.
You know that while he is absent for some of your kids' firsts, he is giving my daughter a chance to have firsts.
You know that while you're missing him for today, he is preventing us from missing our daughter for a lifetime.
You bury it… because you know that burying it may very well mean we won't have to bury our daughter.
There must be so many times it is amazing to be married to a hero.
When I look at my daughter's scar and whisper a prayer of thanks for your husband, I also whisper a prayer of thanks for you.
When I think of our newly expanded family, our heart family, made up of so many wonderful people trying to save her life, you're such an important part of that picture.
I know in the intricate puzzle it takes to keep my daughter alive, you are an indispensable, invaluable piece.
Thank you is not enough, but it is all I have.
Thank you for allowing me to get to know your husband for the chance to get to know my daughter.
Thank you for every smile that comes across her face, every wiggle of her toes, every breath she takes.
Thank you. Your husband is our hero, and I am sure he would say he couldn't do it without you.
Without you, we may not have her. You have blessed us greatly, and we are forever grateful.
Follow this journey on heart broken : soul mended.
The Mighty is asking the following: Write a thank-you letter to someone you never expected you'd thank. Check out our Submit a Story page for more about our submission guidelines.
Originally published: June 2, 2016