The Day a Bodybuilder Came to My Aid
---
Growing up with cerebral palsy, my entertainment options have always been limited by the need for accessibility, but one thing I've enjoyed since childhood is going to the movies. Watching VHS tapes and DVDs at home is fun, but nothing beats sitting in a large, darkened cinema, eating popcorn.
While in high school, I spent many Saturday afternoons at the small movie theater near my cousin's house. Sure, the releases were weeks (sometimes even months) behind the larger corporate theaters, but the staff always treated me with kindness and respect, happily pouring my drink into a bottle so I wouldn't have to worry about squeezing the polystyrene cup too tightly. This particular request sounds simple, but it was often refused in other places because using bottles, regardless of the fact that they were exactly the same size (we measured), was "against the rules."
Looking back on those times, one specific Saturday comes to mind. I can't recall what we saw that day, but I do remember riding the elevator (or as we call it in South Africa, the lift) to the three-story shopping center's second floor, where the theater was. After the show, we said goodbye to the woman in the ticket booth and headed back down the hallway, only to find the lift was now out of order.
As usual, our car was parked in the disabled bay on the roof and without the lift, the only way to get there was to climb two large flights of stairs. Being slowly hoisted upstairs in a manual wheelchair is something I avoid whenever possible, especially if it has to be done by one person. I find the experience deeply unpleasant because it must be done backwards and I'm fully aware that if the unfortunate hoister slips, I'm bound to get hurt somehow.
On that Saturday, we had resigned ourselves to this fate when a woman with a young daughter arrived and quickly realized our predicament. After thinking for a moment, she had the bright idea to go to the gym across from the theater and ask for help. (Why we didn't consider that, I'll never know.) Soon after, a friendly and rather muscular young man appeared. He said, "I'm not quite sure how to help, but just show me what to do." Instead of doing the "backwards chair shuffle," he and my cousin carried me to the roof and put me back in the chair once it had been brought up behind me by that wonderful woman.
I never did get the names of either the quick-witted mother or the helpful bodybuilder, but I'll always remember their actions when I or someone else with a disability need to be reminded that many able-bodied people do care enough to help us when we need it most.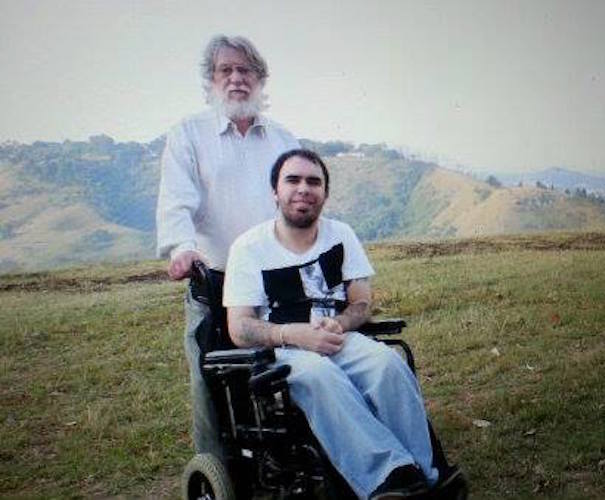 The Mighty is asking its readers the following: Describe the moment a stranger — or someone you don't know very well — showed you or a loved one incredible love. If you'd like to participate, please send a blog post to community@themighty.com. Please include a photo for the piece, a photo of yourself and 1-2 sentence bio. Check out our "Share Your Story" page for more about our submission guidelines.