The Get-Well Cards First Graders Made During My Child's Hospital Stay
---
The dimly lit room is relatively quiet except for the beeps and alarms going off. I take a seat next to my daughter's hospital bed and grab the stack of handmade cards delivered earlier that day.
I was eager to look at them but waited for this private moment with my husband because I was afraid of the emotions that may come out. It wasn't going to take much to get the tears going since it had been a long week.
My daughter Jaycee went from being slightly sick to near death in a short amount of time. Septic shock and acute respiratory distress syndrome put Jaycee on a ventilator and numerous medications. She was sedated and on a paralytic drug to allow her body to rest and recover. Jaycee was no stranger to hospitals, but this was by far the worst and most serious illness she had experienced.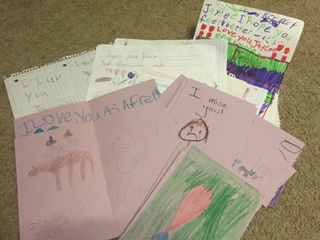 With brightly colored balloons sent by loved ones floating near me, I opened the large envelope and bravely took a look. The cards were all uniquely made by Jaycee's first-grade classmates. There were hearts, rainbows, flowers and bulldogs (the school mascot) carefully drawn on some. Other pictures were hard to make out. One of the students labeled his pictures, which included a snake, octopus, heart and coyote. That combination of pictures for a get-well card made me smile.
Many of the cards had short, sweet messages. Some of the cards contained messages like:
I love you. I hope you get better. God bless Jaycee. I love you as a friend. I miss you. Get well soon.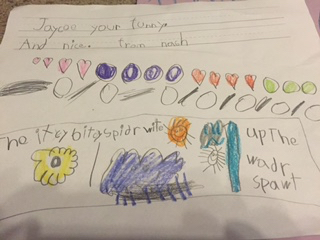 I smiled, laughed and shed a few happy tears as I sifted through the pile of cards. Jaycee spends most of her day in a special classroom for children with communication disorders since she has an intellectual disability and is minimally verbal. Yet, here were children Jaycee spends a short time with during the school day, pouring out their love for her.
The cards meant for Jaycee actually blessed me first. Days (and nights) in the hospital can be long when you spend them staring at monitors and holding your breath. It's simply exhausting in every way. It can also be an isolating time as a caregiver. Life is going on all around me while I am sitting in the hospital praying for my daughter and willing her to get well. Then I get a stack of cards for my sweet girl, and I am reminded that Jaycee has a whole community of people praying for the same miracle I am.
After a few weeks, that miracle came. When Jaycee came off her supports and became more alert, we were able to show her all the cards sent by her friends at school, which made her smile.
It's been over two years since those dark days in the hospital. I have kept every card, letter and picture sent by those classmates. May they always help me remember Jaycee is never in a health battle alone.
The Mighty is asking its readers the following: Describe the moment a stranger — or someone you don't know very well — showed you or a loved one incredible love. If you'd like to participate, please send a blog post to community@themighty.com. Please include a photo for the piece, a photo of yourself and 1-2 sentence bio. Check out our Submit a Story page for more about our submission guidelines.
Originally published: January 15, 2016