The One Choice I Regret Making While Raising My Nonverbal Son
---
I have few regrets about the choices I've made raising my non-verbal son, Aidan, who has a developmental disability. It's been an intense lesson in winging it, gathering as much information as possible, filtering it through layers of emotion and making the best decision I could at any given moment.
I do, however, regret not giving Aidan a voice sooner.
We followed what now I'm seeing to be the party line. We got an AAC (augmentative and alternative communication) evaluation that was neither particularly helpful nor decisive. We hesitated, wanting to be sure that if we were going to spend yet another chunk of medical money that it would be on the right device. We waited with hope, wanting Aidan's muscles to get stronger and for him to finally speak. We sat in a puddle of overwhelming chaos; there were just too many other circumstances vying for my attention.
So I said what most other parents of non-verbal children say: "He communicates in his own way. We're lucky he's so social and animated. We understand what he wants."
I feel so emotionally conflicted about hearing those words now. On the one hand, I want to shout,  "DO NOT WAIT." Babies are born being inundated with language and attempting to communicate. Your child deserves no less. Yes, using a device can feel different and medical and awkward, but it's also about early access and "listen to me" and "watch me learn." I've had animated conversations that end with me whipping out my iPad and all but screaming, "This has changed our lives." Because it has.
But still I get it. I have tons of compassion for those who doubt or hesitate or are just too overwhelmed to give their child words. I'm still that mom. There will always be something I'm not doing well or soon enough or right for Aidan because his needs are many and complex. It's hard to add something new to the day. It's emotional to wonder if it will ever be useful. I'm making the best decisions I can in any given moment.
I was thrilled when Aidan quickly and consistently used the first three highly motivating words I opened for him on his talker: EAT, DRINK, MORE. I slowly gave him more words and then stopped for awhile. This summer I wanted to make a thoughtful decision about what one or two words I would open next. But then I got excited and thought, "No more regrets." I opened almost 15 new words.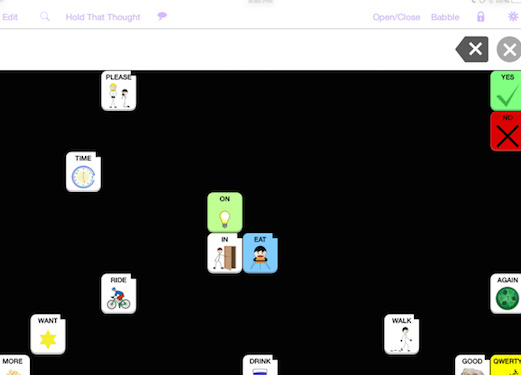 I started modeling them right away.
Mommy gets FRUSTRATED when you throw your spoon.
Look, your toys are all over the FLOOR.
Should we ask Liam to DANCE?
And still I doubted. This wasn't a well-thought-out plan. Were these the right words? Is it too many at once?
The same day I opened these words, the same day I showed him where they were on his talker, this happened: We finished dinner and I was really ready to start the bedtime routine. Aidan reached for his talker and said, KITCHEN, HUNGRY, EAT, MORE.
Two new words and two old standbys.
A mis-hit? A mistake? Gibberish?
I think not. Let there be cake.
And there was.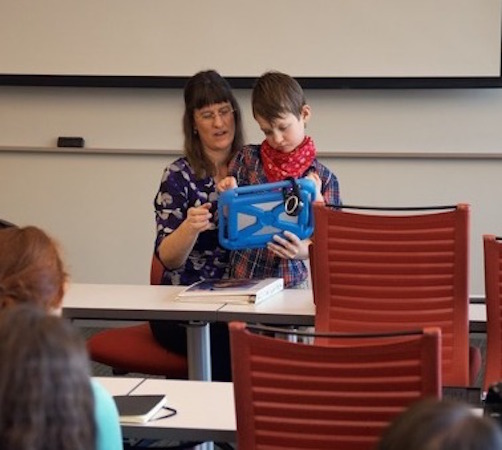 Follow this journey on Family Synapse.
Originally published: August 14, 2015